50 tribals breach high security zone, try to pull off Pathalgadi
Police foil attempt near high court, protesters to meet Governor on Tuesday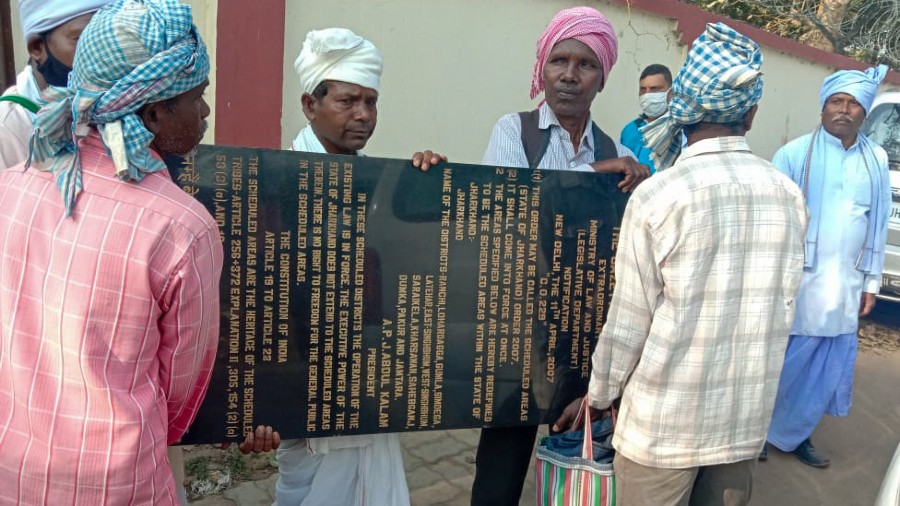 ---
Ranchi
|
Published 22.02.21, 09:08 PM
|
---
Over 50 tribal protesters breached the high security perimeter of Jharkhand High Court in Ranchi on Monday and tried to install a stone plaque stating that the state government did not hold executive powers in the area, their agitation mirroring the tribal custom of Pathalgadi.
"We stopped them (Pathalgadi supporters) half way through and pacified them. The plaque was not installed, and they were not allowed to go anywhere close to the high court," said Ranchi SP Saurav, who goes by one name.
Pathalgadi, an ancient  tribal custom of installing stone plaques with inscriptions to demarcate and area as a mark of respect to ancestors, drew the attention of the state government in 2017 after a few plaques restricted entry of administration and police in villages and declared them as liberated zones.
The former Bharatiya Janata Party-led government had decided to tackle the issue with an iron fist and lodged FIRs against several hundred Pathalgadi supporters.
But cases against these protesters were withdrawn after the advent of the current Hemant Soren-led government.
Monday's plaque, which wasn't allowed to be installed, read: "The executive power of the state of Jharkhand does not extend to the scheduled area, therein; there is no right to freedom for the general public in these scheduled areas." The stone plaque was the size of a dining table top.
The plaque carried names of 12 districts – Ranchi, East Singhbhum, Lohardaga, West Singhbhum, Gumla, Latehar, Saraikela Kharsawan, Sahebganj, Dumka, Pakur, Jamtara and Simdega – which the Pathalgadi supporters wanted to declare as scheduled areas beyond the jurisdiction of the government of Jharkhand.
Eyewitnesses said that around 50 protesters, mostly from Ranchi, Khunti, Gumla and Lohardaga districts, entered the high security zone to install the stone plaque. Police said that they wanted to install the plaque at a square close to the high court and not on the high court premises.
The protesters have said that they will meet Governor Droupadi Murmu on Tuesday and handover a memorandum to her highlighting their demands.
During the Pathalgadi movement of 2017, several thousand villagers carrying traditional bows and arrows gathered around the stone plaques in the bordering areas of their villages. There were several face-offs between the administration and Pathalgadi supporters during the period. Some supporters of the movement had reportedly held a few policemen hostage demanding release of their fellow supporters from jail.