5 more arrests in Ranchi para-teachers protest
Among those held was Manoj Yadav, who is not a para-teacher but takes part in any demonstration, irrespective of who is organising it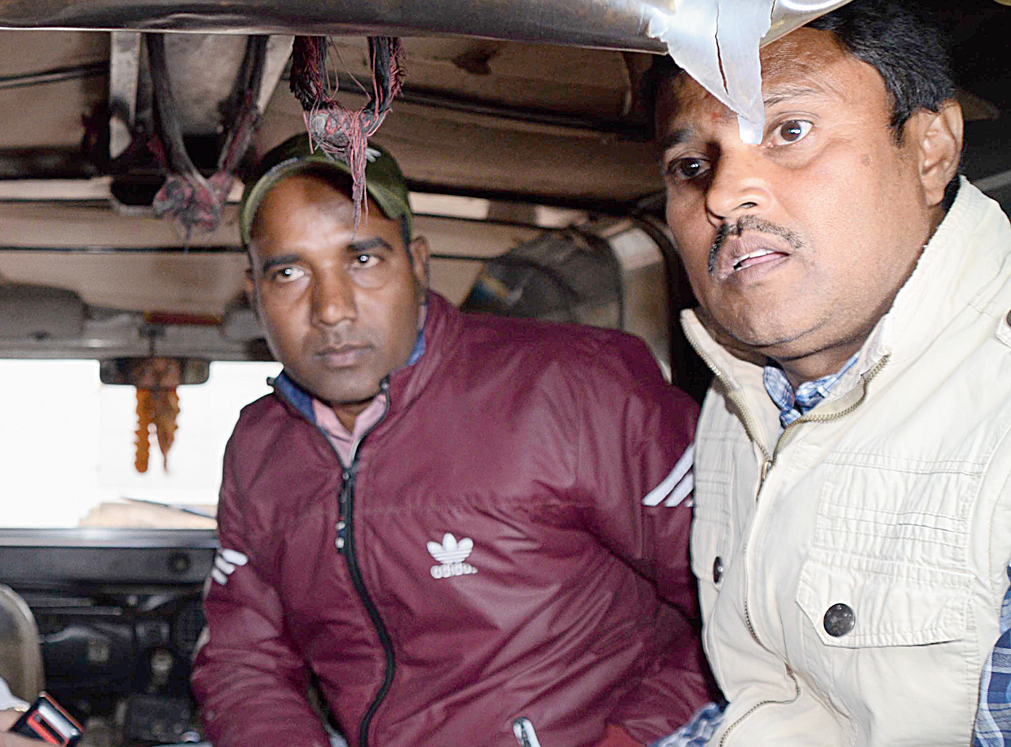 2 of the 4 para-teachers arrested on Friday for taking part in the protests on Jharkhand Statehood Day
Manob Chowdhary
---
Ranchi
|
Published 23.11.18, 06:40 PM
|
---
A 40-year-old Morabadi resident, who is not a para-teacher, was among five persons arrested on Friday in connection with the violence involving para-teachers during statehood celebrations here on November 15.

Manoj Yadav is accused of instigating the mob of disgruntled teachers to pelt stones at security forces after the chief minister's speech failed to address their long-standing demands of better pay and regularisation of services.
An FIR under Section 147 (rioting), 148 (rioting armed with deadly weapon), 149 (unlawful assembly) and 353 (assault or use of criminal force to deter public servant from discharge of his duty) has been lodged against Yadav. If proven guilty, he is staring at a minimum of six months in jail, the term of which can be extended up to three years.
Lalpur thana OC Ramod Singh said Yadav was arrested from near Morabadi grounds around 12.30pm. "He is not a para-teacher, but a self-styled student leader who participates in every kind of demonstration irrespective of who is organising it. He is basically a trouble-monger and was one of the key accused," the officer said.
The four others, para-teachers Sanjay Dubey, Sintu Singh, Rishikesh Pathak and Pramod Kumar, were arrested near Jail Chowk later in the afternoon. Dubey is posted in Hazaribagh, Singh in Palamau and the rest in Ranchi.
Ranchi SSP Anish Gupta said Yadav was among the 293 people named in the FIR lodged against protesting para-teachers. "We have arrested 282 and raids are on to take the others into custody. We are scanning video footage to identify the 1,000-plus unnamed para-teachers mentioned in the FIR," he added.
More than 10,000 para-teachers had protested on Morabadi grounds during the statehood function, and the day after, more than 50,000 joined the indefinite strike. Of the total 67,000 para-teachers across 24 districts, only 2,500 are said to be holding classes now.
The government, not reading to bend to pressure tactics, has decided on recruiting TET-qualified people and even retired teachers to the posts.
"Services of para-teachers who have either been arrested or named in the FIR have been terminated. The Jharkhand Education Project Council (JEPC) has asked all districts to make fresh appointments so that classes in primary and middle schools are not affected. The new contract teachers will be paid Rs 200 (primary school) and Rs 250 (middle school) per day," said school education secretary Amrendra Pratap Singh.
Insiders in JEPC said the circular on fresh recruitment, issued on Thursday, categorically mentions that para-teachers participating in violence didn't deserve to teach children.
"Teachers build the character of students. Teachers who get involved in violence and criminal activities can spoil the impressionable mind of children. They don't deserve to teach. Some of them are also getting into politics, which is direct violation of contract," said an official.
JEPC administrative officer Jayant Mishra said notices had been served to all para-teachers found missing from duty between November 15 and 20 to provide valid reasons for their absence.
"They will also have to submit a written undertaking, saying they will abstain from such agitations in the future. If they do not reply within a month, their contract will be automatically terminated. Police have been asked to provide security to such para-teachers who are willing to work," Mishra said.