37 daily flights from Ranchi this winter, the highest since March 2020 lockdown
Services likely for Delhi, Hyderabad, Bangalore, Calcutta, Ahmedabad, Pune, Chennai, Mumbai, Patna, Lucknow and Bhubaneshwar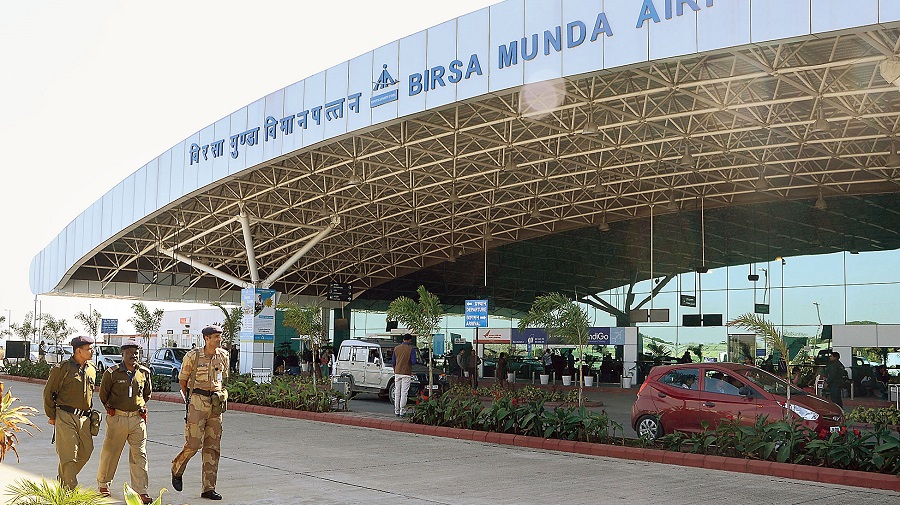 Birsa Munda Airport in Ranchi.
File picture
---
Ranchi
|
Published 07.11.21, 04:44 PM
|
---
As many as 37 flights will take off daily from the Birsa Munda Airport in Ranchi during winter, the highest since the Covid-induced slump in the civil aviation industry, airport authorities said on Sunday, adding that a majority of these flights would connect Ranchi to New Delhi, while some new flights to tier two cities will also start operations.
According to the winter schedule released by the Airport Authority of India (AAI), direct flights from Ranchi will take off for Delhi, Hyderabad, Bangalore, Kolkata, Ahmedabad, Pune, Chennai, Mumbai, Patna, Lucknow and Bhubaneshwar.
The Deputy General Manager (Air Traffic Movement) at Birsa Munda Airport, Wilfred Kerketta, said that at least 31 flights took off from Ranchi on Saturday, which was the highest in a day so far since the Covid-induced lockdown was enforced in March 2020.
"About 20 flights took off from Ranchi and landed here after air travel resumed post-lockdown. At least 37 flights will take off from Ranchi and land here, as per the winter schedule. This is the highest daily number of flights from Ranchi since March 2020," said Kerketta.
Another official from the Birsa Munda Airport said that the number of daily flights from Ranchi was also affected due to repair work of the airstrip for a couple of months. All daytime flights to and from Ranchi remained suspended for at least two months last winter due to the repair works, he added.
In the past one year or so, Ranchi has got several new flights to non-metro destinations following a push by the transport department to improve air connectivity with tier-two cities in India, sources said. During this period, Ranchi got flights to Pune, Lucknow, Patna and Ahmedabad.
The Birsa Munda Airport at present has a 75 meter basic strip, which is the minimum length required for any airport. The length of the basic strip, airport director Vinod Sharma said, will be increased to 140 meters under the expansion plans for the airport. The construction of an isolation bay is also in the pipeline, he added.
Earlier this month, the Ranchi airport bagged the first position in Eastern India and the fifth position in the country in customer satisfaction and basic facilities provided to passengers. Birsa Munda Airport is also set to get to new aerobridges and an In-Line Baggage Screening (ILBS) system, which is likely to enhance the experience of passengers by making the baggage screening process quick and hassle-free, officials said.