36 buildings razed on Day One of eviction drive
Rs 16 crore rail overbridge to ease traffic congestion in Jugsalai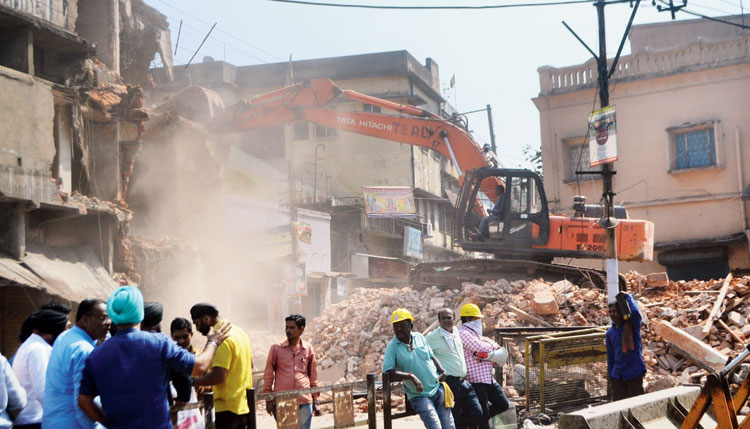 An illegal building being pulled down during the eviction drive at Jugsalai level crossing in Jamshedpur on Friday
Picture by Animesh Sengupta
---
Jamshedpur
|
Published 01.03.19, 07:44 PM
|
---
Tatanagar railway on Friday launched a massive anti-encroachment drive near Jugsalai level crossing to make space for a new rail overbridge.
During the drive which started at 10.45am and continued till 5pm, 36 illegal residential buildings and business establishments, some even a century old, were pulled down with the help of three excavators under the watchful eyes of the Railway Protection Force (RPF) and the local police.
Tatanagar RPF inspector M.K. Singh, who is leading the operation, said in all 56 buildings, all set up on railway land along Tata-Adityapur section, will be pulled down in the next few days.
"We demolished several three-storey structures from the Jugsalai level crossing end. The drive will continue up to 180 metres towards the Adityapur end," said Singh.
The RPF inspector said as the squatters had been served eviction notice well in advance and there were no protests by them.
Prominent business establishments which were razed included the 100-year-old Gangour Sweets, located near Jugsalai level-crossing, and Kashmir Timber.
Anish Chatrat, whose grandfather Swadesh Kumar Chatrat had set up Kashmir Timber around 90 years ago, said they were prepared for such a drive since the railway had served a notice to them around six months ago.
"Despite the notice, we were hopeful that some miracle would work in our favour and our establishments would be saved from being razed," Chatrat told The Telegraph.
An officer of Tatanagar railway engineering department, who is executing the drive, said the owners of the demolished buildings would have to bear the cost of razing the structures. "As these buildings were set up on railway land, we will charge demolition cost from the building owners," the officer said.
Before the drive was launched, the RPF and police blocked movement of commuters through the Jugsalai level-crossing, causing inconvenience to people as they had to detour through Ghoda Chowk in Jugsalai, about 2km from the spot where the drive was going on.
The overbridge is being set up jointly by the railway and the state road construction department (RCD) at a cost of Rs 16 crore to ease traffic movement through densely-populated Jugsalai. While the railway will set up the overbridge at a cost of Rs 6 crore, the RCD will construct a 200-metre approach road at a cost of Rs 10 crore.