35-year-old constable found dead in Sakchi police station
His body was spotted floating in the well which is located inside the thana premises; cops are suspecting suicide or accidental death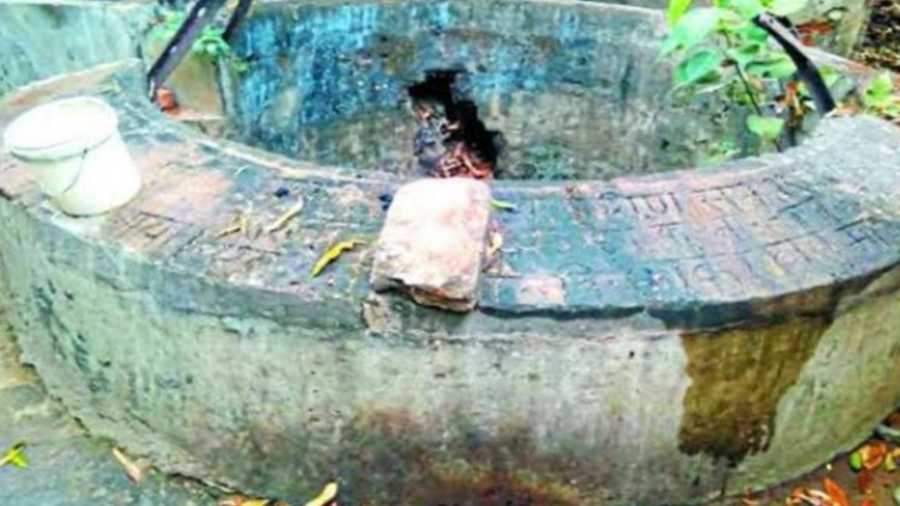 The well inside the Sakchi thana premises on Sunday.
Animesh Sengupta
---
Jamshedpur
|
Published 10.10.21, 04:22 PM
|
---
The dead body of a 35-year-old constable was found floating in a well located within the premises of Sakchi police station on Sunday morning.
Identified as Ram Villash Paswan, the constable was posted at the Police Control Room, which is also located within the same premises.
On Sunday at about 9 am when some constable had gone to the well for a bath, they discovered the dead body floating in it. The news was soon communicated to the fellow cops and senior officials who visited the spot to investigate.
The recovered body was sent for autopsy at MGM medical college's mortuary by the police.
The well in which Paswan drowned is located behind the police barrack. Most of the constables' bathe using tap water but many till date prefer to draw water from the well for their bath. This well has been there since the British rule era.
Sakchi police station's OC, Rajesh Kumar Singh said that they are sure of Paswan either having committed suicide or accidentally falling into the well. They have ruled out foul play.
"We expect the cause of the constable's death to be ascertained by the autopsy. As of now, we have registered a case under the section of 'unnatural death'," said the OC while talking to The Telegraph Online.
The OC, mentioned about Paswan being posted at the police control room where his duty was to attend to calls made on 100.
"Paswan, a resident of Hazaribagh district was present on his duty on Friday, but on Saturday he was absent from the duty and nobody had seen him throughout the day and night," mentioned OC.
"The cop's conspicuous absence from the duty as well as barrack since Friday evening. It is suspected that he either fell into the well accidentally or jumped into it for committing suicide in the night of Friday only," said the OC.
The police officer pointed out that several cops from the police barrack had gone to the well on Saturday also, but they failed to take notice of the body inside it because it was at the bottom of the well and came up on the water surface on Sunday only.
The police have informed the family members of the deceased soon after recovering the body.