300 ODIs, where D stands for Dhoni
Ranchi men behind making of Mahi keep fingers crossed for history on stumps today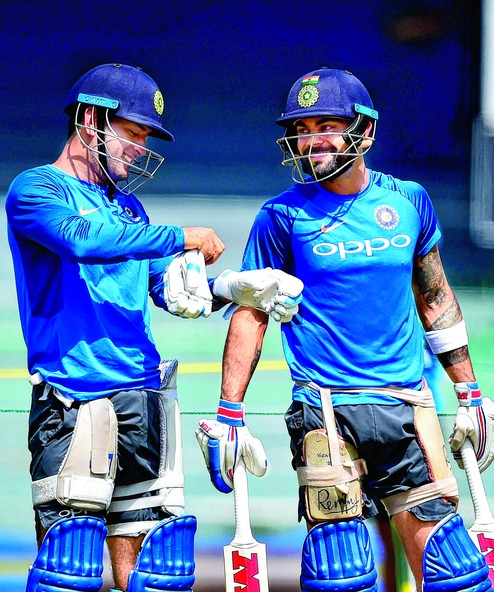 ---
Published 31.08.17, 12:00 AM
|
---
As India plays Sri Lanka in the 4th ODI in Colombo on Thursday, fans of Ranchi boy-turned-cricket legend will keep their fingers crossed for two reasons.
M.S. Dhoni will not only play his 300th ODI match, he has a good chance to attain a new record in wicket-keeping of 100 stumpings in ODIs. Last week in the 2nd ODI at Kandy, Dhoni equalled former Lankan Kumar Sangakkara's feat of 99 stumpings in ODI when he whipped the bails off to dismiss Lankan opener Danushka Gunathilaka.
Also, so far only five Indian cricketers - Sachin Tendulkar, Rahul Dravid, Md Azharuddin, Sourav Ganguly and Yuvraj Singh - have played 300 or more ODIs.
The ongoing five-match ODI series against Sri Lanka proved there's plenty of cricket left in the 36-year-old Mahi.
What keeps Mahi going?
"His never say die spirit, no matter what," Deval Sahay, former Central Coalfields director (personnel), who was instrumental in roping teenage Dhoni in the 1990s in the CCL team, told this reporter.
"I met Dhoni last month. He is still excited about playing just like a teenager or budding cricketer," recalled Sahay. "The combination of mental strength and enthusiasm is truly god's gift."
Another reason for Dhoni's longevity as a cricketer was his ability to keep learning, Sahay said. "In his earlier days, when Ranji, Deodhar trophies and the like used to be big, unlike today's IPL, he watched every match. I recall in 1991, when Md Azharuddin was in Mecon grounds representing Hyderabad in Ranji, Dhoni would watch and observe. Dedication is not about playing, but watching and observing too," he said.
One of the coaches during Dhoni's club days, Ranchi Chanchal Bhattacharjee said Dhoni's attitude of "never taking solo credit" stood him in good stead in a team sport all through gully cricket to the international arena.
"He's kept himself grounded. If you saw the second match, he made Bhuvneshwar Kumar (a new player) play alongside him to ensure victory. That's the spirit, that's generosity, that's how you infuse confidence in someone young. After the match, he never took credit. These values helped him become who he is," Bhattacharjee, who has known Dhoni since his boyhood, said.
And, Dhoni kept himself supremely fit, he added.
"Before the Sri Lanka's tour, a random fitness test was conducted and Dhoni came through with flying colours. Can you imagine how tough it is for a wicket-keeper especially? His job is the toughest of all the 11 on the ground because for the entire innings he has to squat down and stand up with every delivery. Dhoni has been doing so for over 10 years and he's never got dropped. That is another unnoticed history for any wicket-keeper," Bhattacharjee said.
Agreed Sahay. "I want to see Dhoni in Team India in the 2019 World Cup," he said. "Fingers crossed for his 300th ODI."