3 future leaders born on campus
Politeness, wit set apart schoolboy champ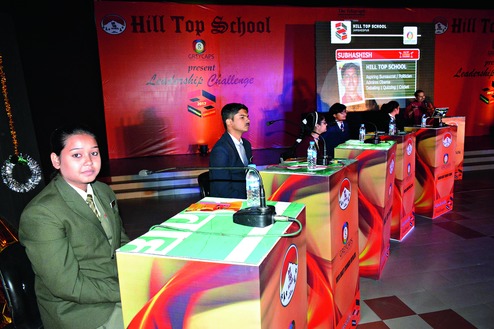 ---
---
Jamshedpur: The future of leadership is evenly balanced, with a boy and two girls topping the seventh edition of the Leadership Challenge, the grand finale of which was held on Wednesday in Jamshedpur.
Nishant Kumar Satyam from Vidya Bharti Chinmaya Vidyalaya won the prestigious inter-school contest that tests youngsters on ethics and decision-making was hosted by Hill Top School, Telco, with knowledge partner Greycaps and media partner The Telegraph. Tanushka Dutta of Carmel Junior College and R. Snigdha Preeti from Sacred Heart Convent School were the first and second runner-up.
The judges were well-known steel city academics Shamita Ahuja, Zareen Modi and George Vellapani.
Nishant, who stood out on Wednesday among the 10 finalists chosen on Tuesday, impressed judges with clarity of thought, articulation and wit, a teacher said.
"Also, he was very polite to his competitors on stage and we saw they (the judges) liked that," the teacher, who did not want to come on quote, said.
"He waited for his turn before putting his point across properly," the teacher said.
The final challenge tested the 10 finalists - Tanushka Dutta from Carmel Junior College; Priyanka Jha from Kerala Samajam Model School; G.S. Vishnu from Little Flower School; Sushmita Jha from Motilal Nehru Public School; Ayati Mishra and Subhasish from Hill Top School; Nishant Kumar Satyam and Swarnima Anand from Vidya Bharti Chinmaya Vidyalaya and Meghna Mishra and R. Snigdha Preeti from Sacred Heart Convent School - in four intellectual rounds conducted by quizmaster Giri Balasubramaniam, who's also the CEO of Greycaps, Bangalore.
On Wednesday, the first round Tweet Realities had participants introducing themselves with a cap of 140 words in 45 seconds.
In the next round, First Punch, they had to complete a story with the given word "seriously" since it is used by almost all teenagers callously, frivolously and casually.
While some like Megha Mishra of Sacred Heart Convent School spoke about "seriously finding a solution to catcalling and teasing on the streets", her friend from the same school Snigdha spoke about "seriously changing the education system".
Students in the third round were given a common topic- India vs Indians to debate for six minutes. As Subhashish of host Hill Top School observed, "Till date people from other countries see India as a country of snake charmers and elephants. While the country is not growing as a global village, it is individual Indians who are glorifying their country with their personal accomplishments."
The grand finale concluded with Jury Time where the finalists fielded questions by the judges.