3-day strike call Bokaro General Hospital
Contract workers allege exploitation by management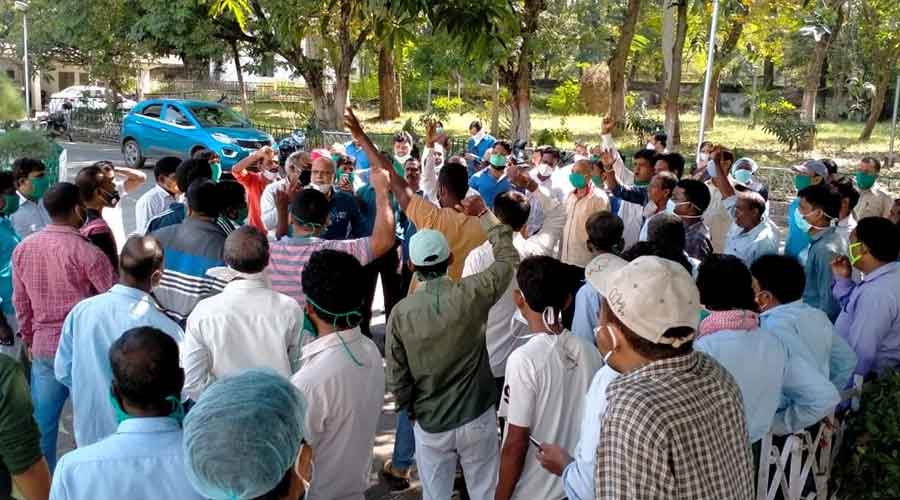 ---
|
Bokaro
|
Published 31.10.20, 09:19 PM
---
Contract workers at Bokaro General Hospital have announced to go on strike for three days from November 3 due to pay discrepancies.
The workers at the dedicated Covid centre of the district have alleged that they are not being provided with safety gears in addition to being given their ESI, provident fund, earned leaves and bonuses.
BGH is run by Bokaro Steel Plant (BSL), a unit of Steel Authority of India Limited (SAIL).
There are 235 contract workers working under four different contractors performing all ground work activities in the entire medical department including the Covid ward, operation theatre, critical care unit, burn intensive unit and others. The strike will cripple the services.
The first negotiation meeting held between BSL management and Jai Jharkhand Majdoor Samaj (JJMS) on Saturday failed to come to any conclusion. JJMS, a labour union wing of Jharkhand Mukti Morcha (JMM) is leading the agitation. A meeting has been called by the labour department on November 02.
General Secretary of JJMS, B.K. Chaudhary said that contract workers in BGH are being exploited.
"A contractor who has engaged 79 workers has not done payment to ESI. In result the workers and their dependents could not avail medical treatment under ESI from April. These workers are working sweepers in Covid Wards and in other departments in the hospital. If BGH management would remain vigilant they would have not suffered. If we are demanding free medical facilities from BGH until their ESL facility is restored, what is wrong in that?" said Chaudhary.
"Another 89 workers engaged under one of those contractors have not got bonus and EL for more than 36 months. The contractor doing laundry work has put their 17 workers under semi-skilled workers despite the fact that they operate machines. And one of those contractors with 87 workers is treating lift operators as unskilled workers. It is exploitation," said Chaudhary.
Of the 5306 patients who tested positive in the district from March, BGH has treated more than 1500 patients both symptomatic and very serious cases. At present, the Covid ward has 19 positive patients undergoing treatment.
Chief of communication, BSL, Manikant Dhan said, "BSL management is trying to resolve the issues raised by the contract workers in BGH. Already BSL has initiated several steps for settlement of the issues and the same was conveyed to them. We are closely following up with all concerned for resolving the issues. An appeal has been made to the agitating workers to call off their proposed strike."
"We are concerned with the well being of all patients in BGH and hopeful of an amicable solution," said Dhan.