3 buried alive in mine collapse near Dhanbad
The 2 teens and a man, all from poor families, were picking coal at a site in BCCL's Rajapur colliery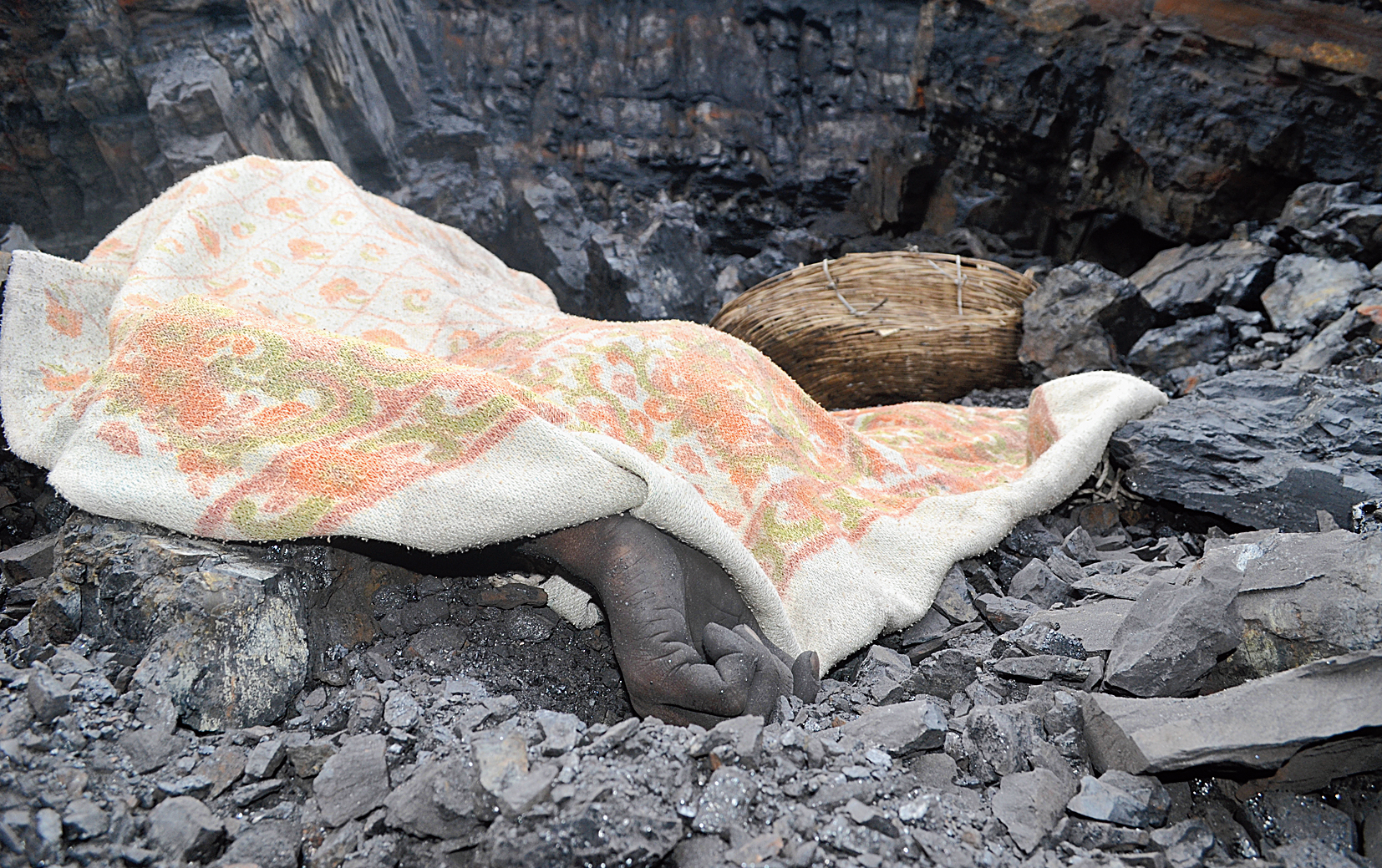 A hand sticks out of the debris at BCCL's Rajapur Colliery in Dhanbad on Friday
Picture by Shabbir Hussain
---
Dhanbad
|
Published 09.11.18, 06:46 PM
|
---
Three persons, including two minors, were killed in a roof collapse at a mining site in BCCL's Rajapur Colliery, around 8km from the district headquarters, where they were picking coal illegally on Friday morning.
Chandana Kumari (13), Pankaj Kumar (16) and Nageshwar Mahto (20), all residents of Liloripathra about 3km from the mine site, had entered the mine around 8 in the morning to pick coal for sale in the local market to supplement family income.
Around half an hour later, the roof of the mine came crashing down on the trio.
A few local residents, who were also picking up coal nearby, rushed to the spot and informed police.
Following a joint rescue work by police and BCCL, Pankaj's body was brought out around 9am and Nageshwar's around noon.
The rescue operation was completed at 1pm after the recovery of Chandana's body. A team of senior district officials and police, led by Jharia circle officer Kedarnath Singh and Sindri DSP Pramod Keshri, supervised the search and rescue work.
Pritam Rawani, a resident of Liloripathra and the in-charge of Congress's Jharia Assembly unit, said, "The deceased trio belonged to extremely poor families and eked out a living by picking coal from mining sites and selling them in different areas of Jharia for use as household fuel."
He said Karu Bind, Ramji Mahto and Sundar Ram — fathers of victims Chandana, Nageshwar and Pankaj — were daily wage earners at construction sites and hardly made enough money to run their families. Hence, their chidlren pitched in by collecting coal, sources said.
Speaking to reporters on the spot, DSP Keshri said, "We have retrieved three bodies during the joint search and rescue with the help of local people and BCCL. We will conduct a detailed probe into the incident. No organised illegal coal mining racket is operational in the area. Some local residents were picking coal," Keshri added.
Roof collapse is an unavoidable risk associated with illegal mining where safety almost always takes a back seat.
When local residents extract coal illegally, they usually dig a hole in the ground with shovels and similar tools. Over time, the roof of the mine becomes weak and eventually collapses.