25 pick-up & drop-off points marked
Ranchi SP traffic said they would start levying fines after RMC formally handed over the demarcated spots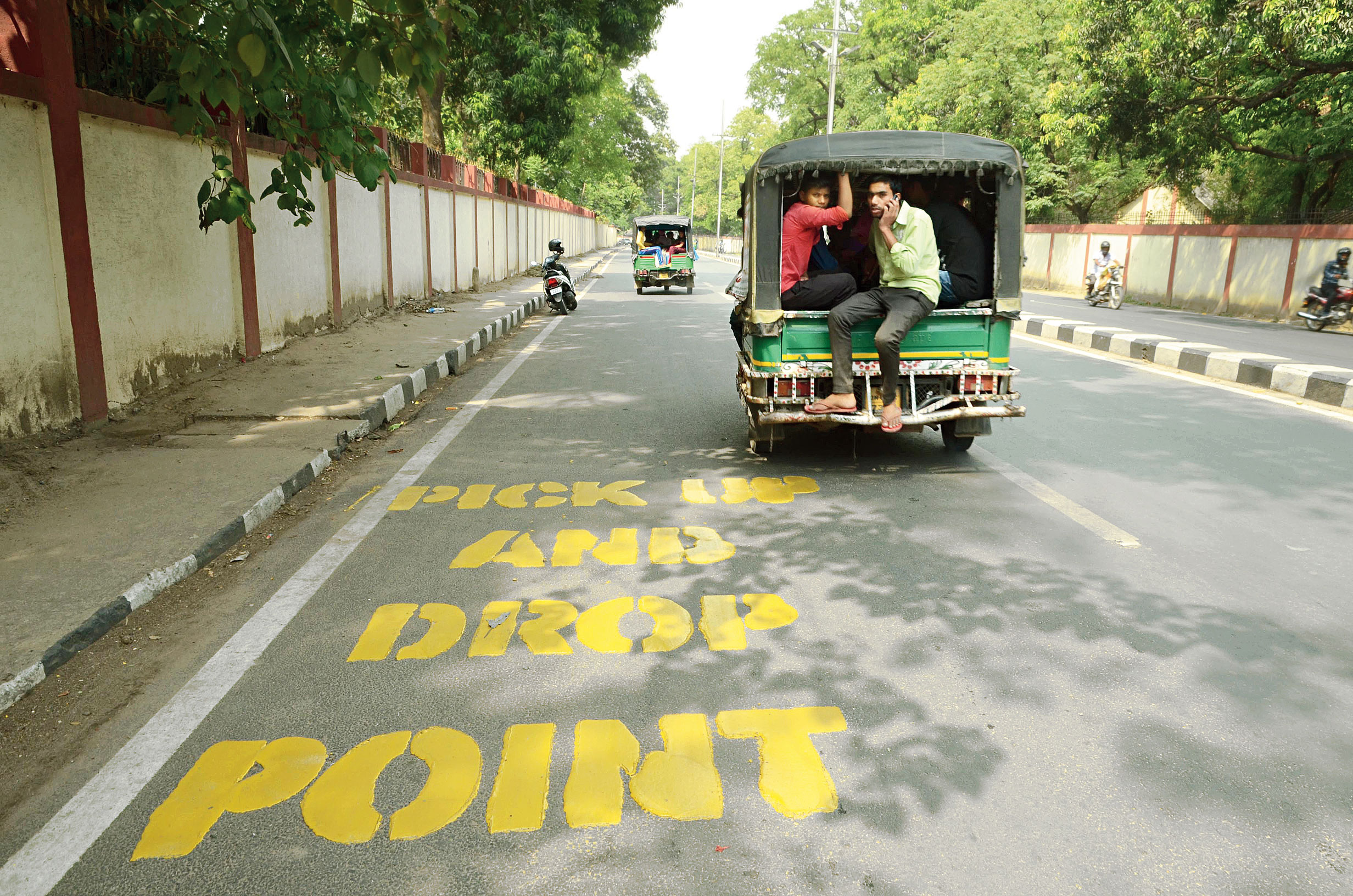 A pick-up and drop-off point demarcated by Ranchi Municipal Corporation on Morabadi Road on Thursday.
Picture by Prashant Mitra
---
Ranchi/Jamshedpur
|
Published 13.06.19, 06:38 PM
|
---
Public transporters, like city buses and auto-rickshaws, picking up passengers close to crossings and roundabouts and causing traffic snarls will soon be punished with fines of up to Rs 500.
On the request of Ranchi traffic police, Ranchi Municipal Corporation (RMC) has demarcated as many as 25 pick-up and drop-off points near major roundabouts.
Among the areas where demarcation has been done, using reflective paint, are Kishoreganj, Randhir Verma Chowk, SSP Residence, Khelgaon, Big Bazaar, Roshpa Tower, Church Complex, Daily Market, Wool House, Firayalal Chowk, Ratan PP Chowk, New Market , Sahjanand Chowk, Harmu Chowk, Argora Chowk, Birsa Chowk, Hinoo Chowk, AG More, Sujata Chowk, Siramtoli Chowk, Lalpur Chowk, Jail Chowk, Nucleus Mall More, Karamtoli Chowk and Radium Chowk.
The demarcation exercise was completed early this week and would be formally handed over to the police in a day or two.
"We received a request from the SP traffic Ajit Peter Dungdung to demarcate certain pockets as pick-n-drop points near major roundabouts. The idea was to prevent traffic congestion caused by auto-rickshaws, e-rickshaws and city buses that usually stop at will anywhere and everywhere to pick up or drop off passengers," said RMC city manager transport cell, Saurabh Kumar Verma.
Sources said that after designated pick-n-drop points were handed over to the police, they would start prosecuting errant drivers for violating traffic rules under the Motor Vehicle Act.
"City buses, autos and e-rickshaws either slow down or stop to pick up passengers who wait near roundabouts leading to traffic jams. This is more during rush hour. Earlier, we could not prosecute due to lack of pick-n-drop points which we asked RMC to demarcate after conducting a survey to identify the areas," said a police officer in the traffic department.
He said that they would now be able to slap a fine of Rs 500 on drivers and operators who dithered at crossings under section 179 of the MV Act.
According to sources in RMC transport cell, the 25 demarcated pick-up and drop-off points were about 150 meter away from roundabouts on both flanks of the road.
Ranchi SP traffic Dungdung said they would start levying fines only after the RMC formally handed over the demarcated spots.