21-year-old from Jharkhand becomes youngest Indian to scale Kanchenjunga
Pankaj Kumar who stays in Pisca More in Ranchi was part of the 14-member expedition team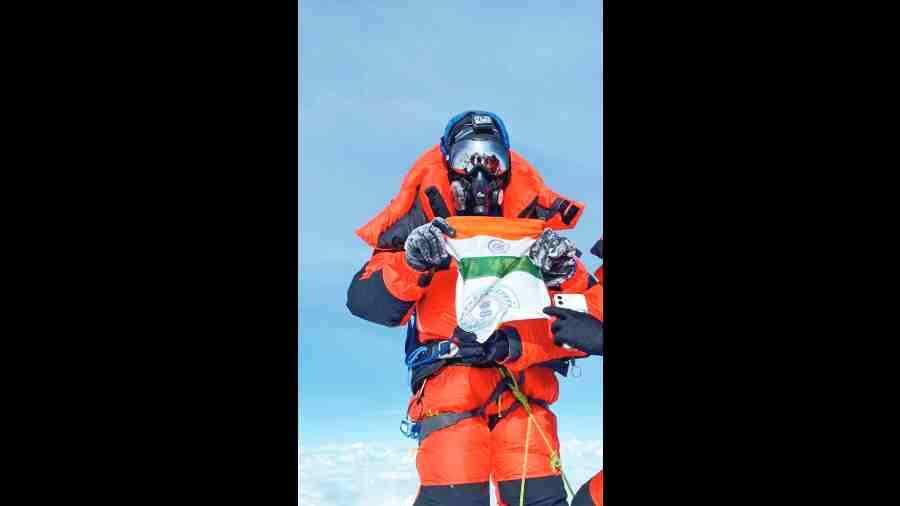 Pankaj Kumar with the Indian flag after scaling Mount Kanchenjunga.
---
Published 19.05.22, 01:54 AM
|
---
Jharkhand 21-year-old Pankaj Kumar has become the youngest Indian to successfully scale the third highest peak in the world, Mount Kanchenjunga, at 8586 metre.
Earlier in 2018, 22-year-old woman Sheetal Raj from Uttarakhand was the youngest Indian to scale Mount Kanchenjunga.
Pankaj Kumar who stays in Pisca More in Ranchi was part of the 14-member expedition team, which began from Nepal side and has also become the only mountaineer from Jharkhand to have scaled Mount Kanchenjunga.
"The expedition started from April 9 and I scaled the peak on May 5 at around 4.30pm which had people from India, Taiwan, Vietnam and USA. We returned back to the base camp on May 10 and returned to Ranchi on May 15," said Pankaj who completed graduation earlier this year.
The youth has already drawn up a plan to promote rock climbing and mountaineering in the tribal state of Jharkhand.
"The chief minister has congratulated me through his tweet on Wednesday afternoon and I have been assured a meeting with him soon. I started mountaineering in 2019 and coming from Ranchi situated in Chottanagpur plateau is ideally suited for rock climbing and mountaineering. We have seen several tribals trained by Tata Steel Adventure Foundation in Jamshedpur scaling high peaks. With government help I want to promote rock climbing and mountaineering in Jharkhand which has several plateaus and hills," said Pankaj who has completed basic mountaineering course from the Atal Bihari Vajpayee Institute of Mountaineering, Manali.
Pankaj, eldest among four brothers, has also made plans to visit schools to promote adventure courses.
"I will try to visit schools and encourage adventure activities among students in Ranchi and other big cities of the state like Jamshedpur, Dhanbad, Bokaro and Hazaribagh. This apart, there is immense scope to promote adventure tourism in the state by organising adventure activities like rock climbing in Jharkhand," said Pankaj who has so far scaled Mount Black Peak, highest peak of Saraswati range of Himalayas, Mt Satopanth (Garhwal), Mt Deo Tibba, Mt Friendship peak.
The expedition to Kanchenjunga also had a casualty in the form of a 52-year-old from Maharashtra.
"We lost of one of our team members 52-year-old Narayan Iyer from Maharashtra who died of high altitude sickness while ascending the peak on May 5. It was very disheartening but we had to continue the expedition," said Pankaj.