19 migrant workers return to their home from Sri Lanka
We are greatly thankful to the state government for looking after the matter, says Giridih based social activist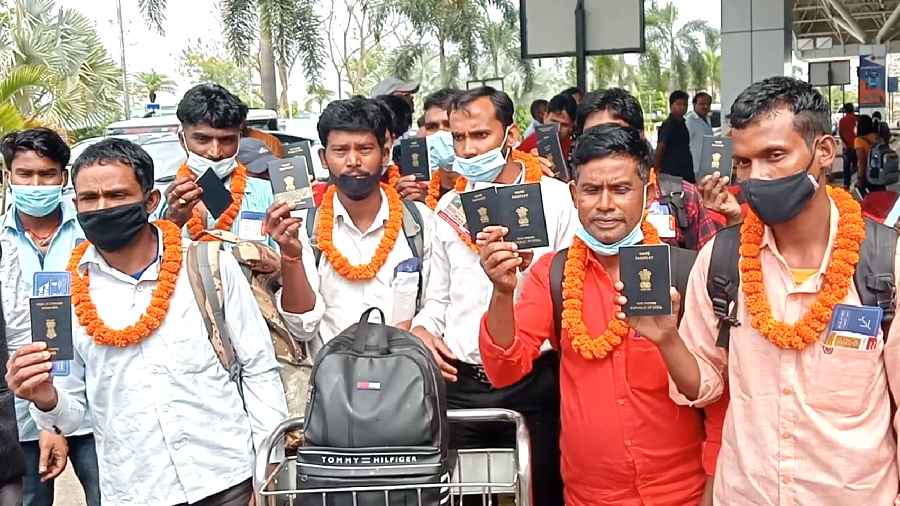 Migrant workers stuck in Sri Lanka arrive at Birsa Munda International Airport in Ranchi on Friday
Gautam Dey
---
Dhanbad
|
Published 06.05.22, 06:13 PM
|
---
All 19 migrant workers of the state facing extreme difficult situation due to job loss and lack of salary payment on Friday returned to their respective homes at Giridih, Hazaribagh and Dhanbad from Sri Lanka.
Their return was courtesy the initiative of state government after the payment of Rs 8.68 lakh in lieu of their pending salaries.
The labourers, including 16 of different blocks of Giridih, two of Hazaribagh and one of Topchanchi block of Dhanbad who went to Sri Lanka to work for Kalpataru Power Transmission Ltd  and lost their job left Colombo this morning through a flight at around 3.10 am and reached Chennai at around 4.40 amm and from there left for Jharkhand at 11.45 am to arrived back at Ranchi airport at round 2 pm.
State Migrant Control Room of Jharkhand in Ranchi through a tweet informed "All 19 migrant workers from Colombo, Sri Lanka have reached safely to the state of Jharkhand and had left for their native villages. Thanks to @indiaiSL & @HumanCareFDN for the early repatriation of workers to Jharkhand. @migrantcell_JH is continuously in touch with the migrant workers"
Sikandar Ali, a Giridih based social activist working for welfare of migrant workers of Jharkhand who pursued the issue on social media following which state labor and employement minister Satyanand Bhokta took up the issue through the State Migrant Control Room in Ranchi said, "We are greatly thankful to the state government which took the issue of migrant workers of state lying in distress at the foreign land by ensuring their early repatriation."
Vakil Mahto one of migrant worker of Bagodar block of Giridih who returned back to his native village at Banpura said, "We went to Sri Lanka early this year for securing better future of our family members but we soon lost our job and even our passport has been seized by the petty contractor and due to lack of salary payment for more than 45 months we were also facing difficulty to sustain our life thousands of kilometers away from our home."
"We contacted the Social activist of our district, Sikandar Ali from Sri Lanka who in turn took up the issue with the state government ensuring our return back to our home," said Chhatradhari Mahto another migrant worker of Bagodar and added that they were caught in  such a situation that returning back to the family was seeming like a distant dream to them.