14 girls rescued near Ranchi rail station
The girls were being taken by a suspected woman trafficker to Hyderabad on the pretext of getting them jobs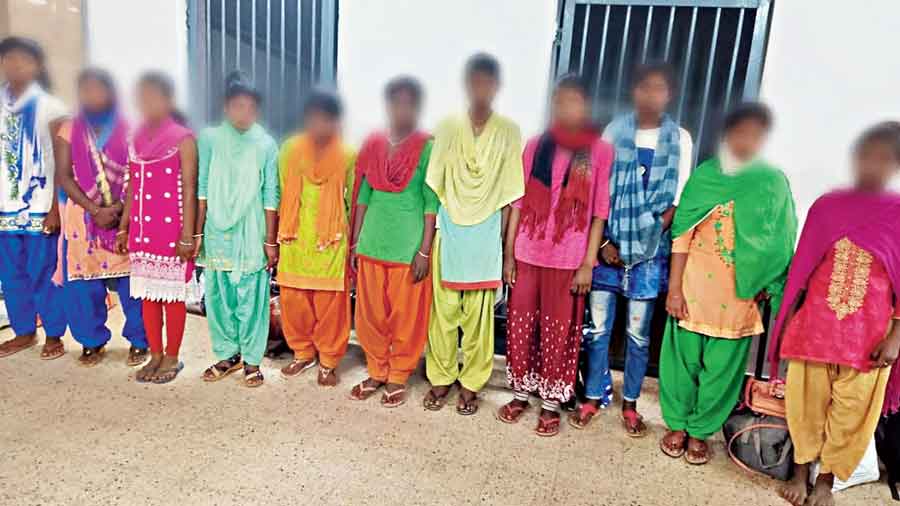 Some of the rescued girls at the Ranchi railway station
Manob Chowdhary
---
Jamshedpur
|
Published 05.10.20, 12:47 AM
|
---
An RPF team rescued 14 tribal girls, including eight minors, who were allegedly being trafficked to Hyderabad, near Ranchi railway station at 11.30pm on Friday.
RPF commandant, Ranchi division, Prashant Yadav, said all the girls are from Latehar district in Jharkhand.
The girls were being taken by a suspected woman trafficker to Hyderabad on the pretext of getting them jobs after imparting training in stitching and embroidery, he added.
"Our RPF team spotted them just in time before they could board the Darbhanga-Secunderabad Express train. After interrogation, we handed over the girls, including the minors, to the Kotwali police station.
"The minor girls were then handed over to the child welfare committee of Ranchi. Suspected woman trafficker Meena Devi has been arrested by the Kotwali police station," said Yadav.
He said it was the biggest rescue of tribal girls under Ranchi railway division of South Eastern Railway so far.
Sources in the Ranchi RPF said that they had received an alert from the police earlier about increased activity of trafficking groups in the state, who are targeting the migrant women workers and minor girls who had returned from various parts of the country to their villages during the lockdown and might try to lure them back to the big cities on the pretext of employment.
"The RPF team had been alerted about the intelligence input from the state police and one of our women constables Khusbu Kumari saw the 14 girls herded near the Ranchi railway station gate. RPF sub-inspector
Sunita Tirkey and assistant sub-inspector Mohammed W. Khan started questioning the girls who looked frightened.
"The girls could only utter their names, parents' names, age and address and that they were going to Hyderabad.
"But they could not give details about their employer. The RPF team continued questioning the girls who said that they were being taken by Meena," said an official of Ranchi RPF.
The RPF team started searching for Meena with the help of the girls and located her near the station gate.
"When the RPF team started interrogating Meena, 25, she could not provide any details about the firm where the girls were being taken for stitching and embroidery training, the fees, duration and placement. She could not show any documents of the firm.
"We then got the contact number of the parents of the rescued girls and got in touch with them. They were also in the dark about the Hyderabad firm. We lodged an FIR against Meena and handed her over to the Kotwali police station," said Yadav.