12 workers injured in Brahmaputra Metallics plant blast
Gas leak in sponge iron plant leads to explosion; company calls it unfortunate, locals allege lack of safety measure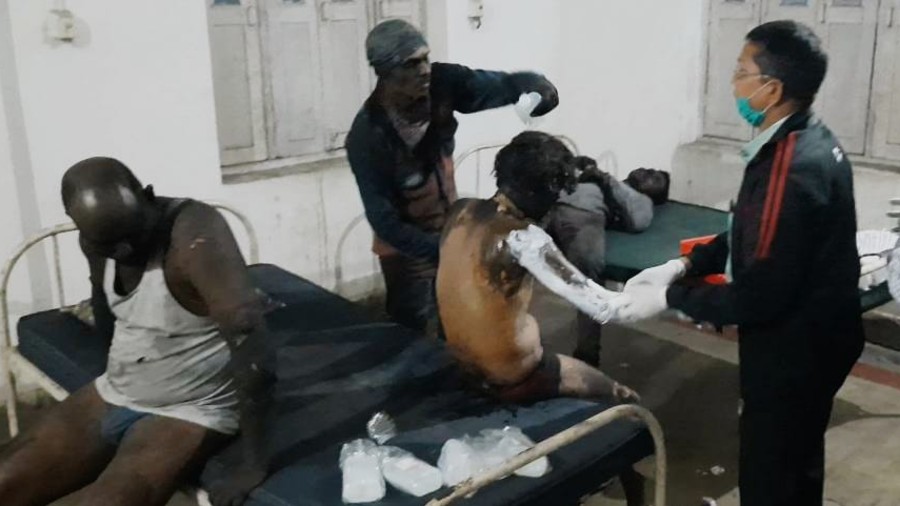 ---
Ramgarh
|
Published 03.12.20, 11:27 PM
|
---
Six technicians were severely injured when an explosion took place at Brahmputra Metallics Ltd, a sponge iron plant in Kamta of Ramgarh's Gola block, on Thursday. The blast occurred due to a gas leak in the sponge iron plant, a noted industrial establishment of state.
According to the eye witness, around a dozen of the employees, all technicians have sustained injuries. The injured workers were first taken to Chittaranjan Hospital, where they were given the necessary first aid, before being rushed to Ranchi's Devkamal Hospital.
Out of the six technicians, who have sustained serious injuries, three of them are in the intensive care unit (ICU) of the Ranchi hospital. Around nine of the injured workers have been admitted here.
Locals have alleged that there was complete chaos in the plant when the explosion took place. They even accused the company of not maintaining the safety standards inside the plant. The ambulance too arrived late to ferry the injured to the hospital.
A team of police led by DSP head quarter Prakash Soy reached the accident site in factory to investigate. Soy said, "The injured individuals are being treated at Devkamal hospital, Ranchi. We have begun out investigation. Once we are done with the investigation we will take legal action if needed."
Local Congress leader Sudhir Manglesh accused the company of ignoring safety standards. "In 2018, there was an explosion in the factory, in which one worker was killed. In another accident, one person had to be amputated. Today again a major accident has taken place. The factory management should provide proper treatment to those injured. These people should also be compensated."
Human resource head of the company Anjani Kumar, when contacted said, "The accident took place unexpectedly. We are busy providing medical treatment to the injured. Company will provide all the help to them. It is an unfortunate incident. We are present in Devkamal hospital to help the injured."