11 found guilty of law-student rape in Ranchi
Of the 12 youths who were arrested, one is a minor who is facing trial before the Juvenile Justice Board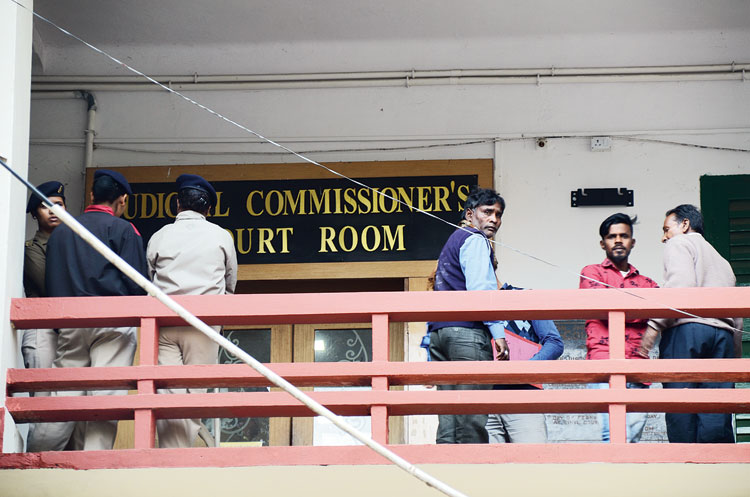 ---
|
Ranchi
|
Published 26.02.20, 06:48 PM
---
The court of the judicial commissioner of Ranchi civil court Navneet Kumar on Wednesday convicted all 11 accused in the gang-rape of a law student on November 26, 2019 under the Kanke police station limits.
Nine youths had kidnapped the 25-year-old woman from a bus stop, called up three more of their friends and then raped her.
The investigation and trial of the case was completed in three months.
Of the 12 youths who were arrested, one is a minor. He is facing trial before the Juvenile Justice Board.
Convicting the remaining 11 on Thursday, the judge termed the case "rarest of rare" and fixed March 2 to pronounce the sentence.
The convicts are Kuldeep Oraon, Sunil Oraon, Sandeep Tirkey, Ajay Munda, Rajan Oraon, Naveen Oraon, Basant
Kacchap, Ravi Oraon, Rohit Oraon, Sunil Munda and Rishi Oraon. They were lodged at the Birsa Munda Central Prison and presented before the court through videoconferencing on Wednesday.
"The court has observed that this crime was among the rarest of rare in nature, and the legal fraternity of Jharkhand expects the court to give the convicts harsh punishment that will act as a deterrent for others," said Sanjay Bidrohi, general secretary of the Ranchi District Bar Association, who was present in court during the hearing.
"The gang-rape of the law student had sparked massive outrage here. Lawyers of Ranchi civil court had in fact refused to fight the case on behalf of the accused. They were provided a defence lawyer though the District Legal Services Authority," he added.
The prosecution produced 21 witnesses during the trial who were examined by the court. The defence could not produce any witness.
"The court has found the accused guilty under sections 376D (gang rape), 366 (kidnapping a woman), 120B (criminal conspiracy), 379 (theft) and 411 (dishonestly receiving stolen property) of the Indian Penal Code," Bidrohi said.
The incident occurred at Sangrampur in Kanke where the woman and her friend were sitting at a roadside bus stop on the evening of November 26.
Seven youths in a car and two more on a motorcycle intercepted and assaulted them.
They beat up the woman's friend and dragged the girl to a brick kiln. There, they called up three more youths.
They raped her in turns, one among them assaulting her twice.
The woman's friend — who was thrashed but managed to escape and inform their mutual friends and the police — later identified Sunil Oraon and Sandeep Tirkey as the ones who beat him up.
An FIR was lodged a day after the incident. Police arrested all the accused and recovered mobile phones snatched from the woman.