10000 chowkidars in Jharkhand rue unpaid salaries
Penniless Holi, harsh reality behind India's most famous word at present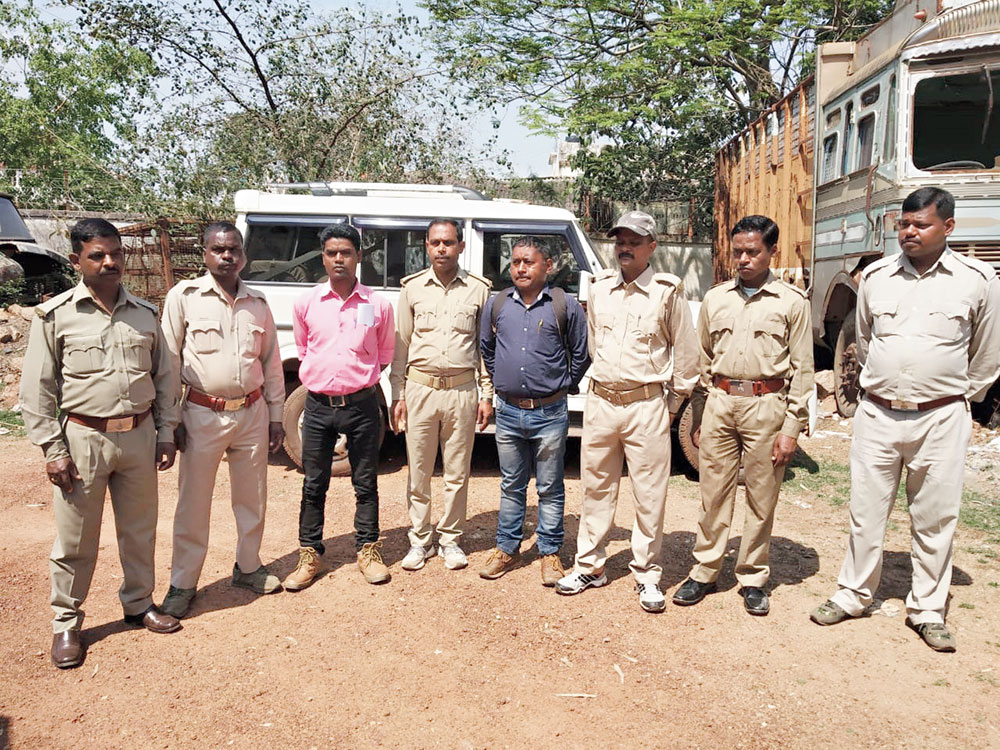 Silent protest: Chowkidars demonstrate outside Ratu police station in Ranchi on Tuesday.
Picture by Manob Chowdhary
---
Ranchi
|
Published 19.03.19, 07:04 PM
|
---
As the BJP's #MainBhiChowkidar campaign this parliamentary elections gains traction with every BJP leader worth his salt prefixing chowkidar to his Twitter profile, Jharkhand government's 10,000 actual chowkidars are facing a colourless Holi and a bleak future.
For the past four months, these chowkidars across 24 districts — each of who monitors 10 villagers under one thana — have not been paid their salaries. Each chowkidar gets a salary of Rs 20,000.
Chowkidars, who report to their senior dafadars, have been part of the policing system in India right from the British era after the Village Chowkidar Act was enacted in 1870. Jharkhand government has dedicated a separate cadre for them. The 10,000 chowkidars apart, there are nearly 200 dafadars who get some Rs 22,000 a month. Even they have not been paid for four months.
On Tuesday, 20 chowkidars turned up at Ratu police station as a part of an hour-long silent protest from 11.30am.
President of Jharkhand Rajya Dafadar Chowkidar Panchayat Krishna Dayal Singh from Bokaro district said chowkidars of the state had not received their salaries for four months at a time the whole country was talking about the Main Bhi Chowkidar campaign.
"When Prime Minister Narendra Modi identified himself as chowkidar and later started the Main Bhi Chowkidar campaign, we felt proud that somebody recognised this neglected section of administration. But the fact is that our salaries are always delayed. Why should we always suffer? I want to know whether the salary of chief minister Raghubar Das, chief secretary Sudhir Tripathi and all other officials has ever been delayed by a single day," Singh said.
He added chowkidars and dafadars were the backbone of the policing system because they collected intelligence on the ground, kept tabs on anti-social elements and helped police prevent crime. "We are exposed to threats because our identities are obvious," he said.
A sources in the home department claimed that on March 13, funds to pay salaries to chowkidars and dafadars of 15 districts had been allotted in 15 districts, Lohardaga, Palamau, Giridih, West Singhbhum, Ranchi, Garhwa, Gumla, Pakur, Koderma, Khunti, Simdega, Jamtara, Latehar, Hazaribagh and Sahebganj. But there is no word on the salaries of chowkidars and dafadars of the remaining nine districts.
Singh questioned the government's sincerity. "Even in districts where funds have been allowed, no one will get salaries before Holi (Thursday, March 21) because we all know that paperwork takes time. We are forced to borrow money from moneylenders to run our families," he said.
Another Ranchi-based chowkidar Ram Kishun Gope said while their job was to keep track of activities in their areas and collect intelligence reports from the ground to inform the police, they were often forced to work as attendants at the homes of "seniors". "Respect is lacking nowadays," he rued.
He also pointed out that in 2014, 600 chowkidars appointed in the Bihar era on the basis of the age-old hereditary tradition, were sacked.