1000-year-old Avalokiteshvara statue retrieved in Hazaribagh village
Bahoranpur has remained in limelight since the discovery of a Buddhist monastery and shrine last week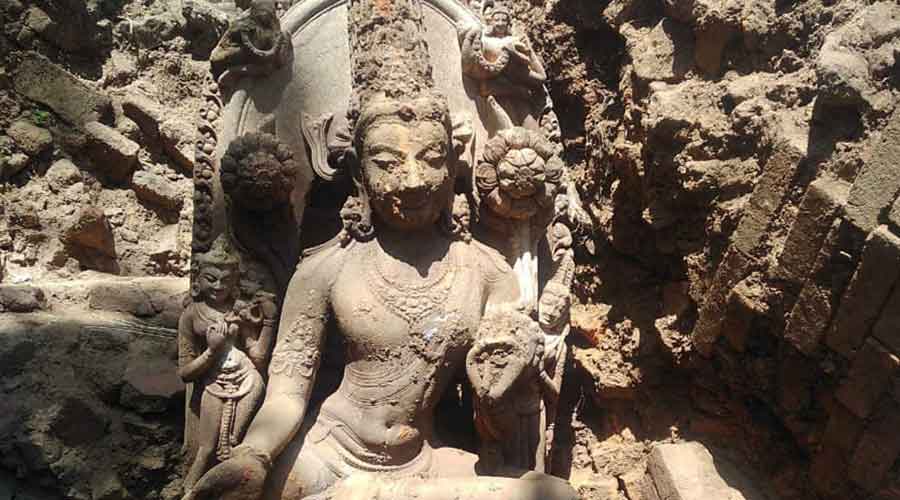 ---
Hazaribagh
|
Published 03.04.21, 04:57 PM
|
---
The Archaeological Survey of India has recovered a 1000-year-old white sandstone statue of Avalokiteshvara in Bahoranpur on Saturday.
ASI experts said the six feet tall statue can be dated back to the Pala dynasty who ruled from the 8th century to 12th century.
Bahoranpur village is in Sitagarha, around 20 kilometres away from the district headquarters.
The ASI started working at the site after Buddhist monk Bhante Tiswarro revealed details about Bahoranpur, widely considered to be a popular monastery during its time. Many residents in the area had found ancient idols in the area while constructing their houses, leading to the discovery of the place.
Bodhisattva Avalokitesvara occupies a unique place in the Mahayana Buddhist pantheon. Buddhist sutras speak of several bodhisattvas but it is Avalokitesvara who is revered and adored by followers of both Hinayana and Mahayana Buddhism and by all art lovers.
ASI team leader Rajendra Dahuri said a smaller statue of Avalokiteshvara has also been recovered earlier. 
Two ancient statues were also stolen from the site last week which were recovered by the police from Ranchi.
The central agency has now established that Bahoranpur was not only a shrine or a monastery, but a well-developed city of its time.
The ASI had first started excavating the site in November 2019, but had to pause it for some months due to the lockdown.