Young bank manager from Rajasthan shot dead in Kashmir
The incident triggers an exodus of Pandits from Valley to Jammu amid Opposition politicians' criticism of the government's Kashmir policy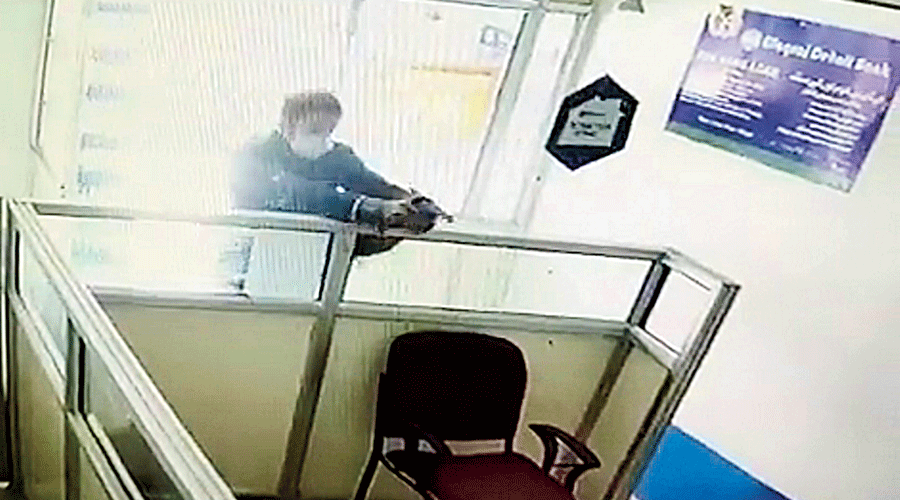 Footage shows a militant opening fire on bank manager Vijay Kumar (unseen) after entering the Areh branch of the Ellaquai Dehati Bank in Kulgam district of south Kashmir on Thursday.
PTI picture
---
Srinagar
|
Published 03.06.22, 02:21 AM
|
---
A Rajasthan native posted as a bank manager in the Valley fell to a militant's bullet at his office on Thursday, causing more Pandits to flee to Jammu and Opposition politicians to slam the government's Kashmir policy and its failure to protect lives.
Pandits said the administration was continuing to try and prevent an exodus by barricading migrant workers' colonies.
Vijay Kumar, 29, a manager with the State Bank of India affiliate Ellaquai Dehati Bank, was shot in his chamber at Areh Mohanpora in Kulgam district. He is the eighth person — and the fourth Hindu — to be killed by militants in targeted attacks since early May.
(In the evening, militants attacked non-local workers at a brick kiln in the Magreypora area of Budgam and killed a ninth victim, Dilkhush Kumar of Arnia, Bihar. Rajan, a Punjab native, was injured but stable.)
Footage from CCTV shows a militant walk into the bank manager's office with a bag, from which he pulls out a pistol and fires. A severely injured Kumar was declared dead on arrival at hospital.
Kumar was from Bhagwan village in Hanumangarh district of Rajasthan. He had been posted in the Valley three years ago and lived there with his wife, whom he had recently married. His father Om Prakash is a teacher at a government school in Rajasthan.
A Dalit teacher from Jammu, Rajni Bala, was shot dead in Kulgam on Tuesday. On May 12, Rahul Bhat, a clerk, was killed inside the tehsildar's office in Budgam district. Thursday's murder prompted Congress MP Rahul Gandhi to tear into the government that had posted over 5,000 Pandit employees to Kashmir and claimed the 2019 dilution of Article 370 had restored normality to the troubled region.
"Bank manager, teacher and several innocent people are being killed; Kashmiri Pandits are fleeing. Those who are supposed to give them protection are busy promoting a film," Rahul tweeted. "The BJP has used Kashmir as a ladder for power. Prime Minister, take immediate steps to restore peace in Kashmir."
The entire BJP leadership, including Modi, had got involved in promoting the film, The Kashmir Files, which paints an unflattering portrait of the Valley's Muslims in connection with the Pandit exodus of the early 1990s.
CPI parliamentarian Binoy Viswam tweeted after Kumar was shot dead: "Killing spree continues to control Kashmir valley. Today also one life..! What happened to promise of Peace? Is this end of terrorism?
"How far is dawn of new life? Who is behind Kashmir freedom fighters? Amit Shah must explain. BJP's Kashmir policy is failed. Waste bin waits for it."
Kumar used to work at the Kokernag branch of the bank and had joined the Kulgam branch only a week ago, PTI reported.
Rajasthan's Congress chief minister, Ashok Gehlot, tweeted: "The central government should ensure the safety of citizens in Kashmir. Such killing of our citizens by militants will not be tolerated."
Barricaded
Kumar's murder prompted many Pandits to leave the Valley while others were stopped by the massive restrictions the government has imposed to avert an exodus by the panicked and agitating migrant employees.
Avtar Krishan Bhat, a leader of Pandit employees who lives in the Veerwan transit colony in Baramulla, said his camp had been virtually locked down for the past few days to prevent residents leaving.
"All of us want to leave (Kashmir) but they (the government) are not allowing us to," he said.
"Many families from our colony fled on Tuesday and some more sneaked out (in ones or twos). There are reports of some more leaving from other areas. Two pregnant women and their families were allowed to leave from the Mattan (transit) camp.'
Videos from Mattan showed Pandits arguing angrily with police and paramilitary personnel deployed for their security and forcibly removing barricades. Another video showed some Pandits with luggage in hand.
Officials insisted that the majority among the migrant employees had not fled.
Several prominent Kashmiri Pandit handles uploaded footage purportedly showing a heavy rush at Srinagar airport, and claimed the passengers were Pandits fleeing the valley.
Srinagar airport officials tweeted a rebuttal to the "sensational rumour mongering".
"We handle between 16 thousand to 18 thousand passengers every day. Today also number of passengers is average. There is no heavy rush of minority community as rumoured," the tweet said.
Dozens of Pandits, posted in Kashmir but currently on leave, staged a protest in Jammu city, urging the government to relocate them and save their lives.
"Our jobs are worth nothing if our lives are not safe," a woman said.
Soldier killed
A soldier was killed and two were injured in an explosion in their vehicle in Shopian on Thursday. The army said it had hired the civilian vehicle for an operation and would not rule out sabotage.