Yogi Adityanath on Ayodhya: Mediation had failed before Mahabharat war, too
We knew negotiations would lead nowhere: Chief Minister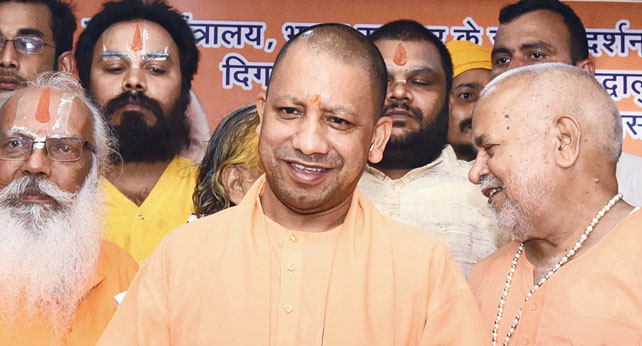 ---
|
Lucknow
|
Published 03.08.19, 08:42 PM
---
Yogi Adityanath on Saturday said he had been certain from the outset that the mediation panel on Ayodhya would fail, and highlighted that peace talks held before the Mahabharat war too had failed.
"We already knew that it (negotiations over the Ayodhya land dispute) would lead nowhere. Mediation was attempted before the Mahabharat (war) too but its result was negative," the chief minister said in Ayodhya on Saturday.
He, however, said the effort at a negotiated settlement was a good exercise.
According to the Mahabharat, Krishna had unsuccessfully tried to mediate a settlement between the Pandavas and the Kauravas before the war. Asked for five villages, Duryodhan had refused to give even "an inch of land, not even a needle-point of it".
A three-member mediation panel that the Supreme Court had formed in March to attempt an out-of-court settlement of the Ayodhya dispute admitted its failure on Thursday. On Friday, the court made this public and announced daily hearings of the case from August 6.
"The apex court will start hearings and I'm sure the public sentiment will be respected. The spiritual importance of Ayodhya must be restored," Adityanath, a staunch supporter of a Ram temple at the disputed site, said.
As mahant of the Gorakhnath temple, Adityanath is a member of the VHP. A VHP functionary, Triloki Nath Pandey, is one of the two Hindu parties to the case in his capacity as the representative of Ram Lala Virajman (the baby Ram installed at the disputed site). Adityanath was in Ayodhya for the death anniversary of Paramhans Ramchandra Das, a priest associated with the VHP.
Adityanath likened Prime Minister Narendra Modi to former US President Abraham Lincoln and former South Africa President Nelson Mandela.
"Narendra Modi has laid the foundation for a new India against casteism and social evils the way Abraham Lincoln fought for the freedom of black people in America and Nelson Mandela fought racism," he said.