Year after, Jamia student struggles to cross road
Interim compensation refused despite recommendation from the National Human Rights Commission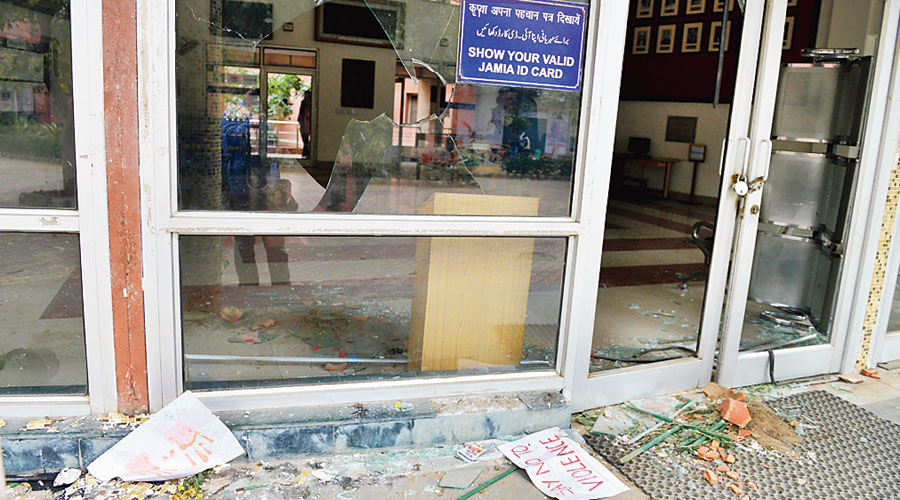 The Jamia Millia Islamia library after the police action in December last year.
Picture by Prem Singh
---
New Delhi
|
Published 15.12.20, 01:27 AM
|
---
Mohammad Minhajuddin struggles to cross the road as he heads to the civil court where he practises.
Rush-hour in Samastipur, Bihar, is nowhere close to even Sunday traffic in Delhi. But Minhajuddin's field of vision is half what it was when he was a student in the capital. The 27-year-old also struggles to estimate the speed of an approaching car.
His right eye tears up if he goes through legal documents on his laptop or mobile screen for too long.
Minhajuddin says a police baton claimed his left eye on December 15 last year when Delhi's law-keepers went on the rampage at Jamia Millia Islamia university, where he studied. Ostensibly, the cops were looking for violent protesters against the new citizenship regime who had allegedly torched vehicles.
The boots and canes left a trail of destruction through the varsity libraries and even a place of worship, causing Rs 2.66 crore worth of damage.
Minhajuddin, then doing his master's in law, is among the students and security guards the police thrashed. He says a CRPF man hit him with a fibreglass baton as he was fleeing a reading room that stick-wielding cops had barged into, shortly after the building had been shelled with tear smoke.
"Every day is a struggle. I need help to cross a road. I collide into people when I try to move fast through the crowded court premises," he told The Telegraph.
"Delhi High Court has clubbed several petitions for compensation, including mine, and is still hearing the case. We were refused even interim compensation despite a recommendation from the National Human Rights Commission (that the Delhi government compensate the injured students)."
The assault has forced Minhajuddin to drop his plans to earn a PhD and practise in Delhi's courts.
The only compensation he has received so far is a cheque for Rs 5 lakh from the Delhi Wakf Board. Doctors were able to save his right eye but have ruled out an eye transplant on the left side because of nerve damage.
Minhajuddin has already spent Rs 1 lakh on treatment and needs to regularly consult an ophthalmologist.
"Initially, several people and NGOs promised help. Their enthusiasm lasted only a short while. Ultimately nothing came (apart from the wakf board's assistance)," he said.
"I have learnt to be patient and not depend on politicians, to be self-reliant."
Chandan Kumar, 22, who earned a BA in mass media from Jamia this year, was taken to hospital in the same ambulance with Minhajuddin.
Kumar received five stitches on his head for injuries from alleged caning by policemen who had found him in the library toilet. He had hid there after the tear-smoke shelling.
"This whole year has been a nightmare that never ends. I have recurring dreams of the police attacking us," he said.
Kumar, set to begin an MA course in linguistics at Jawaharlal Nehru University, said he wanted punishment for the errant cops rather than compensation for himself.
"Fascism came alive from a concept I had read in books to something that we as students had to endure because we were studying in a minority institution," he said.
"In my court petition, I did not seek compensation. For me, justice will be served only if the officers guilty of attacking us are punished. I'm yet to see (signs of) that happening in court so far."
Kumar, an activist of the CPIML Liberation's All India Students Association, was named in an FIR on the Jamia violence but has not been named in the chargesheets.
Two of his mobile phones have been seized, one after the other, during the four sessions of interrogation. The police have questioned him over the Jamia violence and the protests against the new citizenship regime that the force blames for the February riots that killed 53 people.
The women-led agitation at Shaheen Bagh began as a reaction to the Jamia brutality.
Asif Iqbal Tanha of the Students Islamic Organisation — another Jamia student-activist named in the FIR with Kumar — is in jail, waiting to be tried for his alleged role in inciting the February violence through his participation in the citizenship protests.
"The result of our protest, and others that followed, is that finally, today, the government which never listened to anyone has been compelled to talk to the farmers," Kumar said. "The protests by students, doctors and farmers have helped sustain at least a nominal democracy. Despite (the government's supporters) calling the farmers Khalistanis who eat foreign-funded pizzas, the farmers cannot be delegitimised like we students were."
A photograph of women students shielding a man from the police's batons at the protest march that preceded the rampage became a symbol of the resilience of the students, who continued to participate in the anti-citizenship-act protests. Aysha Renna N, an MA (modern history) student, was one of the women in the photo.
"I was trolled online. Details of my family, my social media posts and my studies were made public," she told this newspaper.
"I was also criticised so much for the politics I spoke about, for asserting my identity, for praising Allah before my speeches, or wearing a scarf, that it made me more stern in my politics."
Her Facebook profile was blocked, and she moved to Twitter.
"Every time I recall that incident (of the protest march in which she was hit by the police), it is traumatic and painful. But it also became an inspiration for a pan-India anti-CAA movement… and to speak out against the anti-national activities of the BJP government," she said.
Jamia has not claimed damages from the Centre, to which the Delhi police report. The university had to move court after the police refused to register an FIR on its complaint of a rampage.
"We have not received anything from the court," vice-chancellor Najma Akhtar told this newspaper. "Whatever comes your way, you have to find a way out and we have successfully done it."
In June news came that Jamia had made it to the top ten in a national-level ranking of universities.
Besides, 14 of its teachers figure on an internationally peer-reviewed list of top scientists.