Writer, former Patna HC judge speak up for Umar Khalid
Our sorrow and worry is that the activist is not lone victim of this injustice being done in the name of law, says Geetanjali Shree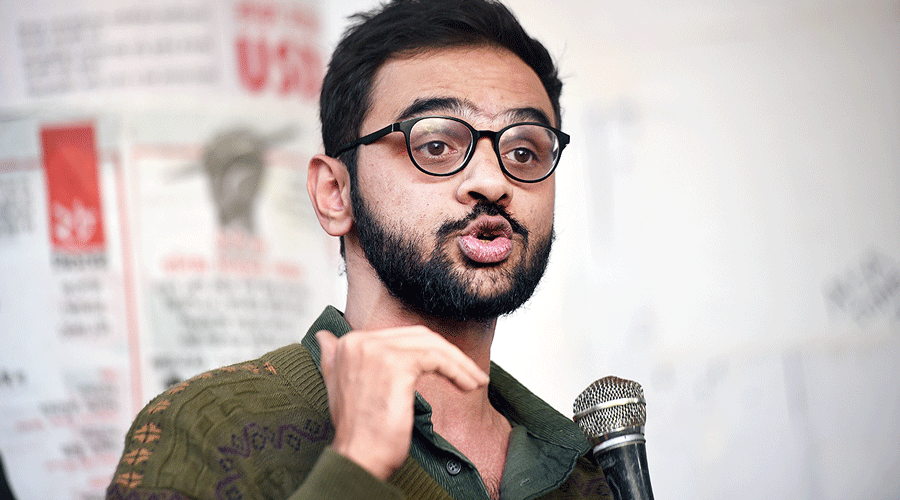 ---
New Delhi
|
Published 14.09.22, 03:03 AM
|
---
An event on Tuesday to mark the second anniversary of activist Umar Khalid's imprisonment became an occasion to question the draconian provisions of the Unlawful Activities (Prevention) Act and the political nature of the serial police probes against journalists and activists.
At the meeting in the Press Club of India, recent Booker Prize winner Geetanjali Shree said: "The court says that he (Khalid) is so dangerous an offender that he cannot be released on bail. But the court does not find it urgent at all to hear Umar Khalid's case. Our sorrow and worry also is that Umar Khalid is not the lone victim of this injustice being done in the name of the law."
She said that asking questions had been part of Indian culture since the times of the Vedas and Upanishads and the advent of Buddhism.
"The reply to a question or a doubt is not: 'Silence! Why did you speak? Now suffer the punishment. You have no right to a legal punishment or legal proceedings' — like what is happening to Umar Khalid and others," Shree added. Former Patna High Court judge Anjana Prakash said in a video message: "I hope this meet starts a debate on the larger issue of the necessity of keeping people behind bars for long periods at a pre-trial stage."
She said the UAPA did not adhere to the jurisprudence of "innocent until proven guilty".
Justice Prakash explained: "The UAPA with its clauses that a court is not to grant bail until it is satisfied that no case is made out against him — this is an absurd order for the simple reason that at the stage of investigation it is the prosecution which collects evidence against the accused and on that basis submits a chargesheet.
"If no case is made out, then the police would not submit a chargesheet. In that case the accused would not be in jail and there would be no necessity of bail. Secondly, in the pre-trial stage, how is a court to come to a conclusion whether a case is made out or not?
"I am amazed as to how courts have accepted the position when the legislature in its enlargement of jurisdiction put a fetter on the courts' wisdom by forbidding grant of bail."
Umar and 17 others have been charged in a case linking the protests against the citizenship matrix to the communal riots in Delhi in 2020. Six have received bail. The trial is yet to begin.
The police filed 17,000 pages of chargesheets in two instalments in September and October 2020, and took another six months to give the accused copies of the chargesheets.
The accused had to move court for the copies although they are legally entitled to receive these as soon as the court admits the chargesheet.
Aishe Ghosh, president of the students' union at Jawaharlal Nehru University where Khalid cut his teeth in activism, said: "What the BJP, RSS want to produce are yes-men and yes-women who will follow their firmans (diktats). The majority of those arrested (in this case) are Muslim because it is easy for the BJP and the RSS to portray a certain image due to the ingrained Islamophobia in society."
Video messages of solidarity from MPs Jawhar Sircar of Trinamul, Manoj Jha of the Rashtriya Janata Dal and E.T. Mohammed Basheer of the Indian Union Muslim League; CPM politburo member Mohammed Salim; and Annie Raja, general secretary of the CPI-backed National Federation of Indian Women, were played. Supreme Court lawyer Shahrukh Alam spoke about how lawyers and judges shun political arguments and activist lawyers.
"The infamous FIR 59 of 2020 (of the Delhi police crime branch, under which Khalid and others were arrested) is nothing if not political," she said.
"It is not the FIR's business to decide if something is propaganda or not propaganda. The FIR has to name a crime. FIR 59 of 2020 does not name an offence, it names propaganda, it says you are mobilising…. That is a political right to convince people that something is happening that is not right. It is a democratic right."
Alam said the government's response to the citizenship protests with the FIR was a political act similar to the extreme punishment handed out to Oliver Twist when he asked for more gruel.
She described the arrests in this case and those of journalist Siddique Kappan and fact-checker Mohammed Zubair as "systemic pro-establishment politics and structured harassment of dissenters".
Khalid too, in an open letter published on news website The Wire on Tuesday, criticised the UAPA, comparing it to the colonial laws the British used to repress freedom fighters.
"Lately, there has been a lot of talk of doing away with colonial symbols of slavery. This, while several draconian laws reminiscent of the colonial era continue to be weaponised against activists, students, dissidents, and the political opposition," Khalid wrote.
"Do people not see any similarity between the Unlawful Activities (Prevention) Act (UAPA) — under which we are languishing in jail — and the Rowlatt Act, which the British used against our freedom fighters?"
His letter, a reply to a similar letter from educator Rohit Kumar, added: "One evening a jail warden started a conversation with me about my case. He said that first when he saw me in jail in 2020 he found it difficult to believe the accusations against me. He thought that it was all politics, and it is only a matter of a few days before I would be released.
"But now in 2022, as I wait for the day when I will hear my name on that (jail) loudspeaker (that announces the names of prisoners about to be set free), he has his doubts, 'Bail kyu nahi mil rahi tumhe? Kisan aandolan walon ko to mil gayi thi kuch dinon me hi'. ('Why aren't you getting bail? The protesting farmers got bail in only a few days.')
"I tried to tell him about the UAPA and the test of bail under it as compared to the IPC (Indian Penal Code) but as I was explaining it to him, I realised that I had lost him midway. He was no longer paying attention. Who really is interested in these finer technical details of law."
Khalid added: "Of late, I have stopped convincing the people around me here of the reality. After all, how many lies should I debunk? And to how many people?... My circumstances have compelled me to find comfort in silence and solitude. I have stopped feeling as claustrophobic upon being locked up in my small cell alone for hours now as compared to my initial days of incarceration. Now, the sight and sound of people and traffic during my visits to court make me irritable and anxious."
Khalid's mother Sabiha Khanum spoke of the cruelty of making the activist sit in a jail van for hours in the summer, of Khalid finding frogs over himself in his cell during the monsoon months.
"Umar could have had a comfortable life, yet he chose to stand with the oppressed and question the oppressor eye to eye…. This is his crime," she said.