Why are they launching it even though they have a good reputation?
WorkHours has its own Mobile App, the only intention is to make things much simpler - HelloVeeru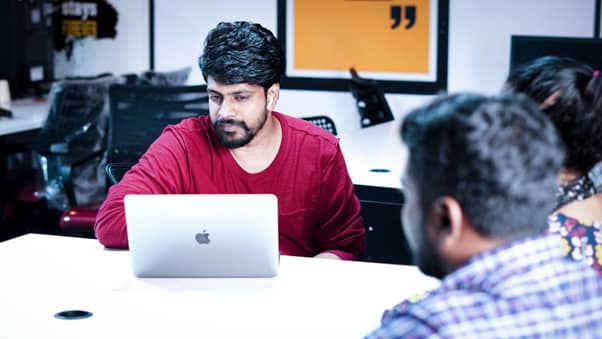 ---
Published 06.10.21, 02:30 PM
|
---
A new step forward to put the individuals at ease, Workhours App!
Workhours is launching a mobile application in both Android & iOS!
Why are they launching it even though they have a good reputation?

Didn't hear about Workhours yet? Here's what you should know!

Workhours, the new Ed-Tech platform that is solely focusing on Self-employment.
 
This new step by HelloVeeru is going to hit the floor soon and will enable any aspiring individual to earn with freedom.
 
The question was: Why is it now?

When asked, Veerander says, " Launching an app was never my idea. I went on teaching students in the best way possible.
Giving access to the PCs, Laptops was only to make sure that they have a wider screen to learn and watch the practicals."
But with time and an increasing number of students, a request to have an app came from the students so that it can be more handy for them instead of going to the browser, logging in and learning the course.

And he further adds, "I believe not only teaching and guidance are important but understanding their needs as a mentor is too.
That's how I came up with Workhours app that will be accessible and flexible to every student no matter wherever they are, travelling, in between breaks, etc in the comfort of their mobiles."
They believe in updating themselves in each and every aspect of their journey and in order to fulfill their most students' requests, they have updated themselves only to provide the quality of value in training their students.

With no doubt, taking students' request into consideration, Veerander Chowdary is all set to launch Workhours mobile app!
For the past one year Veerander and his entire team is working hard on one intention, that is to provide a value to each and every student in their entire course and also to fulfill the dream of Veerander who initiated this mission to make India Self-employed.
The team is all geared up to give the best guidance and support in each course. And striving to give the best experience so that no student or individual doubts their potential.
Whether it is to sharpen your knowledge, make a career or to learn new subjects, it offers the opportunities to every learner.
The idea and mission is always to make the individuals realize that anyone with zeal and dreams is capable of doing something of their own and be independent financially.
The team is putting its best in creating the app more reliable and effective. The app will have the features that will enable you to learn with ease.
The core intention of the Workhours is to extend themselves to any extent in order to provide the value which is required for their students.
Different ideas popped up considering the needs of students, and various suggestions have been given a chance. The team is trying to understand what more a learner needs to avoid the disturbances and increase the interest.
With this aim, Veerander Chowdary, our HelloVeeru has started a Mastery course that has led individuals across the country to pursue their dreams of being independent.

The age, language, region, profession didn't matter but the passion of learning and earning did!
HelloVeeru has vast experience in teaching 2,00,000 individuals with 8+ experience in Digital Marketing.
DBA Mastery course has completed a year and is still growing to continue in helping individuals to learn. It has reached milestones of students' successes and reached many audiences.
Workhours is an advanced platform of HelloVeeru where learning and earning becomes easy.
Workhours is all about combining freedom with satisfaction and creativity of work in order to to brush their skills with more knowledge.
The new insights that are brought by Workhours will not only give the knowledge of any subject but will stabilize the pressure from the fear of self-employment.
Pick your course, learn, execute, and excel, this is what Workhours suggests. This Ed-tech platform will enable the individuals to learn with ease at their comfort.
Initially, the Mastery course was only accessible to PCs, Laptops but with mobiles, it included technical glitches sometimes.

And that was definitely a major concern. Veerander Chowdary didn't take it easy but is now making it easy for the learners to avoid such disturbances.
As said by Veerander Chowdary, the app will be helpful for the students to learn in a better version.
Talking about courses, Workhours is going to offer a great amount that will help students to pick their choice of knowledge they want to get.
This advanced platform will be offering opportunities and boost the confidence of the learners to earn better and bigger.
This launch of the mobile application is not just to showcase their work or ability, the only intention is to provide valuable training in easy or simple possibilities.

Workhours is an advanced platform that is enriched with more value and quality.
Well, it does not seem like this will stop here or limit its boundaries to a certain level, there is more in mind and more ideas on the way for the benefit of knowledge-hungry individuals.
Are you an aspiring individual who aims to become successful and believes knowledge is the key?
If you are, then, prepare yourselves to bloom with this new app platform.