Won't shield son in rape case: Kerala CPM chief Kodiyeri Balakrishnan
Kodiyeri scotches quit claim, says accused should take responsibility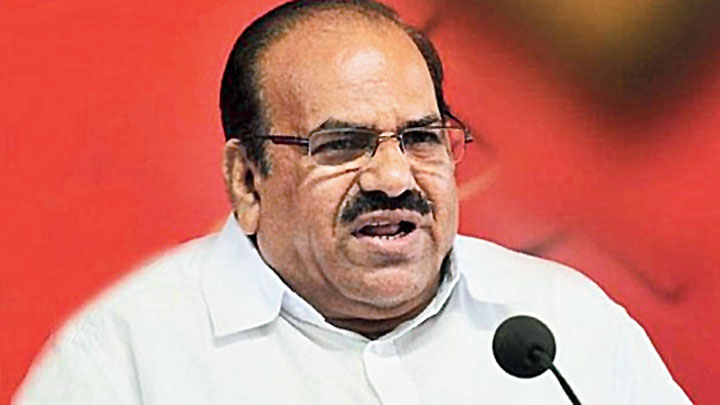 Kodiyeri Balakrishnan
(Sourced by correspondent)
---
Bangalore
|
Published 23.06.19, 01:47 AM
|
---
Kerala CPM secretary Kodiyeri Balakrishnan on Saturday ruled out any possibility of either him or the party interfering in the rape case slapped on his son Binoy Balakrishnan.
The leader quashed claims about him offering to resign as state CPM secretary and dismissed such reports as "wishful thinking" of the media.
"I don't want to explain any more about this news. It is the party that should take such a decision, not me," Kodiyeri said when reporters at a news conference in Thiruvananthapuram asked him if he would resign.
"This is a different kind of party. The party itself will take the relevant decision if I have made a mistake. That is how this party works," he added.
In his first meeting with reporters after a woman from Mumbai filed a police complaint against his son, Kodiyeri said Binoy should handle the matter himself and cannot expect any help from the party.
"Neither I, nor my party, has taken any steps to protect the accused," Kodiyeri said.
Asked if he knew about the activities of Binoy, Kodiyeri shot back: "Is it possible for a parent to accompany them (children) when they go abroad? Which parent can do that?"
"If he has committed any mistake, he has to take full responsibility for that. Let no one come to me thinking I will protect him. This is applicable to all party members and their family members," he added.
In her complaint, the 33-year-old woman has alleged that Binoy, 37, had met her at a Dubai bar where she was a dancer. They got into a physical relationship while in Dubai after Binoy allegedly promised to marry her. She has alleged that Binoy is the father of her eight-year-old daughter.
According to her complaint filed in Mumbai, Binoy moved her to the city upon learning that she was pregnant.
While Binoy rented a flat in Mumbai and paid for maintenance, he allegedly began drifting in 2015 when he stopped payments citing losses in business.
But all along, Binoy allegedly kept his marriage to another woman in native Kannur a secret. Once the Mumbai woman got to know about the marriage, she approached the police.
Kodiyeri on Saturday made it clear that Binoy has to handle the situation without expecting any help from his parents.
"Binoy is a grown-up man who lives separately with his family. It is the personal responsibility of the accused person (Binoy) to establish his innocence. I don't intend to interfere in that," the CPM leader said.
"Neither me nor my party has done anything to help family members who make mistakes. Those concerned should face the consequences that arise from such mistakes," Kodiyeri added.
To a question whether the woman had spoken to him, Kodiyeri said: "No one has spoken to me."
The leader said Binoy had met him once to discuss the matter. "My son had come to see me when this problem started," he said, apparently referring to the letter the woman wrote to Binoy six months ago demanding Rs 5 crore.
"I had clarified then that I cannot take responsibility for everything that my children do," Kodiyeri said.
A UAE businessman had last year lodged a complaint accusing Binoy of not returning a business loan of AED 7 million (Rs 13 crore).
The matter came to a head when the UAE immigration slapped a travel ban on Binoy, who got stranded in the Gulf emirate. The dues were allegedly settled by some NRI tycoons.
Kodiyeri urged party members to stay away if relatives get caught in similar situations. "Party members must not interfere in such situations. It is the same position that I am taking even though the accused person is my son," he said.