Woman cuts hair in tree ache
Protest at felling, pruning for power lines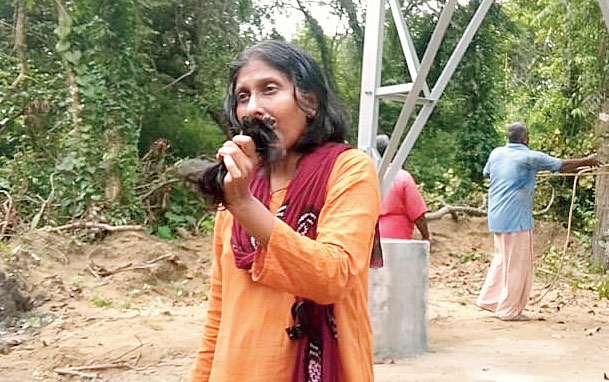 Meena shows her hair she snipped at Shantivanam in Ernakulam on Wednesday.
(Sourced by correspondent)
---
Bangalore
|
Published 21.06.19, 02:22 AM
|
---
A Kerala woman has chopped off her tresses in symbolic protest against the state electricity board shaving the crowns off several trees in her grove to erect a transmission tower.
Former journalist Meena Menon, 48, had fought six years to protect her biodiversity-rich, 2-acre patch of mini-tropical vegetation, Shantivanam (Forest of Peace), from the Kerala State Electricity Board's (KSEB) axes, even approaching Kerala High Court.
After the court rejected her plea for a realignment of the transmission lines, she says the power board in mid-April felled three of her trees, clearing a 6,500sqft patch right behind her home.
While her appeal remains pending in the high court, power board workers lopped the crowns off three more trees on Wednesday and left saying they would come back on Thursday to prune more treetops, she says.
It was on Wednesday that Meena snipped her hair to above shoulder length to register her anger and sadness as a posse of policemen and neighbours watched at the property in North Paravur, Ernakulam, 20km from Kochi.
She also uploaded a video clip that is being widely circulated and has turned her into a rallying point for environmentalists.
"This is the only way I can register my protest. I have fought in every legal way possible for a common person. At least I don't need anyone's permission to cut my own hair --- neither from the KSEB nor the police," she says in the video.
"I have been waiting for the chief minister's reply. This tuft of hair is for you, comrade. And this one is for you comrade (power minister M.M.) Mani. And the last two are for the KSEB and for every common man out here. It's a lesson for you in what would happen to someone who tries to protect biodiversity."
After the video protest, no one came to her grove on Thursday to chop or prune more trees.
On Thursday, Meena told The Telegraph: "I fought against the electricity board for six years and pleaded with them to lay underground cables. But I could only watch as they destroyed a large patch of forest with precious undergrowth."
The 8km long, proposed 110KV Cherai-Mannam power transmission line passes through a 4km stretch of residential areas and copses where Meena's ancestral grove is located. She is the only resident to take the fight to the electricity board.
It all began sometime in 2013, she says, when power board officials marched into her "at least 200-year-old" property, home to three ancient shrines.
"They just walked in and said they were going to place a tower in my property. I was shocked at their brazenness; they didn't even seek my permission," Meena told this newspaper.
She immediately approached the Ernakulam district collector, who sent a team of officials to explore possible ways of sparing her property. But eventually, the alignment wasn't changed.
"I told the officials that laying 4km of underground cable could save a lot of trees, and that a high-tension power line overhead would mean trouble for about 120 families. But they wouldn't listen," Meena said.
She petitioned the high court in 2017, which rejected her plea in April this year. "Even before I had got a copy of the judgment, KSEB men chopped down a pine tree, a coconut palm and an areca nut palm. While installing 15-metre-deep concrete piling, they didn't give a thought to what would happen to my house."
After she received a copy of the judgment, Meena says, she realised the high court had kept open certain options for her, such as approaching the district collector again to reassess the alignment. Wednesday's act by the electricity board --- "a continuation of their project to destroy this place" --- was the last straw for Meena.
Environmental activists have for years expressed solidarity with Meena and joined her Shantivanam Conservation Committee. The Congress and the CPM, successive governments led by which have continued with the alignment that threatens Meena's grove, too have voiced support for her as political parties.
Meena is now waiting for the high court to take up her appeal.
KSEB deputy chief engineer (transmission) George, who uses only one name, said the power line was key to solving the problem of low-voltage faced by more than two lakh people from 40,000 families. He said the project was likely to be inaugurated within a month.
"This project was conceived about 20 years ago. We have cut (completely felled) only three trees (on Meena's property) and won't be cutting any more," George told reporters.
He stressed that the additional district magistrate had heard Meena's plea before the line's alignment was finalised.
"The engineers decided the alignment (which puts the tower right in the middle of Meena's property) after a technical evaluation," George said.