Winter worry for Kashmir prisoners
Mehbooba and Omar are lodged at official guesthouses that have been turned into jails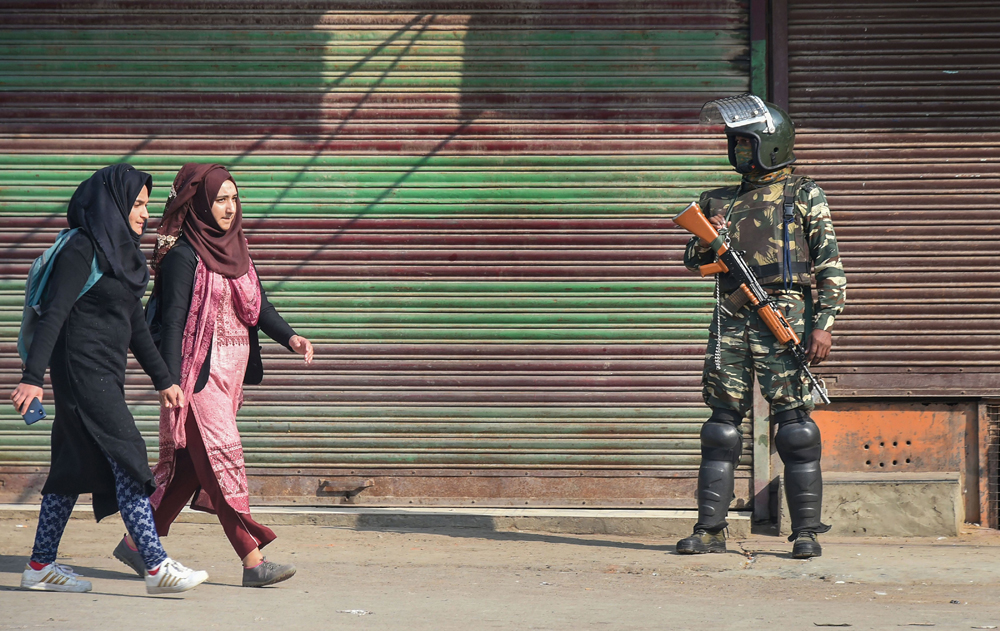 Kashmiri women walk past a security guard in Srinagar on Tuesday
(PTI photo)
---
Srinagar
|
Published 05.11.19, 09:20 PM
|
---
The freezing winter is the new worry for Kashmir's VIP prisoners and their families.
Iltija Mufti, the daughter of jailed former chief minister Mehbooba Mufti, has complained about the poor heating facilities available to her mother, with families of other politicians also raising similar concerns.
Three former chief ministers, including Farooq Abdullah, Mehbooba and Omar Abdullah, are in jail along with dozens of their colleagues for the past three months.
Iltija, who now runs
the Twitter account of her mother, on Tuesday urged the administration to shift Mehbooba, the leader of the People's Democratic Party, to a place equipped to deal with the Valley's punishing winter, warning that the Indian government would be responsible if anything happened to Mehbooba in jail.
"I've repeatedly raised concerns about the well being of my mother. I wrote to DC (deputy commissioner) Srinagar a month ago to shift her someplace equipped for the harsh winter. If anything happens to her, the Indian government will be responsible," Iltija tweeted.
She also tweeted the letter she wrote to the DC in which she highlighted her mother's ill health.
"A doctor recently ran multiple tests on her as she was not keeping well. As per those tests, her Vitamin D, haemoglobin and calcium levels are low," she wrote in the letter.
"The accommodation she is currently lodged (in) is not equipped for Kashmir's harsh winters," Iltija wrote.
Mehbooba and Omar are lodged at official guesthouses that have been turned into jails at Cheshma Shahi and Gupkar Road in Srinagar, while around three-dozen other politicians including former ministers are in Centaur Hotel, which too is acting as a prison. All the three places are on or close to the banks of the Dal lake, which is usually colder than the other places
in Srinagar city during winter.
The temperature in Kashmir during winter dips below the freezing point.
A family member of a PDP politician lodged at Centaur said the place lacked proper heating arrangements.
"Some rooms have ACs but others (in the remaining rooms) have been provided with single-rod heaters, which is obviously not sufficient," he said.
"We have taken up the issue with the authorities. Some reports suggest they might be shifted to Srinagar's MLA hostel but there too, we have heard, there are no heating arrangements."
Jammu and Kashmir administration spokesman Rohit Kansal did not take calls from The Telegraph for his comment on such concerns.
On Friday, reacting to photographs of Prime Minister Narendra Modi meeting his mother in Gujarat recently, Iltija had said the pictures were "heartwarming", and asked how he was separating mothers from their children in Kashmir.
"Heartwarming PM sir @narendramodi. But its been 3 months since you illegally detained my mother along with thousands of politicians, civil society members & minor boys. How much longer will you separate those mothers from their sons for?" she tweeted.
"GOI (government of India) like thieves robbed us of what was legally & rightfully ours (scrapping of Jammu and Kashmir's special status). It's been 3 months since this colonial project started. Don't assume you will bully/silence me by using my mother as a bargaining chip," Iltija added.