Pilot with 'blind faith'
Captured pilot refused to disclose his hometown or mission, only revealing he is from "down south" and is "married"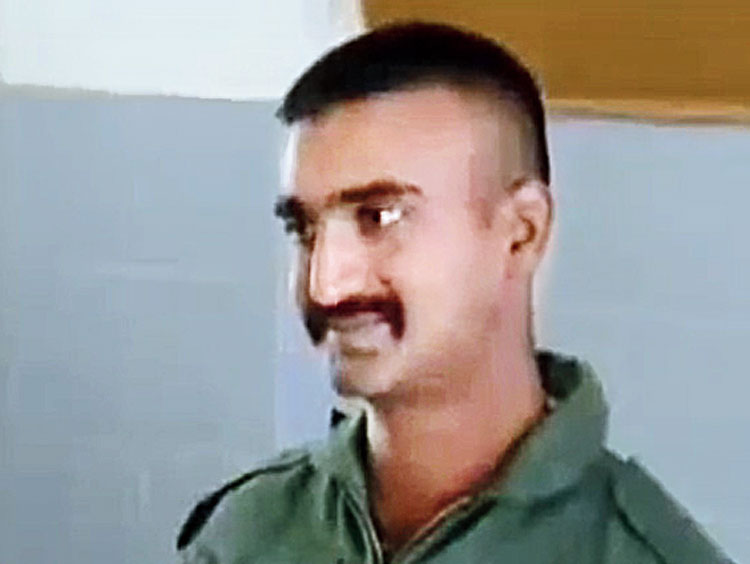 Abhinandan Varthaman during the Jai Hind show in 2011.
A still from the NDTV programme in 2011
---
New Delhi/Bangalore
|
Published 27.02.19, 09:42 PM
|
---
Wing Commander Abhinandan Varthaman, who was captured in Pakistan after his MiG-21 Bison crashed on Wednesday, is a part of Indian Air Force's 51 Squadron, called Sword Arms and based in Srinagar.
Before the Indian government confirmed his identity late in the evening, videos released by Pakistani government sources showing him in captivity had led journalists to his family home and a television show featuring him had been dug up.
The officer had appeared on the Jai Hind show on NDTV Good Times in 2011. Then a flight lieutenant who flew Sukhoi-30, he was asked what it takes to be a good Sukhoi pilot and replied: "Bad attitude." He also said: "I trust Dusty (his co-pilot) with my life, and he trusts me with his. That's our training. And this is blind faith. No two ways about it."
In the videos released on Wednesday, the wing commander is seen being rescued by the Pakistan Army from villagers assaulting him in a rivulet. He is later seen with his face bloodied.
In a video where he is blindfolded, he says: "My name is Wing Commander Abhinandan. My service number is 27981. I am a flying pilot. My religion is Hindu." Questioned further, he replies: "Sorry, Sir. That's all I'm supposed to tell you."
Another video shows him drinking tea and being interviewed by a Pakistan Army major. He praises an army captain who saved him from the mob, and says: "I would like to put this on record and I will not change my statement if I go back to my country also, the Pakistani army has looked after me very well and they are thorough gentlemen."
He refuses to disclose his hometown or mission, only revealing he is from "down south" and is "married".
But word soon spread that the officer traces his roots to a village near Kancheepuram in Tamil Nadu. His father is Air Marshal Simhakutty Varthaman who lives in Jalvayu Vihar near the Tambaram air force station south of Chennai. According to the Bharat Rakshak website managed by retired defence personnel, he retired as the Air-Officer-Commanding of the Eastern Command in Shillong in 2012.
On Wednesday, security guards at the gates of Jalvayu Vihar gave journalists a note saying: "Retired Air Marshal requests media not to contact him regarding his son Wing Commander Abhinandan's alleged capture by Pakistani forces; says he does not wish to speak about the situation."
The air marshal is one of the trustees of Colours of Glory, a foundation run by defence veterans to bring armed forces closer to the people. Another trustee, who did not want to be named, told The Telegraph that as far as he knew, Abhinandan is married and has a son. "I know only Air Marshal Varthaman. Never met his son," the veteran added.
The air marshal has given talks supporting the induction of women in combat roles in the air force, and advised Mani Ratnam on his 2017 film Katru Veliyadai, sources said. The film was a love story loosely inspired by K. Nachiketa, a flight lieutenant captured by Pakistan during the Kargil conflict.