Widow scream rips sewer veil
On display were a robotic scavenger — an automaton capable of going down a manhole to do the job of a manual scavenger — sewer croc, gas monitor and a sludge-clearing machine called Sepoy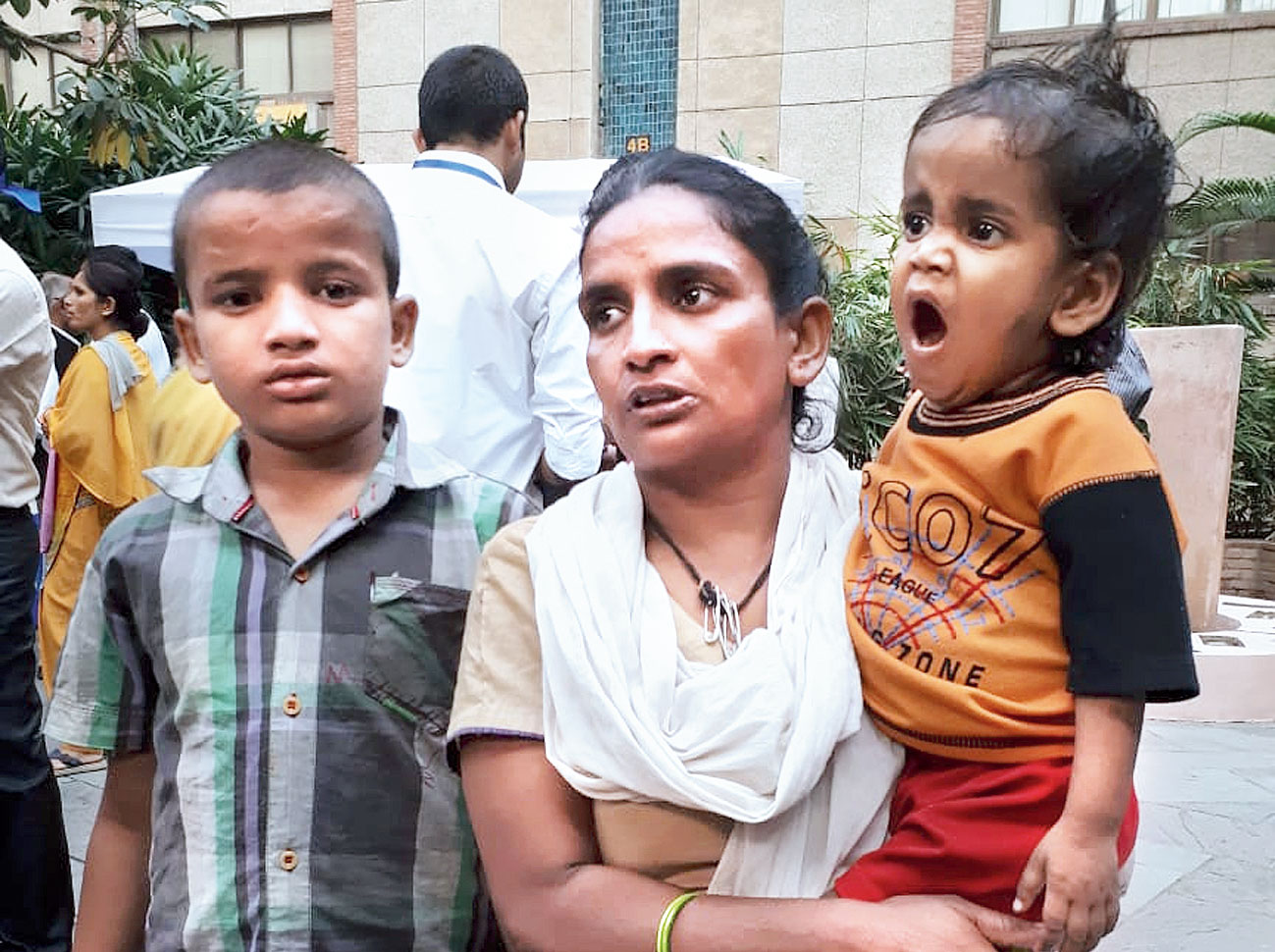 ---
---
Rani, 35, screamed on Saturday as she watched a display of advanced equipment for cleaning sewer lines and sewage tanks.
"My husband would not have died had these been available a month ago," the mother of three said, holding her two-and-a-half-year-old daughter Suman tight in her arms.
Rani, whose husband Anil died on September 14 while cleaning a sewer tank in Dabri, Delhi, was at the India Sanitation Forum, an exhibition held by the Safai Karamchari Andolan, an organisation fighting for the eradication of manual scavenging.
On display were a robotic scavenger — an automaton capable of going down a manhole to do the job of a manual scavenger — sewer croc, gas monitor and a sludge-clearing machine called Sepoy.
Rani is yet to receive any government assistance since the death of Anil, 40, although the Supreme Court had ruled in 2014 that the government must pay Rs 10 lakh to the family of any manual scavenger who dies on the job.
Barely a week before Anil's death, Rani had lost her youngest — a four-month-old baby — to fever. She is now struggling to sustain herself and her three surviving children. Son Gourav studies in Class III at a local school while seven-year-old Laxmi goes to an anganwadi centre.
"I work as a domestic help but earn too little," she said.
Ordinary people have helped where the government hasn't – pitching in with Rs 2 lakh in donations for Rani, collected by civil society groups.
Andolan national convener Bezwada Wilson said the organisation had submitted a memorandum demanding immediate compensation and a job for Rani.
Teams of veteran and budding engineers displayed the equipment at Saturday's event.
The sewer croc can enter sewer lines to clear any blockages. It costs between Rs 1.8 lakh and Rs 2.3 lakh depending on size. The gas monitor helps detect any harmful gas inside sewage tanks, said Balakrishnan K., member of a group of retired engineers from Hindustan Aeronautics Ltd who have developed the croc and the monitor.
A group of young engineers from Kerala developed the robotic scavenger to try and prevent the deaths of manual scavengers, said Nikhil K.P., a member of the group. Eleven people died in Delhi and Chhattisgarh last month cleaning sewers.
A group of students from IIT Madras designed the Sepoy, a product prototype that can clean the sludge from septic tanks. The final product will be developed in a year, said Ajay Raj, one of the students.
"We want the state governments to adopt these technologically advanced products and engage women to operate them. The Telangana government has agreed," Wilson said.
He highlighted how Parliament had banned manual scavenging in 1993 and passed a law in 2013 prescribing up to a year's jail and/or a fine of Rs 50,000 for anyone who hires manual scavengers. No one has been convicted under this law.
Cleaners hired by state governments and civic bodies and given safety equipment like gas masks don't come under the definition of manual scavenger.
Most of the deaths occur during unprotected scavenging jobs inside septic tanks at private residences.The Supreme Court judgment had directed governments to identify manual scavengers and rehabilitate them with alternative jobs after imparting skills training.
A survey by the National Safai Karamcharis Finance and Development Corporation this year found 20,000 manual scavengers in the country.