Why call yourself a chowkidar, tweeter asks Sushma Swaraj
Minister praised for work, but asked for how long will the chowkidar "drama" continue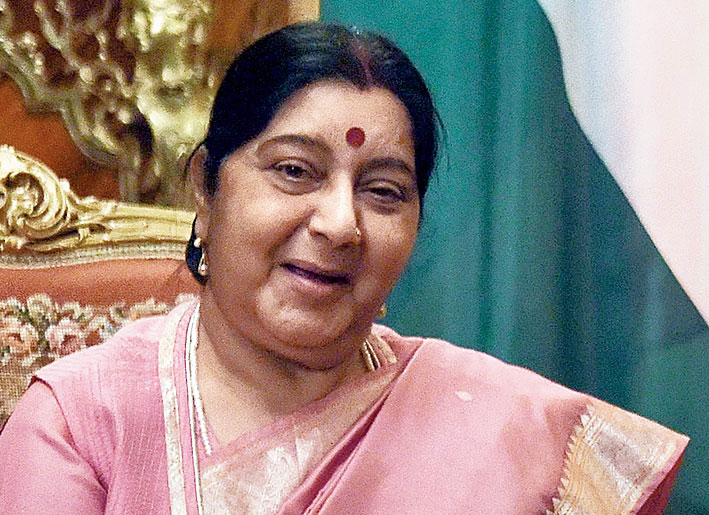 Sushma Swaraj
Telegraph file photo
---
New Delhi
|
Published 30.03.19, 09:13 AM
|
---
An Indian tweeter who calls himself @engineer_gt on Saturday asked foreign minister Sushma Swaraj why, despite being 'the only one most sensible' in the BJP, she wanted to call herself a chowkidar.
'Ma'm we thought you were our Foreign Minister. The only one most sensible in BJP. Why do you call yourself Chowkidar,' @engineer_gt asked. Sushma replied: 'Because I am doing Chowkidari of Indian interests and Indian nationals abroad.'
Around 2.25 pm, when the status of the minister's messages was checked, the minister's handle showed that her reply was pinned. Users generally pin their own tweets when they want visibility for it or want to send out a message. A pinned tweet, unless it is unpinned, appears as the topmost tweet on the user's page, thereby gaining visibility.  
The question to Sushma came after multiple tweets from the minister on an Indian couple who were stabbed in Munich. Sushma, as she has done several times before, was giving details on the case and the Indian consulate's effort to assist the family.
The reply by her triggered a wave of 'well said Mam' tweets. It also elicited a response from @niiravmodi - his display name is Chowkidar Nirav Modi - who wrote: 'Madam, I am also doing chowkidari of my interest and Mota bhai interest. Bas jail Taj Hotel mein Rakhna hai.'
Among these largely adulatory messages, were some tweets that asked how long the ministers would continue to call themselves chowkidars. @sushankmandal wanted to know: 'Ma'am aap chunawo se phele toh aapne aap ko chokidar nhi bolti thi. Yeh naam badalne wala natak kab tak chalega (You never called yourself chowkidar before the approaching of the elections, Ma'am. For how long will this name changing drama be on).' To be fair to @sushankmandal, he did mention that he knew that Sushma is a 'hardworking minister'.
The oddness of the chowkidar prefix got a more nuanced poke from @chawlamanu. 'Madam you have been always doing that selflessly throughout your political career. It seemed a bit odd to us to see the salutation in front of your name,' he wrote.  
Many Sushma fans also admonished @engineer_gt for asking such a question.
Neither Sushma, nor any ministry official had replied to the tweets till afternoon.