Why Anurag Kashyap landed seven hours early
'I won't fly IndiGo until Kunal Kamra is allowed to do so'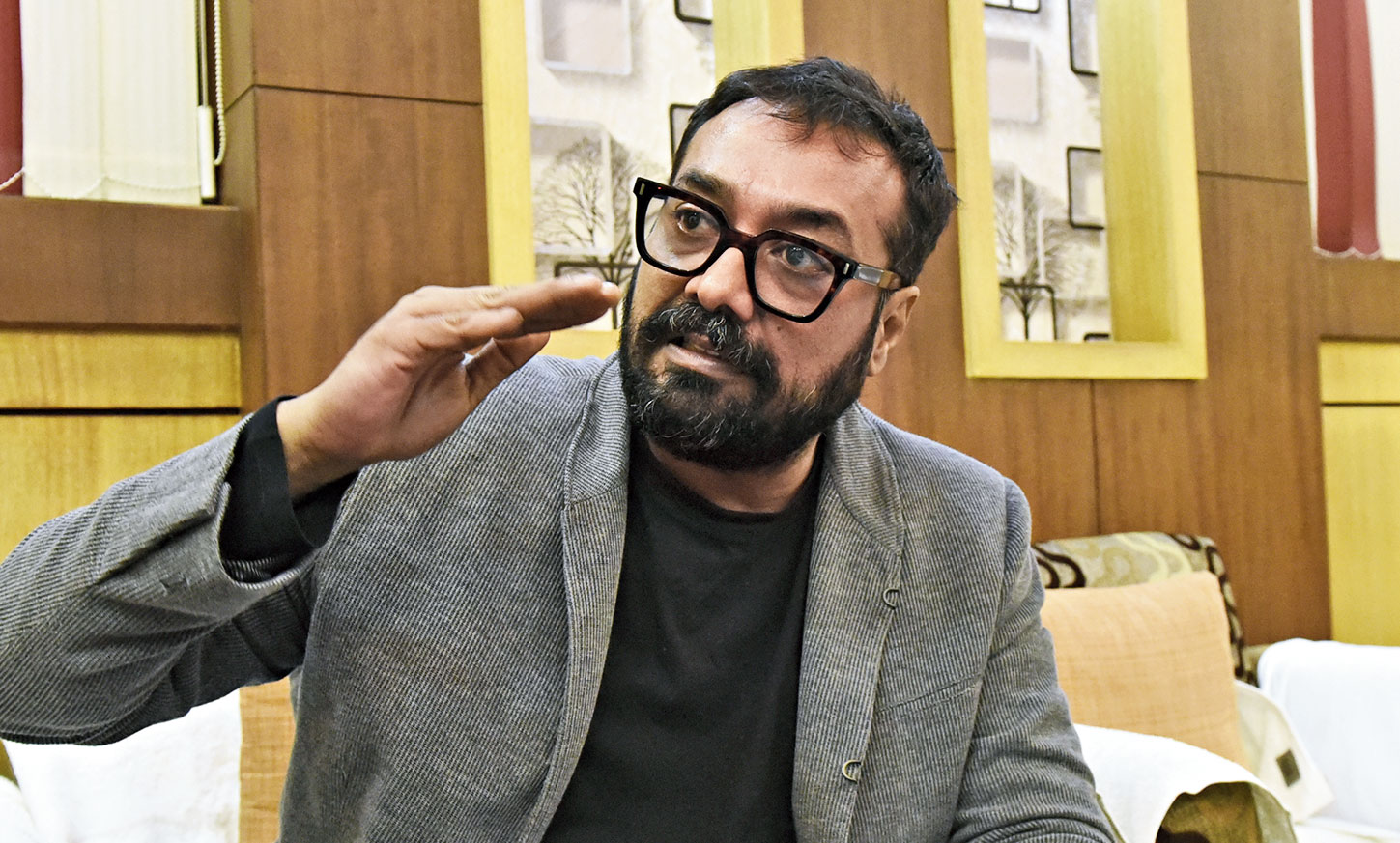 Anurag Kashyap narrates his plane experience.
Picture by Sanat Kr Sinha
---
Calcutta
|
Published 03.02.20, 09:16 PM
|
---
Film director Anurag Kashyap landed in Calcutta seven hours before a programme scheduled for Monday evening. He did not mind.
He had to wake up at 4am for the flight. He did not mind.
"I will wake up at 4am but I will not fly IndiGo," Kashyap told The Telegraph.
Not until "Kunal Kamra is allowed to fly".
At the greenroom of Rabindra Bhavan in Dum Dum, where he had been invited to open a film fest, the filmmaker said: "I was booked on IndiGo by the organisers to come to Dum Dum…. After Kamra was banned, I told the organisers I will not fly IndiGo. I told them I will not fly this airline because I thought the ban was very unreasonable….
"My thing is: there is nothing I can do about it. It does not make much of a difference. But as I wanted to register my dissent, I thought that I would not fly IndiGo. I want to fly Vistara. The IndiGo flight was on Monday afternoon and the Vistara flight was in the morning. They (the organisers) informed (me) that to fly Vistara, you have to wake up at 4am. I said, 'I will wake up at 4am, but I will not fly IndiGo'."
At Rabindra Bhavan, around 5.30pm, the emcee introduced Kashyap as the person "who humbly declined to fly by IndiGo to show solidarity with Kunal Kamra". The audience erupted in thunderous applause.
In his address, Kashyap, director of path-breaking films like Black Friday, Gangs of Wasseypur and Dev.D, said: "Gone are the days when artistes or even the common man could afford to be politically correct. It is time that we all took a stand against the government that does not respect you."
Kashyap flew from Mumbai to Calcutta with Vistara on Monday.
Kamra, too, had travelled by Vistara on Sunday. "My airport look all thanks to @airvistara following due process... #lovevistara," @kunalkamra88 had tweeted with a picture.
The stand-up comedian, a critic of the Narendra Modi government, has been suspended by IndiGo for six months following last week's onboard incident with television anchor Arnab Goswami.
Air India, SpiceJet and GoAir followed suit with bans, without specifying any period, after a prod from aviation minister Hardeep Singh Puri.
Vistara and another airline, AirAsia, have not initiated any such action and have said they are reviewing the matter.
Kashyap explained his no-IndiGo stand.
"I took the decision because of the way the things happened. The thing is: one minister says Kunal Kamra won't be allowed to fly Air India and requests other airlines to follow suit. Airlines are trying to appease the government. Imagine, the government is being the bully and everybody is so afraid of the government (they are) trying to appease him. Without any official order, without any investigation they declare a ban on this man. They have not bothered to speak to the pilots. This is arrogance, this is bullying by this government. I will not fly the four airlines till Kunal Kamra is allowed to fly," Kashyap said.
The flight's pilot-in-command, whose complaint is a must to initiate steps against flyers and put them on a no-fly list, had not made any complaint against Kamra.
Pilot Rohit Mateti had said in a letter to the IndiGo management that while Kamra's behaviour was "unsavoury", he could not be classified as an unruly passenger.
Kashyap said: "As Captain of 6E5317 BOM-LKO on 28.01.2020, the pilot had said he did not find the aforementioned events reportable in any way. Still Kamra was banned. So henceforth Vistara will be the preferred airline and (also) AirAsia because they are following the due process of law."
No IndiGo spokesperson was available for comment when this newspaper tried to obtain a reaction on Monday night.
What does Kashyap think of the propaganda machinery associated with the government? "Everything is being used because this government has no genuine answer that they should have on the economy, on GDP, on education, on protection of women. They keep talking about the protection of women and they have given (rape-accused BJP leader) Chinmayanand bail. So this government is creating distraction, creating newer enemies because they don't have to address the real issues because eventually prices in the market are going high.
The buying power of people has come down… they are abdicating all the responsibilities. They are selling LIC," Kashyap, who wanted to be a scientist but became a filmmaker by accident, said.
In August, Kashyap's parents and daughter had received hate mails after he opposed the clampdown on Kashmir. He had then written: "When your parents start to get calls and your daughter gets online threats, you know that no one wants to talk…. Thugs will rule and thuggery will be the new way of life. Congratulations everyone on this new India…."
After the police assault on Jamia students on December 15, Kashyap returned to Twitter saying: "Can't Stay Silent Any Longer."
On Monday, he said: "Yes I was scared for my family. But the time has come to take a stand. This government has been taking us for granted."
Had he succeeded in inspiring a section of the Hindi film industry to take a stand?
"They had a pent-up anger and now it is coming out in the open," he said.