Who's winning the Covid-19 donation war?
Shah Rukh joined late, but came first; Ratan Tata, Premji generous as always; jury out on MS Dhoni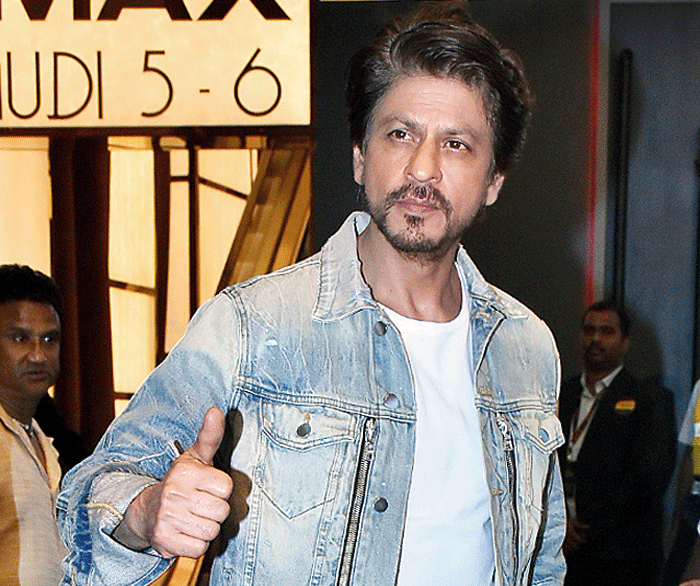 While business houses, actors and sportspersons have been announcing numbers, ranging from Rs 1 lakh to Rs 1,500 crore, Shah Rukh Khan tweeted about his unspecified "small" contribution.
Picture by Yogen Shah
---
Calcutta
|
Published 06.04.20, 07:54 AM
|
---
A German state finance minister killed himself over coronavirus worries. He was anxious about "the population's huge expectations, particularly of financial help". Germany has earmarked a war chest of about $600 billion for Covid-9 action. And that's the financial size of our pandemic problem.
In India, the lockdown has put many things on hold, including a pending class revolution. For now, we'll have to make do with a mild redistribution of wealth with good old philanthropy. Fortunately, celebrities and business leaders have caught on, either out of conscience or shame.
Bollywood stars
Shah Rukh Khan joined the Covid-19 donation race last but bagged first place.
The actor announced a spread of initiatives for the hydra-headed pandemic without flaunting an amount. While business houses, actors and sportspersons have been announcing numbers, ranging from Rs 1 lakh to Rs 1,500 crore, SRK tweeted about his unspecified "small" contribution. Again, most of the biggies joined the bandwagon called Prime Minister's Citizen Assistance and Relief in Emergency Situations or, PM CARES. SRK's kitty, meanwhile, had something for everyone – a donation to PM CARES, help for the chief ministers of Maharashtra and West Bengal, personal protective equipment (PPE) for healthcare workers and financial and other support for daily-wage migrants, who have put inequality on the road with their recent exodus. SRK, through his foundations and companies, managed to comfort a range of audiences.

In these times it's imp to make everyone around u working tirelessly for u.. not related to u.. perhaps even unknown to u... to feel they are not alone and by themselves. Let's just make sure we all do our little bit to look after each other. India and all Indians are One Family. https://t.co/LWz4wQGaPe

— Shah Rukh Khan (@iamsrk) April 2, 2020
Incidentally, known troll Shefali Vaidya had twitter-shamed him, along with the other Khans. After Kesari Akshay Kumar contributed Rs 25 crore to PM-CARES, Vaidya taunted Aamir Khan, Salman Khan and SRK for their apathy. Bhaijaan Salman, known in equal parts for his reckless driving and his generosity, has decided to support 25,000 daily wage workers in the film industry. There's no news from Aamir yet but silence can also be golden.

How much have the Khan trio given? https://t.co/TwKWRxnOtp

— Shefali Vaidya. (@ShefVaidya) March 28, 2020
Saif Ali Khan and Kareena Kapoor Khan were also badgered on social media for donating to international organisations such as UNICEF and falling short of the minimum nationalist quotient. They have now pledged support to PM-CARES and the Chief Minister's Relief Fund of Maharashtra. Meanwhile, the other 'it' couple Ranveer Singh and Deepika Padukone joined recently and were excused for being late because they're busy with a newborn.
Krrish Hrithik Roshan has chosen to pay it forward in kind, with masks for BMC workers and caretakers.
My gratitude to @AUThackeray for giving me the opportunity to support the Maharashtra govt in their endeavour to curb the pandemic. It is our duty to help in whatever capacity we can. @mybmc #coronavirusoutbreak #stayhomestaysafe

— Hrithik Roshan (@iHrithik) March 26, 2020
Some Bollywood folks were as quick to pitch in as stars are to line up for a selfie with Prime Minister Narendra Modi. Other than Akshay Kumar, there was actor Shilpa Shetty and entrepreneur husband Raj Kundra with Rs 21 lakh, Kapil Sharma of The Kapil Sharma Show with Rs 50 lakh and Varun Dhawan with Rs 30 lakh (he also donated Rs 25 lakh to Maharashtra). Director and producer Karan Johar, actors Ayushman Khurrana, Rajkummar Rao, Bhumi Pednekar, Sara Ali Khan and Kriti Sanon also pledged their support. Sonam Kapoor, not usually known to seek favour with the PM, was on this list. Sonakshi Sinha made an important point when she tweeted, "minute of silence for trolls who think that just because it wasn't announced, contributions weren't made."

Minute of silence for trolls who think that just because it wasn't announced,contributions weren't made.Neki kar dariya mein daal,suna toh hoga?Kuch log actually follow karte hai!Ab shaant ho jao & use ur time 2 do some actual good(announcing or not is a personal preference)😊

— Sonakshi Sinha (@sonakshisinha) March 31, 2020
Kartik Aaryan, a relative newbie, contributed a substantial Rs 1 crore. Vicky Kaushal also shelled out the same amount.
Before SRK stepped up, Bollywood's role was dwarfed by the south's Bahubali Prabhas, who shelled out Rs 4 crore. Of this, Rs 3 crore was for the PM Relief Fund, which is different from the PM-CARES fund, hopefully not because it cares less. He also gave Rs 50 lakh each to Telangana and Andhra Pradhesh. Rajnikanth pledged Rs 50 lakh for workers of the south Indian film industry. For perspective, Rajnikanth's estimated net worth is about $50 million and that of Prabhas is about $15 million. Who knows, maybe donation gave Rajnikanth.
It is the absolute need of the hour to rise together as a Nation.
Whatever I am, whatever money I've earned, is only because of the people of India; and for us I am contributing Rs. 1 crore to the PM-CARES Fund.
I URGE all my fellow Indians also to help as much as possible 🙏🏻 https://t.co/AzTT3lWHtr

— Kartik Aaryan (@TheAaryanKartik) March 30, 2020
Business leaders
However, the film industry is not where the wealth of the nation truly lies. As the virus gained ground, there was a clamour for the private sector and "billionaires" to show up. Given the flailing economy, there are not many other sources of funds to turn to.
Ratan Tata has, so far, been the Shah Rukh of donations. The Tata group announced a whopper of Rs 1,500 crore. Tata Sons, the holding company of the $19 billion conglomerate, put in Rs 1,000 crore. The remaining amount was added by Tata Trusts, which holds 66 per cent of the equity share capital of Tata Sons. This philanthropic set-up is the reason Ratan Tata, former chairman, is not on any "richest" list. The entire Tata fund went into PM CARES. Incidentally, in 2018-19, Tata's Progressive Electoral Trust contributed 75 per cent via electoral bonds to the ruling Bharatiya Janata Party (BJP).
Other business groups in the PM's good books also added to the fund. Business badshah Mukesh Ambani, through Reliance Industries, contributed Rs 500 crore. He diversified his portfolio a bit by adding Rs 5 crore each for the governments of Maharashtra and Gujarat. He is also making contributions in kind. Port pasha Gautam Adani's Rs 100 crore, given through the Adani foundation, was underwhelming. His individual net worth is about $15 billion.
I'm grateful to the Adani Parivaar, our workforce in India for contributing about Rs. 4 Cr for the battle against #COVID2019. @AdaniFoundation would add Rs. 4 Cr to the proceeds & utilize this Rs. 8 Cr towards various #COVIDRelief projects. https://t.co/jG3McfbKan

— Gautam Adani (@gautam_adani) April 3, 2020
Turns out, Indians with a net worth of more than $50 million have been giving less than they were five years ago, according to a report. Wipro founder Azim Premji is the only exception to this trend. For Covid-19 too, Azim Premji Foundation, Wipro and Wipro Enterprises committed Rs 1,125 crore. Azim Premji's net worth is about $7 billion.
Digital payments platform Paytm, whose fortunes swelled after demonetisation, announced Rs 500 crore for PM CARES. Other contributors to PM CARES include Larsen & Toubro Limited (L&T) with Rs 150 crore, the JSW Group with Rs 100 crore and Anil Agarwal's Vedanta group with Rs 100 crore.
Kotak Mahindra Bank and its managing director Uday Kotak announced Rs 60 crore, Rs 25 crore to PM Cares Fund and Rs 10 crore to Maharashtra Chief Minister's Relief Fund. The Sajjan Jindal-led group is helping with PPE for healthcare workers and Jindal Steel and Power with Rs 25 crore.
Kotak Mahindra Bank & Mr. Uday Kotak personally, commit immediate support of ₹50cr to PM CARES (₹25cr each).

— Kotak Mahindra Bank (@KotakBankLtd) March 29, 2020
The Bajaj group earmarked Rs 100 crore and the Godrej group Rs 50 crore for the crisis. These amounts were pledged before PM CARES was set up.
Sportspersons
M.S. Dhoni captured the most attention in the donation drive. There were reports that the former skipper, among the richest cricketers in the world, had shelled out a measly Rs 1 lakh toward the emergency. He was slammed on social media, the weapon of choice for charity-shaming. His wife, Sakshi Dhoni, lashed out on social media over unspecified "fake news". The jury is out on what actually happened.
I request all media houses to stop carrying out false news at sensitive times like these ! Shame on You ! I wonder where responsible journalism has disappeared !

— Sakshi Singh 🇮🇳❤️ (@SaakshiSRawat) March 27, 2020
In cricket, the most generous contribution came from batsman Rohit Sharma. He donated Rs 80 lakh, Rs 45 lakh to Maharahtra's CM Relief Fun and Rs 25 lakh to the PM CARES Fund. He won many hearts by giving more to feed the affected and for the welfare of stray dogs.
Virat Kohli and Anushka Sharma, or Virushka, kept their contribution "undisclosed" although some reports suggested they may have given a biggish Rs 3 crore. Sachin Tendulkar – who needs no introduction - was right off the bat with Rs 50 lakh. Among the others, Suresh Raina, who won praise from the Prime Minister with his Rs 31 lakh, and Ajinkya Rahane with Rs 10 lakh.

That's a brilliant fifty, @ImRaina! #IndiaFightsCorona https://t.co/O6vY4L6Quo

— Narendra Modi (@narendramodi) March 28, 2020
Tennis star Sania Mirza won the series by raising Rs 1.25 crore to help those affected by the lockdown. But the most moving contribution came from sprinter and Asian Games gold-medallist Hima Das. She donated a month's salary to the Assam government. It is the thought that counts and hers was the most thoughtful gesture.