Who does the BJP follow on Twitter? Only Narendra Modi and Amit Shah
The Congress follows Barack Obama and Elon Musk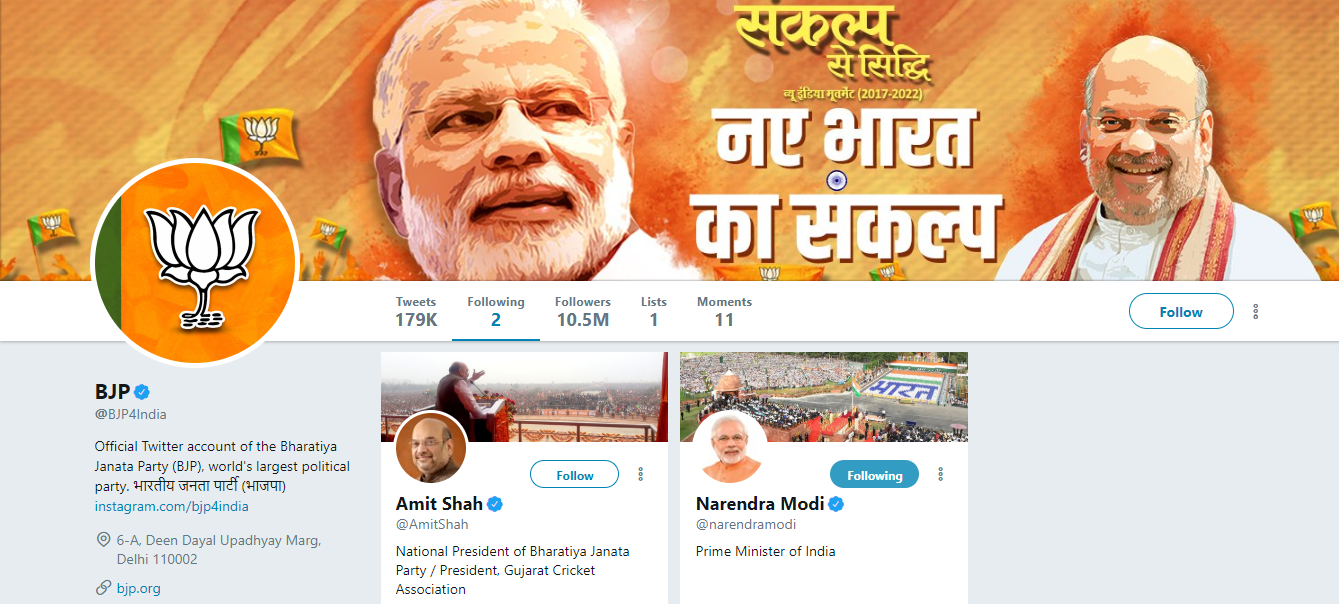 ---
---
The BJP's official Twitter handle, @BJP4India, follows two persons only – Prime Minister Narendra Modi and BJP chief Amit Shah. @INCIndia, which is the Congress's handle, follows 2,498 accounts, among them former US President Barack Obama and Tesla co-founder Elon Musk.
While political parties have millions of followers, who they follow could make for interesting food for thought.
The BJP's handle, which has a follower base of around 10.5 million, has a media list that includes several state-run media accounts and most of the national publications and broadcasters. Two journalists on its media list are The Print's founder-editor Shekhar Gupta and India Today Group's Rahul Kanwal. But the handle does not even follow Union ministers from the party.
Amit Malviya, the BJP national information and technology head, was asked why the party handle follows only Modi and Shah. Till the publication of this report, Malviya had not responded. The report will be updated when he does.
The Congress follows a wider array of people than the BJP.
The account has 13 lists of groups that fit in different categories – AICC office-bearers, Lok Sabha and Rajya Sabha Members, Pradesh Congress spokespersons and Congress chief ministers. It also includes media panelists, shadow ministry and state handles and frontal organisations.
There are a few accounts followed by @INCIndia that seemed to be active during the 2014 election campaigns but have gone silent since.
Apart from following Obama and Musk, @INCIndia follows Canadian Prime Minister Justin Trudeau, French Prime Minister Emmanuel Macron and the French, Dutch and Australian ambassadors.
The Congress social media cell did not clarify why it does not follow the Prime Minister or any of the central ministers.
The Congress and AAP are the only handles that follow fact checkers. The Congress follows Alt News and Boom Live, and the AAP follows SM Hoax Slayer.
Trinamul Congress's handle, @AITCOfficial, follows 14 accounts. Most of these are of party MPs, chief minister Mamata Banerjee and the party's official mouthpiece, Jago Bangla.
The CPM's handle, @cpimspeak, follows 75 accounts that are an assortment of different Left frontal organisations, senior comrades, ministers in Kerala, LeftWord Books and NewsClick.
The Samajwadi Party Twitter handle follows seven accounts that include former chief minister and party president Akhilesh Yadav and three accounts of the media cell, the party account of Madhya Pradesh and their campaign handle Kaamboltahai. It also follows the ANI UP Twitter handle.
The Bahujan Samaj Party handle, BSP4India, which follows 13 accounts has not been active since February 2014. It is yet to follow party president Mayawati, who recently joined Twitter.
The Aam Aadmi Party's official Twitter account follows just over 300 people. Like the Congress, AAP follows a range of people, among them party legislators in Delhi and Punjab, some Delhi-based journalists and celebrities like singer-composer Vishal Dadlani who campaigned for the party.