BJP leaders are frothing at the mouth over Prime Minister Narendra Modi being branded a chor, insisting it is an abuse that should never be hurled at someone holding the highest elected office in the country. But this is not the first time that a Prime Minister has been called a thief.
Rajiv Gandhi was called a chor thirty years ago by the very people who are today in a tizzy. The Congress, however, never made an issue of it.
"Gali gali me shor hai, Rajiv Gandhi chor hai" was the favourite election slogan of the Opposition, of which the BJP was very much a part, during the 1989 parliamentary election. Rajiv Gandhi was then the Prime Minister who had been elected with a landslide majority of 414 seats out of a total of 541, a tally which even the Modi wave of 2014 could not come close to, let alone beat. If the BJP claims that Modi is the most popular Prime Minister in India's history and therefore cannot be called a chor, Rajiv Gandhi had become Prime Minister in 1984 having won a vote share of 49.10 per cent, while Modi received 31.3 per cent vote share in 2014.
The same people who are today objecting to the Congress's "chowkidar chor hai" election campaign were shouting "Rajiv Gandhi chor hai" the loudest three decades ago. To borrow from yesteryear Bollywood star and former BJP MP Shatrughan Sinha's favourite election slogan on the hypocrisy of his erstwhile party, "tum karo to raasleela, aur hum kare to character dheela" (If you do it, it is divine, but if we do it, it is villainous).
This is not the only similarity that the 1989 election has with the current polls. Thirty years ago the Opposition had ganged up against the Congress, led by Janata Dal founder VP Singh, to defeat Rajiv. This time the Opposition has formed alliances against the BJP to remove Modi.
Modi calls the Opposition a "mahamilawat khichdi" that will provide a weak government which cannot last. In 1989 the Congress had dismissed the Opposition as a front with "more leaders than workers" that would not be able to provide a stable government. Interestingly, the disparate group of Opposition and regional parties did form the National Front government, which only lasted for a year and was brought down by the BJP withdrawing its support.
Smriti Irani, BJP candidate for Amethi, bemoans the lack of development and criticises Rahul Gandhi for neglecting his constituency, but three decades ago the same Gandhi family was accused of unduly pampering Amethi and Rae Bareli. Amethi's reputation as an "oasis of development" in a largely backward state had spread far and wide. Its smooth roads, fertile fields, educational institutions, industrial hubs were a talking point tinged with envy even in more developed states such as Gujarat and Maharashtra.
As the Congress's influence in Uttar Pradesh waned — they have not been in power in the state for the last 30 years — so did the importance of Amethi. In fact, successive UP governments made a point of not investing in the Gandhi family pocket boroughs. Even so, the Gandhis did not abandon the constituency that has elected a Congress candidate since 1981, barring for one year in 1998, and for the last decade Priyanka Gandhi contained her political involvement to nursing Amethi and Rae Bareli, a far cry from Irani's tag of "absentee MP".
The 1989 election was different in many ways too. It was fought in an era prior to 24-hour TV channels, Internet, mobile phones or social media. The only source of information was newspapers which had many checks and balances to ensure that they reported facts. Rumours and fake news could not be spread like wildfire through social media. Political parties had to interact with the public through rallies and meetings. Prime Ministers had to face the media and answer awkward questions in press conferences.
Political slogans had not been debased to what they are today. Politicians did not spew venom and vitriol against each other, abusing and ridiculing their opponents. Chor was probably the strongest word used in the campaigns. Candidates actually had to woo the electorate rather than threatening them openly with dire consequences. The BJP, with only two seats in the 1984 Lok Sabha, had not yet discovered the power of polarisation; hate speeches had not found their way into electoral rhetoric.
It was also in the days when India still voted through paper ballots. There is no denying that rigging took place in some places in the country but it was visible and the Election Commission took action and ordered re-polls.
Today if there is rigging through manipulation of the electronic voting machines (EVMs) then it is invisible and the Election Commission is not even willing to accept that it is possible. EVMs are regularly malfunctioning and people are being denied their democratic right to vote.
Prime Ministers Rajiv Gandhi and Narendra Modi are bound by allegations of corruption due to murky defence deals. Congress lost the 1989 election because of the Opposition's campaign accusing Rajiv Gandhi of favouring friends with kickbacks for procuring Bofors guns for the Indian Army. In this election, the Opposition has accused Modi of getting offsets for his friend Anil Ambani in the purchase of the Rafale fighter aircraft for the Indian Air Force. Both are allegations of corruption at the highest level.
Bofors blew Congress out of power in 1989; it remains to be seen if Rafale can ground Modi in a riveting replay 30 years on.
Sajeda Momin, a journalist, was The Telegraph's Uttar Pradesh correspondent at the time of the 1989 elections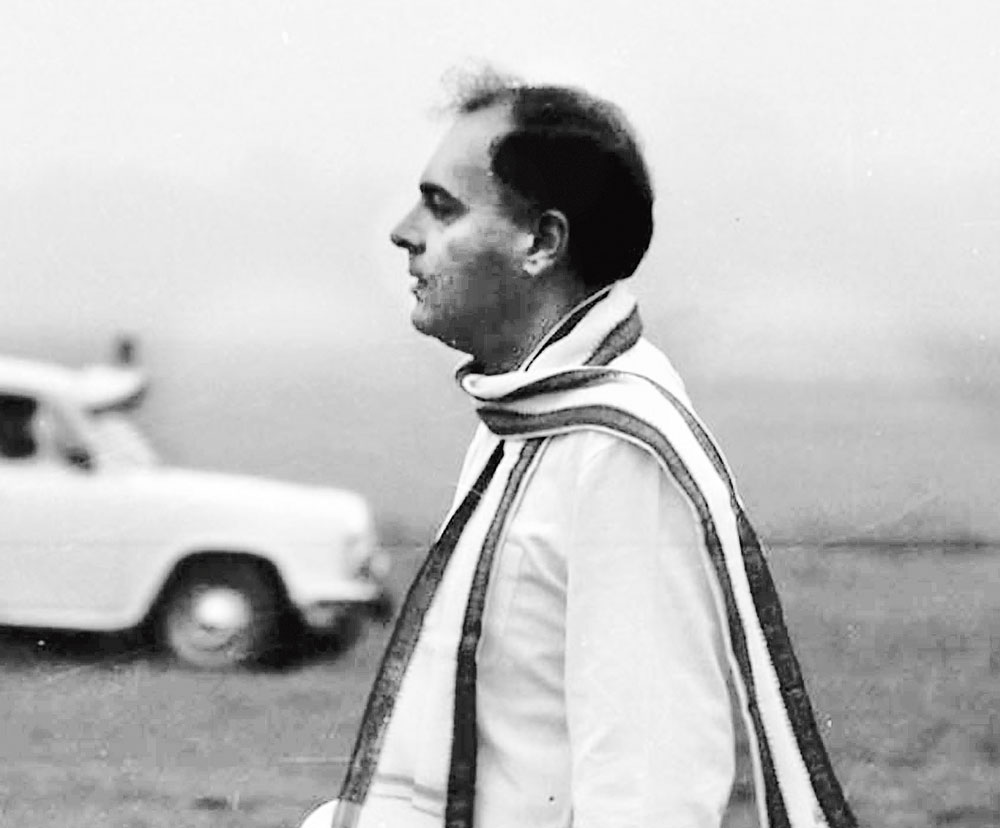 Former PM Rajiv Gandhi Telegraph archive picture