Modi's nose in Nehru's rose
If a rose does not teach you farming, perhaps a 'Narendra Damodardas Modi' suit will?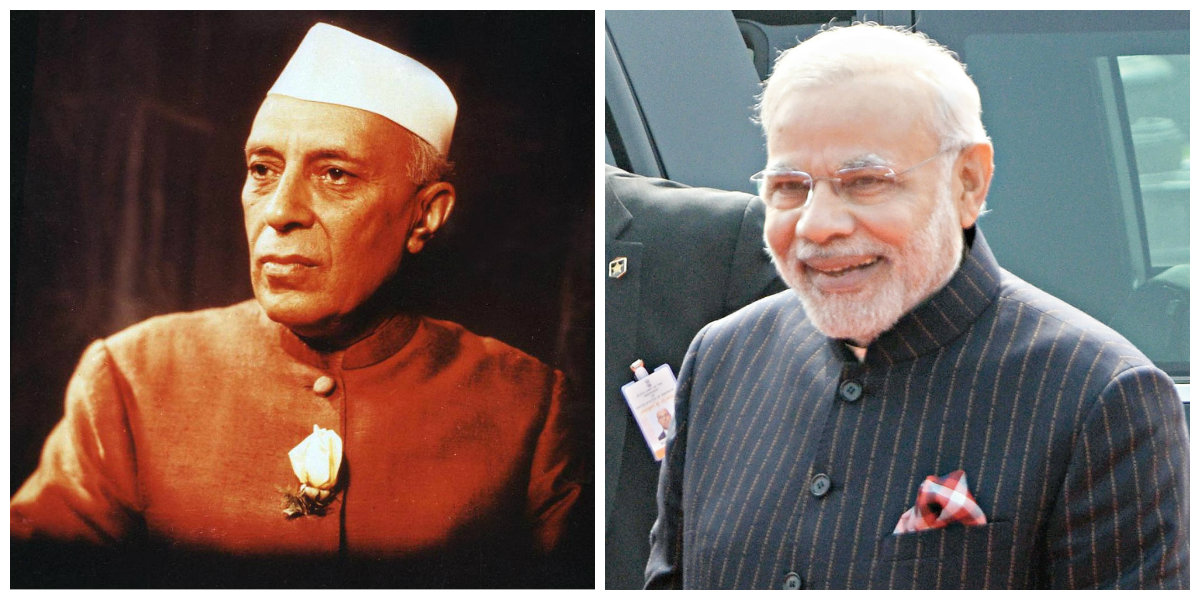 ---
---
The legacy of the Prime Minister who built the temples of modern India has been buried in a rose garden by the Prime Minister who is part of the system that built temple politics.
"Ye gulab ka phool laga karke ghumne wale log bageechon ka gyan tha, unko kheto ka koi gyan nahi tha, unko kisan ke pasine ka gyan nahi tha (Those who went around wearing a rose had knowledge of gardens, they had knowledge neither of farming nor of the sweat of the farmer)," Prime Minister Narendra Modi told an election rally in Jodhpur on Monday.
Modi did not name anyone but the rose in the pocket is an enduring image associated with Jawaharlal Nehru, India's first Prime Minister whose legacy always seems to grate on the nerves of his newest successor.
The latest swipe comes a few days after farmers marched on the capital and vented their fury on the Modi government.
Modi's barb was audacious, especially since Nehru has been associated with some of the milestone moments in Indian agriculture.
The oft-quoted coinage "temples of modern India" was uttered by Nehru in reference to the Bhakra dam. Although the phrase eventually encapsulated all forms of modern infrastructure, the dam did play a stellar role in the Green Revolution that helped step up food grain output in India.
Nehru's commitment to agriculture is best summed up by another popular remark he had made soon after Independence: "Everything else can wait, but not agriculture."
In an article in the magazine Seminar in 2008 on the evolution of agriculture in the country, M.S. Swaminathan, the father of the Green Revolution in India, wrote: "Phase I (1947-64): This was the Jawaharlal Nehru era where the major emphasis was on the development of infrastructure for scientific agriculture.
The steps taken included the establishment of fertiliser and pesticide factories, construction of large multi-purpose irrigation-cum-power projects, organisation of community development and national extension programmes and, above all, the starting of agricultural universities, beginning with the postgraduate school of the Indian Agricultural Research Institute established in 1958 as well as new agricultural research institutions…."
Economist and former Union minister Yoginder K. Alagh chose to focus on Nehru's contribution to irrigation. "Nehru is the architect of not just steel plants but big irrigation projects -– Bhakra Nangal Dam, Hirakud Dam, Nagarjun Sagar Dam…. All of them were started by Nehru. Even the 'Grow More Food' campaign really started with the Second Five Year Plan (1956-61) and he used science and technology to accelerate agricultural progress."
In 1952, in a speech in Parliament, Nehru underscored how India could not hope to industrialise without paying attention to agriculture. "We certainly attach importance to industry, but in the present context we attach far greater importance to agriculture and food and matters pertaining to agriculture. If our agricultural foundation is not strong then the industry we seek to build will not have a strong basis either.
"Apart from that, if our food front cracks up, everything else will crack up too. If our agriculture becomes strongly entrenched as we hope it will, then it will be relatively easy for us to progress more rapidly on the industrial front, whereas if we concentrate only on industrial development and leave agriculture in a weak condition, we shall ultimately be weakening industry.''