When BJP turned publicist for The Accidental Prime Minister
Critics said the agenda behind the film was now crystal clear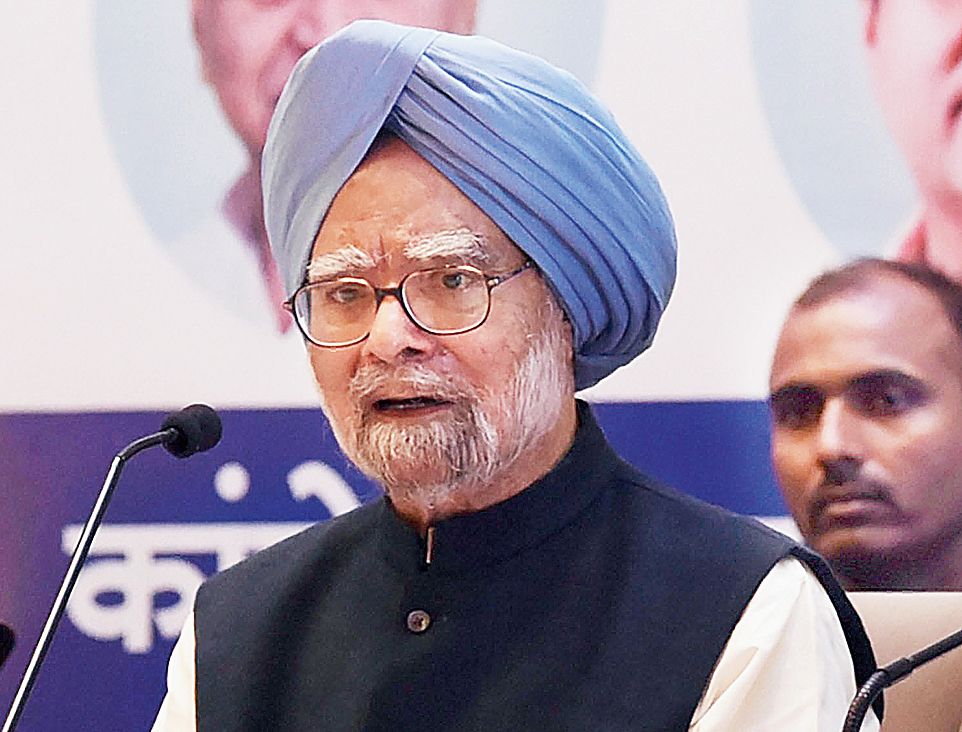 ---
New Delhi
|
Published 28.12.18, 10:52 PM
|
---
The BJP has sought to rekindle its narrative of Manmohan Singh having been a "weak, remote-controlled" Prime Minister by endorsing the upcoming film The Accidental Prime Minister.
The BJP's decision to pubicise the movie on its Twitter handle triggered a debate that saw some Congress functionaries almost falling into a trap before the central leadership called it another diversionary ploy.
As a section of news channels reported "source-based" information about the Kamal Nath government in Madhya Pradesh planning to ban the film, Congress media in-charge Randeep Surjewala tweeted: "This is incorrect. MP Govt has taken no such decision. Fake propaganda by BJP won't desist us from questioning the Modi Govt on - Rural Distress, Unemployment, Demo Disaster, Flawed GST, Failed Modinomics, All pervading Corruption! Nation wants Governance, not diversion!"
The Congress also asked its functionaries — especially in the states and those heading frontal organisations — to refrain from commenting on the film after a couple of them demanded they be shown the film first in a bid to behave like super-censors.
Conscious that this runs contrary to Congress president Rahul Gandhi's frequent assertions on freedom of expression, party workers are said to have been told to not add fuel to the fire ignited by the BJP.
Late on Thursday, BJP had posted the official trailer of the film on its verified Twitter handle and tweeted: "Riveting tale of how a family held the country to ransom for 10 long years. Was Dr Singh just a regent who was holding on to the PM's chair till the time heir was ready? Watch the official trailer of #TheAccidentalPrimeMinister, based on an insider's account, releasing on 11 Jan!"
Critics said the agenda behind the film was now crystal clear.
The film is based on a book by Singh's media adviser during UPA-I, Sanjaya Baru. The film's release is also timed just ahead of the 17th Lok Sabha polls.
Asked if he was involved in any way with the making of the film, Baru told The Telegraph: "No."
Asked if the film-makers had reached out to him in any way, Basu said: "I was not involved in the making of the film. I wrote a book and sold the film rights."
PTI reported that the former Prime Minister walked away when journalists sought a comment from Singh.
It was not just the Congress who weighed in. Samajwadi Party spokesman Ali Khan Mahmudabad tweeted: "The desperation of the @BJP4India is evident by the fact that they roped in Bollywood to dish out their propaganda! They're promoting a film based on a book which the author wrote because he didn't get a 2nd term!"
Former AAP office-bearer and anti-corruption activist Anjali Damani dug out a report of the film's director Vijay Gutte being arrested for Rs 34-crore GST fraud and tweeted: "Such clean people are funding movies and BJP is officially promoting it. Nice."
Former Jammu and Kashmir chief minister Omar Abdullah said: "Can't wait for when they make The Insensitive Prime Minister. So much worse than being the accidental one."