What next in Kashmir? Everybody locked up, how do you know? asks A.S. Dulat
The problem was not so much as to what was done, but how it was done, Habibullah said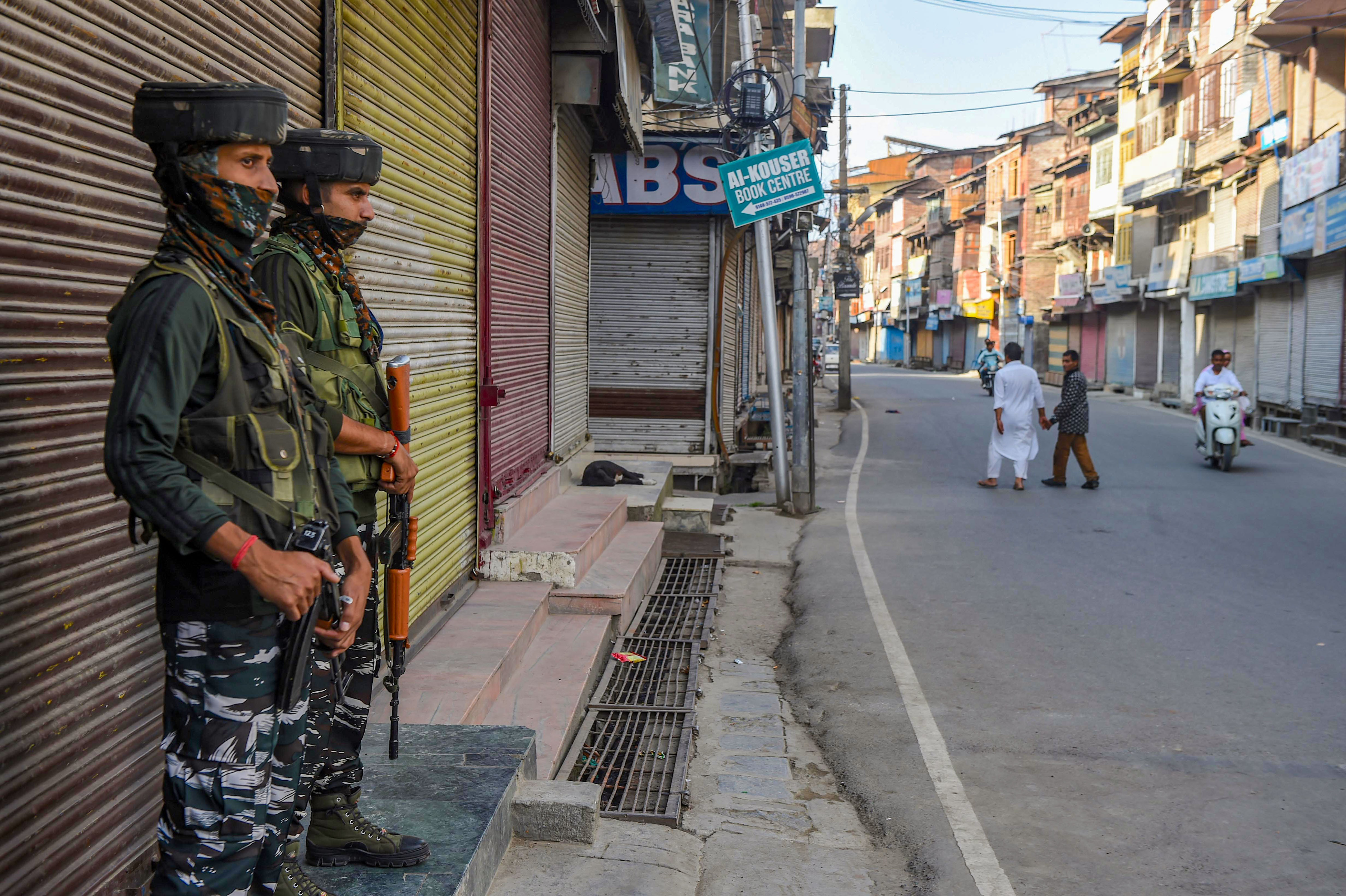 Security personnel stand guard in Srinagar on September 7.
PTI
---
New Delhi
|
Published 07.09.19, 02:21 PM
|
---
It would take Nostradamus to tell us what is going to happen in Kashmir next, said former RAW chief A.S. Dulat, but he was sure of one thing. The going will be difficult for intelligence and security personnel in the Valley.
Since August 5, when the government scrapped the special status to Jammu and Kashmir, it has been under severe restrictions, with strict communication and movement blockade across the region.
National security advisor Ajit Doval said today that he was convinced most Kashmiris supported the removal of special status, but Dulat would want to ask him: 'How do you know?'

The move by the Indian government and the subsequent handling of the situation in Kashmir has been criticised by a section of former government officials who once served in the Valley.

This website spoke to two such retired officials, Dulat and Wajahat Habibullah, who were posted in Kashmir when the Valley went through some of the most unstable periods in its recent history.
Habibullah was posted as the divisional commissioner of Kashmir between 1991 and 1993. The Kunan Poshpora mass rapes of Kashmir women by the Indian security forces happened during Habibullah's tenure. 
Dulat had from 1988 to 1990 served in Kashmir as a joint director in the Intelligence Bureau (IB). He later served as the special director of the IB and also as the chief of the Research and Analysis Wing (RAW) from 1999 to 2000.
Today is Day 35 of the restrictions in Kashmir. 
Habibullah said the problem was not so much as to what was done, but how it was done. "That fact that it will be a failure is shown by more than a month of lockdown since it has taken place, including the locking up of the political leadership, which has been the pillar of Indian authority in the state," he said.
Habibullah believes it is a matter of sentiments and that the state's secretively executed abrogation has led to further alienation of the people of Kashmir.
Dulat said: "I'm completely cut off, but even if there is someone sitting in Kashmir now, I don't think he can tell you what is going on. What the Kashmiri is thinking, what he might do or what might happen." 
The state of the intelligence and security apparatus reminded Dulat of the late 1980s and early 1990s. He said the government was a bit clueless and was taken by a surprise back then. "We were lost in a haze (in 1989-91). We didn't know what was happening and people stopped talking to us. Once the killings started, our own officers were killed too, gathering information became very difficult," Dulat said.
Kashmir in the early 1990s had seen the rise in home-grown militancy with young, Kalashnikov-wielding men fighting the Indian forces for aazaadi. This armed struggle was led by the Jammu and Kashmir Liberation Front (JKLF) that wanted an independent Kashmir.

Between 1990 and 1995, the armed struggle resulted in the death of an estimated 6,400 militants, 6,200 civilians and 1,100 security personnel.
One thing is different now from 1989-91 "The security forces are there in much greater strength today than they ever have been. So, in that sense we are well protected, so to speak," Dulat said. But for how long? 

"The difference between 1989-91 and now is that at that time our own boys (from Kashmir) had gone across (the LoC), got trained, come back and started killing people. It took everybody by a bit of a surprise. Today, everybody is locked up so you don't even know," Dulat said.
Habibullah said people have responded clearly to the August 5 move. "Those that had been supporting India, those that had not been supporting India and those on the middle ground, they've [government] succeeded in turning the whole lot against us. I mean, what is this!" he said.
"One thing I can say for a Kashmiri is that he is always prepared to talk," Dulat said. "Talking doesn't mean sitting across a table and somebody gives you a solution. Talking could take months," he said.

According to Habibullah, the government is in a fix and doesn't know how to get out of it. "They will have to lift the restrictions. People will have to be allowed to come out and demonstrate," he said. "Why are we afraid of our own people? They are our own people. Why are we afraid of them coming out on the streets? Are we afraid of people in Delhi coming out on the streets? Why can't we allow our own people to come and demonstrate if they don't agree with the government?"