What I have learned since last year
'Our fight is no longer only with the government, it's with the hate mindset of our societies'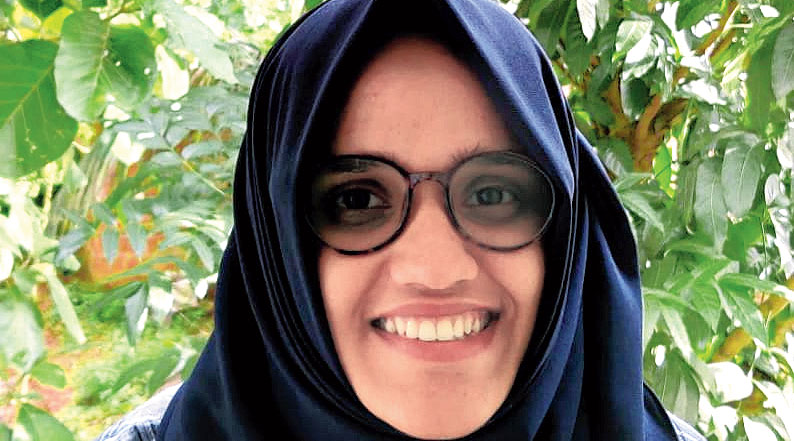 Aysha Renna N
Sourced by the Telegraph
---
Published 15.08.20, 03:23 AM
|
---
The Jamia Millia Islamia student who shielded a journalist from police lathis
The India I have learnt through my textbooks is entirely different from the India that I am facing now. I always believed in the unity and diversity of India as a country. But the condition of the minorities is pathetic and it's getting worse day by day. I am looking forward to an India in which everyone should be able to live by asserting their identity and believe in an India which is inclusive of all different ideologies. Though I don't have hope in this government I have hopes in the citizens of this country. She used the traditional kolam to protest against the CAA
The main thing I learnt about the state is how vicious it can become.  The kind of harassment we faced only reminded us of what we are fighting for and against whom. Our futures are at stake, our values are on trial. I am confident we will win. But the only sad part is that our fight is no longer only with the government, it's with the hate mindset of our societies. She wore an abaya and hijab and held a placard that read: "Mr Modi, I am Indulekha, identify me by my dress?"
The secular foundations of India are currently under tremendous stress. Contemporary India, as many would argue, looks more saffron in its ideological makeup than at any other point since Independence. Let us hope for a future when the Chakra will lead our nation, and not the Saffron, White or Green. Creative producer who juggled her job and multiple protests in Mumbai, where she also distributed food and water
I did not follow politics until 2014, and last December was the first time I took part in any public demonstration... I learnt that I liked being a part of a movement bigger than myself. I learnt that I could be passionate and driven. I just needed to find in life where to direct that passion and drive — and for a brief moment, that was directed towards the protests and the demand for  change…. We need to peacefully demand the kind of change that we deserve. Hailing from Bathinda, he volunteered at the langar at Shaheen Bagh
I can't say that things will get any better now. Look at Safoora Zargar (a pregnant student who spent more than two months in jail)… The people of India must think about whether this new nationalism the government is talking about will fill our stomachs or get us better education or hospitals.  All I know is that it is those who struggle that are remembered and not those who grow old in anonymity by not doing anything for the country. She was at the forefront of the women-led vigil against the citizenship thrust at Park Circus Maidan
I learnt that I was seriously unaware about my country and my inner potential. I loved the discovery of the secular ethos of my country and my countrymen from the way they came out on the streets to protest against the CAA-NPR-NRC. It was sacred because they were on the streets for one of the basic rights — 'right to life'. The rage, the logic and the confidence of the protesters also made me realise things about myself. I learned that I could be on the streets for days and can withstand the cold night without any roof. In the wake of the Covid-19 curbs, me and some like-minded people have been running a digital campaign against the CAA-NPR-NRC. We face non-stop trolling but the days of struggle on the streets have instilled courage in us. We are not scared. We know that we can give a tough competition to anyone in power because we, the people, are the real authority. The principal of Bishop's College, Caleb was at many a rally Calcuttasaw against the new citizenship regime
The past year has made me feel fearful of whether my rights as a person following a minority faith in this country will be respected. It has also been a year where one has watched with despair the growth of majoritarianism at the expense of true democracy and human rights (Kashmir comes immediately to mind). I feel we have gone backwards in many ways and it will only take a long and sustained struggle to recover the secular and democratic way of life that once we Indians enjoyed. Part of the anti-CAA protests in Chennai
I have learnt to judge this country not by the actions of violent and hateful people, but by the vast majority that toils and gets by while maintaining their dignity against great odds. The government, I realise, has become a disaster that ordinary people have to confront and manage. I am certainly hopeful. India has survived much hate, and while there are many that would like to kill the idea of India with their hate, there are far more that live the idea of an inclusive India.