Bengal Polls 2021: We are happy at Mamata Banerjee's victory, say Kashmiris
Former chief ministers Mehbooba Mufti and Omar Abdullah have congratulated her on the huge victory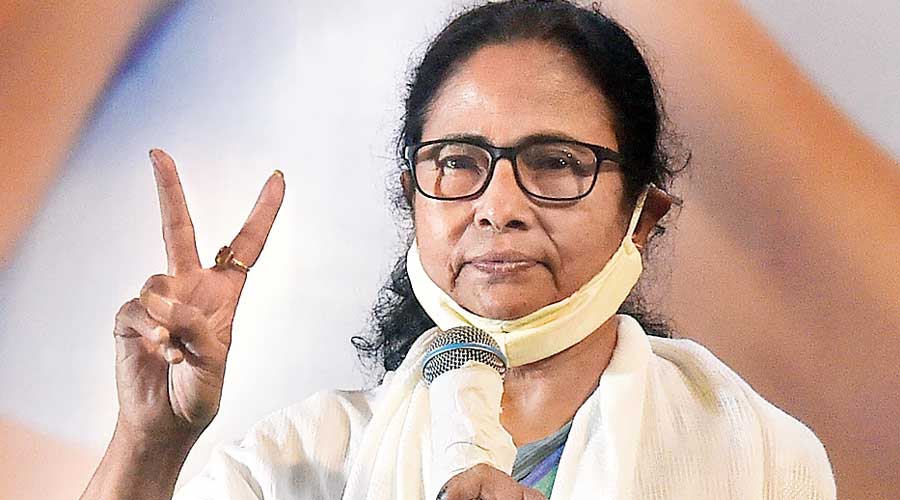 ---
|
Srinagar
|
Published 04.05.21, 02:37 AM
---
Soura resident Gul Mohammad Wani, who has travelled to Calcutta every winter to sell shawls for the past 40 years, has never voted in Kashmir elections.
But on Sunday he was quietly praying for the victory of the "secular forces" in the Bengal polls, much like thousands of other "shawlwallas" who peddle their stuff in the eastern state and consider it their "second home".
"Naturally, we are happy (at Mamata Banerjee's victory). I was always confident that they (BJP) would not win the election there," Wani, 62, told The Telegraph.
"That's because Bengalis are a very peace-loving and civilised people. I knew they would reject the forces of Hindutva."
Wani said he had virtually "spent my life" in Bengal, staying on for six to seven months every year in the state.
"We see Bengal as our second home; we always felt safer there than in our own Kashmir. But this election was the first (to have) a communal element. Kashmiris doing business there feared for their security if the other party (BJP) won," he said.
Apart from the handicrafts sellers who regularly visit Bengal, many other Kashmiris too closely monitored the election. Kashmir has suffered at the hands of the BJP-led central government, losing its special status and having to endure laws seen as ploys to change the Valley's Muslim-majority character.
For Wani, who began his working life as a hawker after dropping out of college in the early 1980s and is now a wholesaler, Mamata's victory means a lot more than politics.
Thousands of Kashmiri shawl sellers, many with their families in tow, leave for Bengal every year, around October, to sell their stuff and return in April. Wani said the practice had continued uninterrupted for the past 200 years.
"Because of that there are a lot of cultural connects between the people of the two places. I have often hosted my Bengali acquaintances, vacationing in Kashmir, at my home in Srinagar. They too are very hospitable to us," he said.
Handicrafts are the mainstay of Kashmir's economy after agriculture, horticulture and tourism. Lakhs of artisans are engaged in the sector, and thousands travel to different parts of the country to sell the products. For a large number of them, Bengal is the favourite destination.
Hazratbal resident Gulzar Fazli, who has sold his wares in Bengal for decades, said the state would never have been the same again for Kashmiris if Mamata had lost to the BJP.
"The situation in Kashmir has been bad for a long time but it was always refreshing for us to spend our winters there (in Bengal). That might have changed (with a BJP victory). For a couple of years, I have not been able to go to Bengal because of health reasons but I'm missing that place," he said.
Bashir Ahmad Akhoon, who lives in Chak-e-Bagh near Srinagar's National Institute of Technology, said the Bengal government had stood by visiting Kashmiri traders in times of trouble.
"After the Pulwama attack (of 2019), some people roughed up and robbed a few Kashmiri hawkers, but the Mamata government warned them. The traders' money was soon returned to them," Akhoon said.
Former chief ministers Mehbooba Mufti and Omar Abdullah have congratulated Mamata on her huge victory.