Websites offer clues to illegal shahtoosh trade
Average yearly count of its seizures has more than doubled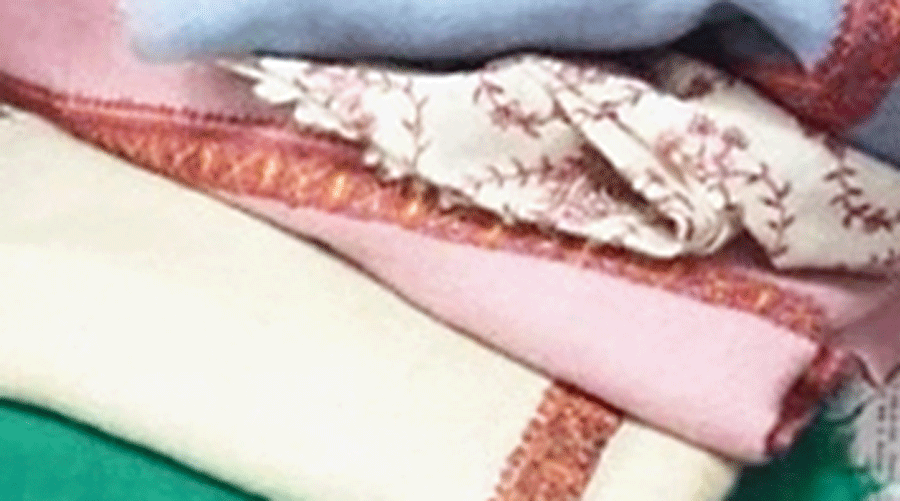 The seized shahtoosh shawls.
Picture credit WCCB
---
New Delhi
|
Published 11.04.22, 03:53 AM
|
---
Wildlife inspector A. Pragatheesh had spent hours trawling Instagram, Facebook, and Pinterest among other websites, looking for clues to the illegal global trade in shahtoosh, the fine wool from the Tibetan antelope.
The inspector in India's Wildlife Crime Control Bureau had gambled that social media posts might help reveal something new about the secret trade in shahtoosh shawls, scarves, and stoles crafted by traditional weavers in Jammu and Kashmir for customers worldwide.
The initiative that Pragatheesh proposed and his superior approved three years ago has yielded dividends — the average yearly count of shahtoosh seizures has more than doubled and the bureau has greater insights into transit points and likely destination countries.
"Earlier most seizures were the outcome of random checks. Now, the posts on social media and trade websites have facilitated targeted interception," said Pragatheesh. "We're hoping to expand this open source intelligence initiative to the illegal trade involving other wildlife."
Over the nine years from 2009 through 2018, the bureau had documented 34 seizures leading to the confiscation of 292 shahtoosh products — a mix of shawls, scarves, and stoles. A shahtoosh item typically gets sold for thousands of dollars.
But in the first two years since it started tracking social media and websites in October 2018, the bureau assisted Indian customs officials in 28 seizures with 530 shahtoosh products.
National and international laws accord the highest protection to the Tibetan antelope. Scientists estimate 125gm to 130gm of wool is obtained from a single animal and weaving a shawl requires wool from four to five animals.
Wildlife specialists estimate that more than a million Tibetan antelopes roamed the Tibetan plateau in the early 20th century. But habitat fragmentation and poaching for wool has depleted the population to about that count.
Pragatheesh and the bureau's joint director H.V. Girisha collaborated with wildlife scientists Vinita Sharma at the Central University of Jammu and the Wildlife Institute of India, Dehra Dun, to analyse the Internet content and alert customs and enforcement officials about recognising shahtoosh products.
They found that Instagram was the most frequently used website to advertise shahtoosh products, accounting for 95 per cent of promotional messages detected, followed by Facebook (1.4 per cent), and Pinterest (1 per cent). But they also found advertisements made through Twitter, YouTube, Tumblr, Reddit, Flicker and Vimeo.
In addition to social media posts, Pragatsheesh also examined trade websites such as IndiaMart, Alibaba and Etsy. Overall, during the two-year period between October 2018 and September 2020, the bureau detected 27 "active shahtoosh sellers".
Those detections helped the bureau in increasing successful interception and seizures. Bureau officials declined to explain exactly how, saying that would mean revealing "tradecraft".
A research paper that describes the two-year exercise and its outcome was published on Wednesday in the journal Forensic Science International: Animals and Environments.
Their analysis has also identified Oman as the most popular destination for the shahtoosh products, accounting for 45 per cent of the confiscated items, followed by the UAE (16 per cent), China (10 per cent) and Pakistan (9 per cent).
But convictions haven't kept pace with the counts of cases. According to the bureau officials, among the 34 seizures between 2009 and 2018, authorities obtained convictions in six cases and four cases are in trial courts. The other 24 cases are pending trial.
For his work on shahtoosh, Pragatheesh bagged an award from the Centre for Research on Cyber Intelligence and Digital Forensics, a research body in India established by industry specialists and experts in cyber forensics and security.