We will take our tractors to West Bengal: Rakesh Tikait
The warning came a day after BJP and Akali Dal were wiped out in Punjab civic polls, reflecting the impact of the farmers' movement even among city dwellers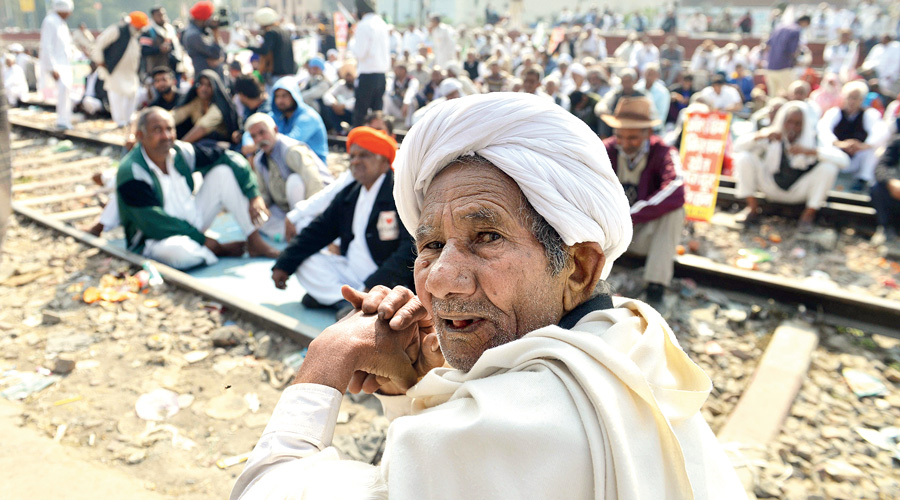 Farmers block railway tracks in Sonipat, Haryana, on Thursday.
Prem Singh
---
New Delhi
|
Published 19.02.21, 02:24 AM
|
---
Farmer leader Rakesh Tikait on Thursday raised the spectre of the protesting farmers moving to poll-bound Bengal if the Centre did not accept their demands.
"Crop prices have not been increased but fuel prices have gone up. If the Centre ruins the situation, we will take our tractors to West Bengal as well," Tikait told a mahapanchayat in Hisar, Haryana.
The warning came a day after the BJP and former ally Akali Dal were wiped out in the Punjab municipal elections, reflecting the impact of the farmers' movement even among town and city dwellers.
All India Kisan Sabha general secretary Hannan Mollah said there was no plan yet to move with tractors to Bengal and get involved in the Assembly poll narrative. However, he said, farmer leaders will visit Bengal like they are visiting other states to generate awareness about the harm that the new farm laws will cause the farmers.
Such mobilisation is nearing completion in Punjab, Haryana and Uttar Pradesh. After similar exercises are wrapped up in Rajasthan and Madhya Pradesh, the SKM leaders will move to other states.
"Whether that benefits any political party or harms any other party is not our concern. This is a survival issue for farmers," Hannan Mollah said.
Tikait said the Narendra Modi government should not think that the farmers would abandon their protest and return to the fields during harvest time.
He reaffirmed there would be no ghar-wapsi (return home) without law-wapsi (repeal of the three laws) and urged farmers to be prepared to set fire to their standing crop if necessary.
He, however, added that the farmers would find a way to continue their protest and also harvest their crop.
While Tikait again upped the mobilisation rhetoric, urging farmers to keep their tractors ready to proceed towards Delhi at short notice, he took care to say the final decision lay with the collective leadership.
On Thursday, farmers blocked trains across the country in response to the Samyukta Kisan Morcha's "rail roko" call, pressing their demands for repeal of the new farm laws and the enactment of a law guaranteeing minimum support prices for their crops.
Farmers sat on railway tracks between noon and 4pm. True to their role of "annadatas" (food providers), they provided food to stranded travellers at many stations and apologised for the inconvenience caused by the blockade.
They also tried to explain to the passengers why they were protesting and how the farm laws would affect food security in the country.
Railway ministry sources said the blockade had had "negligible or minimal impact" on the running of trains, with no disruption in eight of the country's 17 railway zones.