We, the couple
Bride and groom do away with traditional rituals and take vows over a copy of the Constitution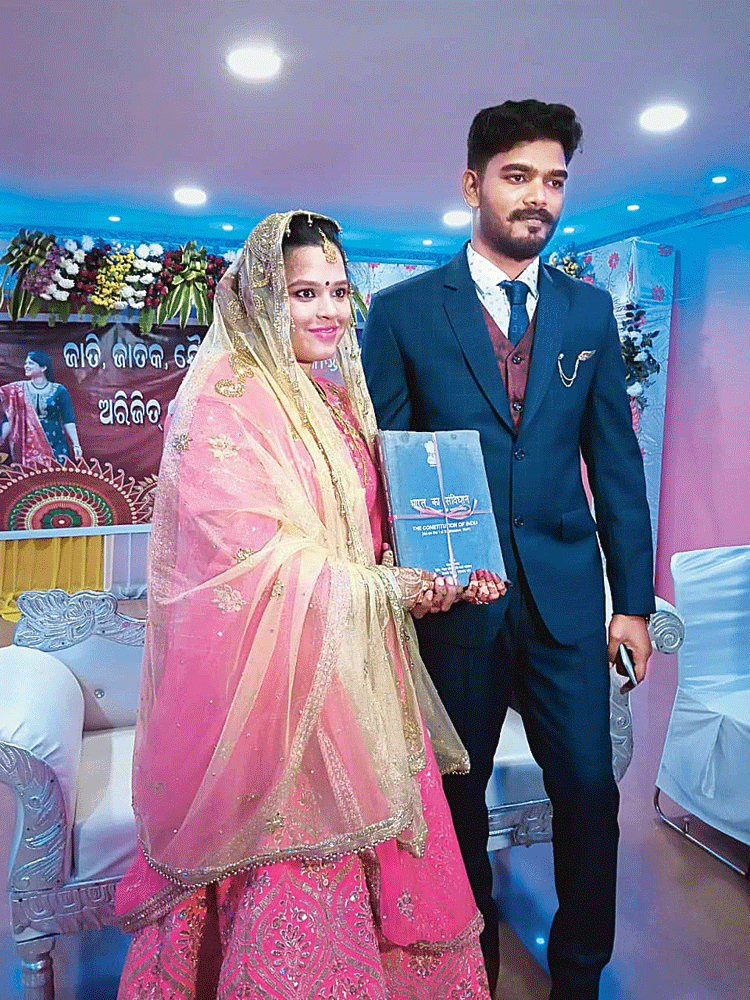 ---
---
A bride and a groom took their marriage vows over a copy of the Constitution of India here on Republic Day, read out the Preamble and vowed to remain secular in their outlook.
Arijit Mohapatra, 27, and Shivalika Pradhan, 25, did away entirely with the traditional rituals, baraat and band, shunning even the exchange of garlands. The wedding ceremony, held at a hotel, barely lasted 15 minutes before the 150 guests sat down for the feast.
"I don't believe in gods; I believe in my work and I treat my parents as gods. For me, the Constitution is the binding force that unites all," Arijit, an entrepreneur and son of a doctor, told The Telegraph on Monday. An MBA, Arijit formerly worked with a bank.
Shivalika, a mathematics gold medallist from Ravenshaw University, gives tuitions and is preparing to start a career as a college lecturer. She said she was happy with the way the marriage was conducted.
Asked why he had chosen to take his marriage vows in the name of the Constitution, Arijit said: "I believe that it's because of the Constitution that the integrity and unity of India has held on so far. The Constitution treats everyone as a human being and as an Indian, (it does) not treat people on the basis of caste, creed or religion."
He continued: "I was brought up in an atmosphere where caste, creed and religion had no significance. When I proposed to my would-be wife that we should set an example, she agreed. She is now my soul mate."
Shivalika said: "My father worked in the navy. I have travelled across India and realised that it's the Constitution that binds us. When Arijit suggested this unique marriage, I agreed. My parents too agreed. They wanted their son-in-law to be an educated person and (were not bothered) which caste or religion he belonged to."
Arijit's mother Manjulata said: "Arijit is my only child. I want his happiness. Not only me, all my relatives are happy."
She said the two families had also decided to dispense with the idea of wedding gifts. "We asked our relatives not to bring any gifts. Their blessings were needed, not their gifts."
The couple were to leave for Bali on Monday night for their honeymoon.
Devendra Sutar, president of the Odisha Rationalist Society, said: "We should encourage all kinds of marriages. Young people should know about our Constitution and its secular values. Besides, this sort of wedding is less expensive and is not a burden on the girl's family."