We respect religious sentiments but BJP using Ram chant to spread hate: Mamata
Mamata appealed to the people to give a fitting reply to the politics of hatred and respect the country's glorious culture and heritage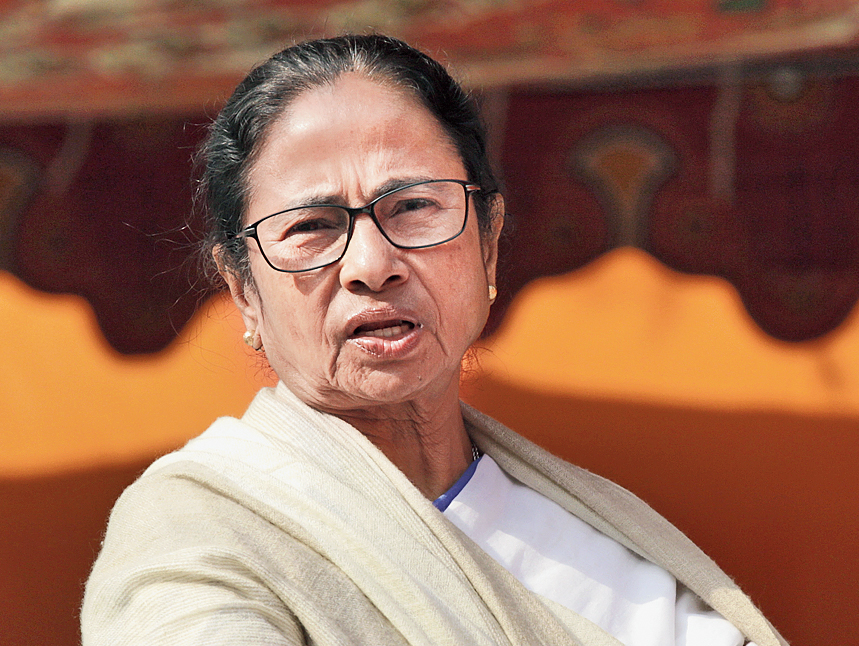 ---
Calcutta
|
Published 02.06.19, 10:48 PM
|
---
Chief minister Mamata Banerjee has said she respects religious chants associated with Lord Ram but is opposed to the BJP's attempt to use "Jai Sri Ram" as a party slogan by mixing religion with politics to spread hatred.
Mamata called for action against those who seek to create unrest, chaos and divisions through misplaced ideologies in the name of religion. The chief minister appealed to the people to give a fitting reply to the politics of hatred and respect the country's glorious culture and heritage.
"Jai Sia Ram, Jai Ram ji ki, Ram naam Satya hai etc have religious and social connotations. We respect these sentiments," the chief minister said in a Facebook post on Sunday.
"But the BJP is using the religious slogan Jai Sri Ram as their party slogan in a misconceived manner by way of mixing religion with politics. We do not respect this forcible enforcement of political slogans on others in the name of so-called RSS which Bengal never accepted. This is a deliberate attempt to sell hatred ideology through vandalism and violence which we must oppose together."
Earlier, too, when she got off her official vehicle more than once to confront groups of belligerent chanters, the chief minister had said she was not against the chant per se. She had said her problem was with attempts by criminals to use the chant to foment unrest and disharmony.
But the post on Sunday is her most detailed and structured response yet to the unfolding controversy over attempts by BJP supporters to transform the "Jai Shri Ram" chant into a taunt when the chief minister and other ministers travel in the state. A Hindi version of Mamata's statement was also released on Sunday evening.
On the campaign trail, the BJP national leadership, including Prime Minister Narendra Modi and BJP president Amit Shah, had cited the controversy to create an impression that there is no religious freedom for Hindus in Bengal.
Mamata has now taken the bull by the horns, directly reaching out to the people of Bengal.
"We wish to inform the people that some BJP supporters are trying to spread hatred ideology through one section of media — so-called BJP media and so-called fake video, fake news, misinformation and disinformation to create confusion and to suppress truth and reality. So far as media is considered, we have no problem as it is their choice and prerogative," the chief minister said in her post at the outset.
Mamata underscored Bengal's culture of harmony. "From Ram Mohan Roy to Vidyasagar to other great social reformers, Bengal has been a seat of harmony, progress and forward thinking. But now, the misconceived strategy of BJP is targeting Bengal in a very negative manner.
"I have no problem regarding any particular slogan of political parties in their rallies, and for their party purpose. Every political party has their own slogan. My party has Jai Hind, Vande Mataram. The Left has Inquilab Zindabad. Others have different slogans. We respect each other. Jai Sia Ram, Jai Ram ji ki, Ram naam Satya hai etc have religious and social connotations. We respect these sentiments."
The chief minister alleged that a deliberate effort was under way to spread the ideology of hatred.
"This is high time that proper action is taken to restrain political workers not to indulge in activities of creating unrest, chaos, violence and disruption of normal life by taking recourse to misplaced ideologies in the so-called name of religion to create divide among the people. If all other political parties start resorting to these sort of divisive and disruptive activities, then the entire environment would become highly vitiated and counterproductive," Mamata added.
"We have to and would oppose such moves of BJP very strongly in order to keep secular character of the country as enshrined in our Constitution," the chief minister asserted.
Mamata ended the post with an appeal. "I appeal to all the people of the country and the state to give a befitting reply to hatred politics and show respect to our country's glorious culture and heritage. Let us all be proud of our culture and heritage. Jai Hind, Jai Bangla, Joyo He."