Wayanad sees honour in Rahul choice
Rahul's candidature has suddenly given life to this picturesque but sleepy constituency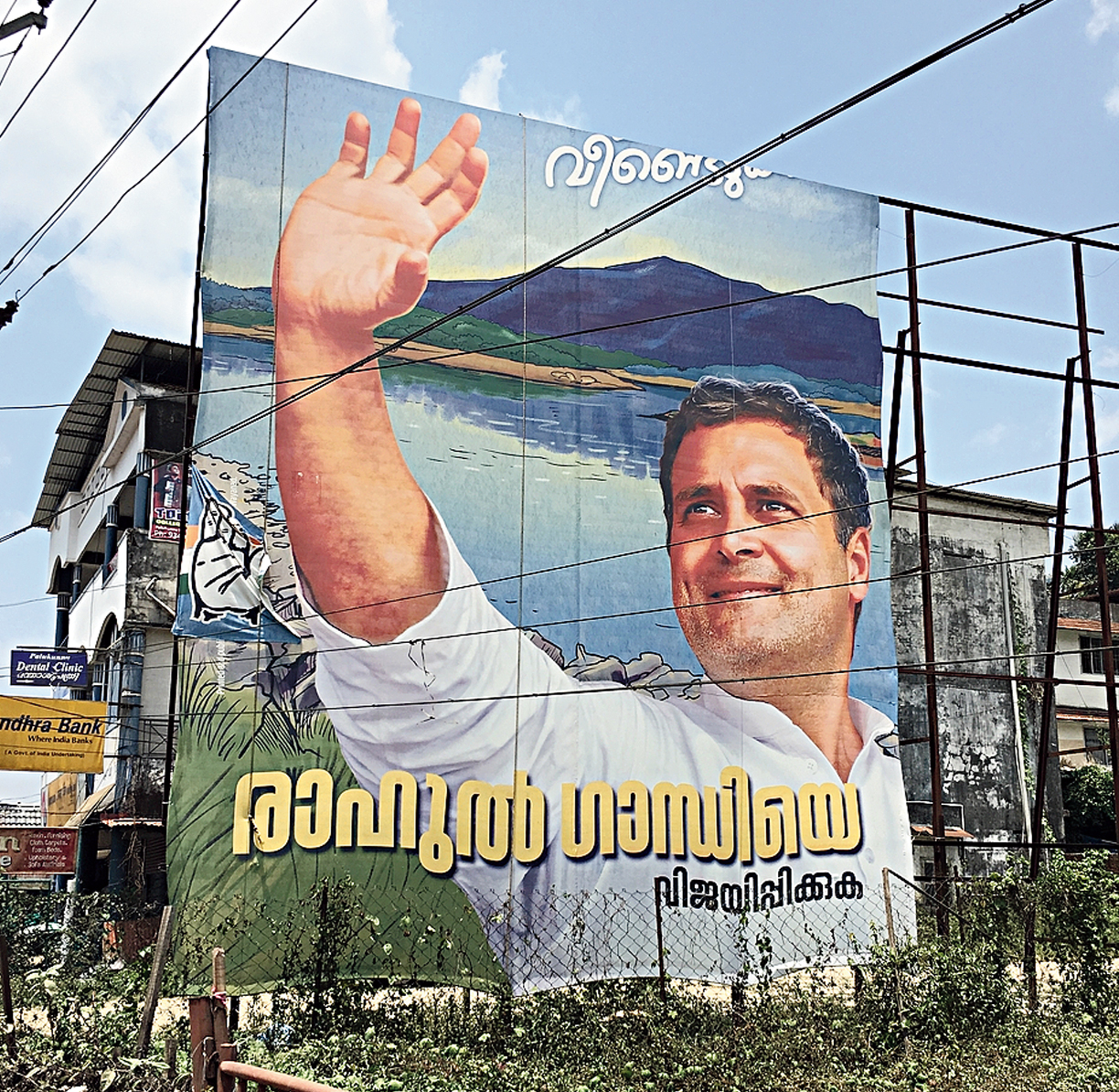 A hoarding, with "Ensure Rahul Gandhi's victory" written in Malayalam, in Kalpetta, Wayanad.
(KM Rakesh)
---
Kalpetta(Kerala)
|
Published 20.04.19, 03:03 AM
|
---
Thirunelli, 50km from Kalpetta, the district headquarters of Wayanad in Kerala, is home to the ancient Vishnu Temple, revered by the local people as Dakshina Kashi.
It is at this temple that Congress president Rahul Gandhi — who is contesting the Wayanad Lok Sabha seat — performed a bali tharpanam ritual for his father and ancestors last Wednesday.
Kalpetta and its neighbouring areas are dotted with such temples, which is why the local residents are wondering why BJP president Amit Shah couldn't see beyond the Indian Union Muslim League (IUML)'s green-and-a-crescent flag and likened the area to Pakistan. The IUML is an alliance partner of the Congress in the state.
For the Sangh parivar's campaign managers, Wayanad, never mind its profusion of temples, is a "mini-Pakistan". The BJP's ground troops say "Pakistani flags" were waved during Rahul's roadshow on April 4, a sign they say is proof that the Congress chief has sought refuge in a place loaded with Muslim votes.
Santosh Kumar, a decades-old official at the Vishnu temple, couldn't relate to the "Pakistan" jab by Shah. "It's a great honour for us that the Congress president is contesting from Wayanad where Dakshina Kashi is located," said Santosh. "The Prime Minister is contesting from Uttara Kashi," he added, pointing out that Narendra Modi had picked Varanasi, or Kashi, as his Lok Sabha seat.
Afsal MK, who works as a watchman, said their wish is to ensure Rahul gets elected by at least three lakh votes. "We will send him to Parliament with a historic margin of at least three lakhs," Afsal told The Telegraph.
"There is only one winner, and that's Rahul Gandhi," added Ahmed Haji, an octogenarian who was among the thousands who saw Indira Gandhi speak at the Fort Maidan in Kannur, around 110km away, in 1977.
Rahul's candidature has suddenly given life to this picturesque but sleepy constituency.
"I am sure Wayanad will benefit a lot from electing a leader like Rahul Gandhi," said the owner of a holiday resort near Kalpetta who has traditionally supported the BJP. "At least, Wayanad has already become famous," said the man, who requested anonymity.
He was unhappy about the NDA candidate, Tushar Vellapally, who was shifted from Thrissur to Wayanad after the Congress decided to field Rahul.
Several voters who interacted with this newspaper couldn't even recall the name of the NDA candidate or his party.
Tushar heads the little-known Bharat Dharma Jana Sena that claims the backing of the Ezhava community, an influential backward caste.
Rahul's main challenger is the Left Democratic Front that is in no mood to allow a walkover. Neither were they overawed by the crowds Rahul attracted at Kalpetta after filing his nomination on April 4.
"That was mere curiosity and we don't buy the argument that it will be a walkover," said P. Sandosh Kumar, the CPI's election committee convener for Wayanad.
Having decided on its candidate P.P. Suneer on March 10, the CPI had already finished three rounds of voter interaction when the Congress named Rahul.
"We will certainly benefit from that headstart," said Sandosh.
But looking after Wayanad will take some hard work for the winner, even if it's Rahul who repeatedly said during his day-long campaign on Wednesday that he wanted a "life-long relationship" with the place and its people.
Known for its spices like pepper, tea and coffee besides forest produce like honey, Wayanad has been in the throes of an agrarian crisis.
"Water was abundant not too long ago. Then we had to drill tube wells, but used to strike water at 70-80 feet. But now one needs to drill up to 500 feet," said K.N. Subramanian, a CPM leader who has over four acres of cultivable land.
The place was once called the "Gulf" of Kerala with crops fetching good returns. "It's all gone like a pleasant dream," he sighed.