Wave of dismay at Umar Khalid's arrest
He is accused of inciting the Delhi riots through his speeches that called for protests against the CA during Trump's February visit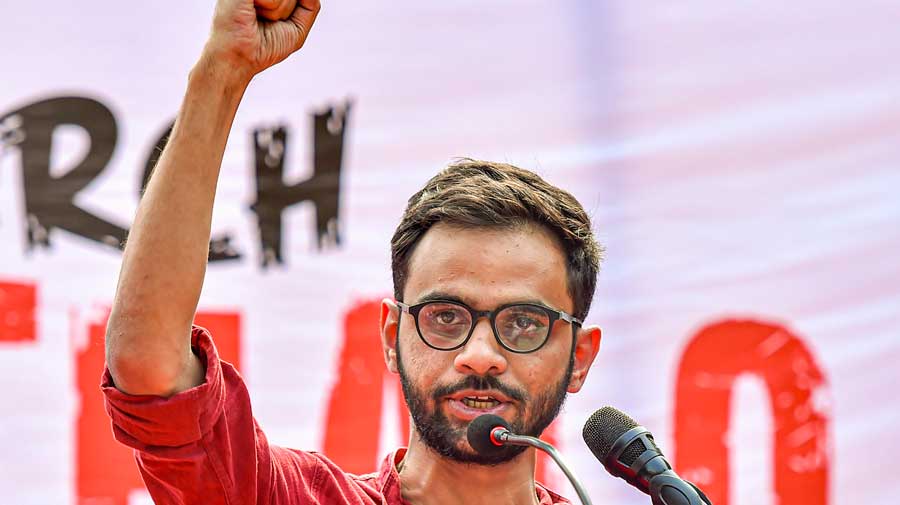 ---
New Delhi
|
Published 15.09.20, 02:00 AM
|
---
The arrest of rights activist Umar Khalid has triggered a wave of condemnation while eminent citizens and retired IPS officers have issued statements censuring the way Delhi police are probing the February riots.
Khalid, arrested after more than 10 hours of questioning, is accused of inciting the riots through his speeches that called for protests against the Citizenship Amendment Act during US President Donald Trump's February visit to India.
He has been booked under the Unlawful Activities (Prevention) Act — a stringent anti-terror law under which bail is rare.
Additional sessions judge Amitabh Rawat on Monday granted the police 10 days' custody of Khalid on the ground that they need to "confront" him with 11 lakh pages of "technical data".
A source said Khalid was unlikely to apply for bail until he was in judicial custody, after the investigators had finished questioning him.
The hashtag #StandWithUmarKhalid was trending on Twitter with almost 3 lakh tweets.
Among the tweeters was Congress MP Shashi Tharoor, who wrote: "PM says he welcomes criticism, but forgets to mention the cost of criticism to be paid by those who speak out. In today's India, payback is only reserved to our own citizens, never against countries who actually question and challenge our sovereignty."
Historian Audrey Truschke tweeted a link to a BBC report on the arrest and said: "Everyone — not only those of us who follow the Indian news — should read about this appalling arrest. It can (and, depending on November) will happen in the United States too."
The CPM politburo condemned the arrest, which came soon after the name of its general secretary Sitaram Yechury was mentioned in a supplementary chargesheet on the riots along with Swaraj India president Yogendra Yadav, academics Jayati Ghosh and Apoorvanand Jha, and filmmaker Rahul Roy.
Roy and his wife Saba Dewan were on Monday questioned by the police's counter-terror unit in the same building where Khalid is being held.
The couple had organised several protests under the "Not In My Name" banner against the lynchings of Muslims and other crimes against humanity over the past five years.
A former JNU student, Khalid already faces a sedition case for organising a "cultural evening" in 2016 during which slogans for Kashmiri independence were allegedly raised. The trial is yet to begin.
Aam Aadmi Party MP Sanjay Singh said: "The Delhi riots were orchestrated by the BJP and its leaders and they should be arrested. There's enough proof of this. The big question is, how will the BJP's police do justice?"
The riot probe has been called a "witch-hunt" in a statement by several activists, artists and academics including CPM politburo member Brinda Karat, CPIML Liberation politburo member Kavita Krishnan, Gujarat MLA Jignesh Mevani, former Planning Commission member Syeda Hameed, author Arundhati Roy, musician T.M. Krishna, historian Ramachandra Guha, senior advocate Prashant Bhushan and public policy expert Biraj Patnaik.
"With deep anguish we have no doubt in saying that this investigation is not about the violence in February 2020 in the national capital, but on the completely peaceful and democratic protests across the country against the unconstitutional CAA," they said.
"The right to life is not just to be allowed to eat, live and breathe; it is to live without fear, with dignity and with freedom of expression, including dissent. The nature of investigation has been mainly to silence democratic voices and instil fear, and this is precisely the objective of this witch-hunt."
Khalid had complained to police commissioner S.N. Srivastava earlier this month that the police were asking his acquaintances to falsely implicate him or face arrest.
Nine senior retired IPS officers — Shafi Alam, K. Saleem Ali, Mohinderpal Aulakh, A.S. Dulat, Aloke B. Lal, Amitabh Mathur, Avinash Mohanney, P.G.J. Nampoothiri and A.K. Samanta — have written to Srivastava endorsing what retired "supercop" Julio Ribeiro had told the commissioner last week.
Referring to the riot probe, former DGP Ribeiro had asked Srivastava to examine whether officers under his command "have been true to their oath".
The Delhi police have said they are checking the veracity of Ribeiro's email.
Without mentioning the names of the accused in the riots cases, the nine retired cops said: "Mr Julio Ribeiro is a living legend of an IPS officer (as one publication put it).... We would like to endorse the letter he has written to you regarding the flawed investigation into the Delhi riots….
"In addition, we would like to say that it indeed is a sad day in the history of Indian police that investigations and challans submitted in the court by Delhi police in connection with riots of this year are widely believed to be partisan and politically motivated. It pains all those police officers, serving as well as retired, who believe in upholding the rule of law and our Constitution."
They added: "Such investigation will only make people lose faith in democracy, justice, fairness and the Constitution.... We would, therefore, earnestly request you for reinvestigation of all riot cases fairly and without any bias."
Elgaar case
Celebrated Malayalam filmmaker Adoor Gopalakrishnan, poets K. Satchidanandan and Manglesh Dabral, artist Vivan Sundaram, dramatist Maya Rao and several others have spoken out against the arrest of Kabir Kala Manch activists in the Elgaar Parishad case.
"The state is attempting to silence the radical Bahujan cultural expressions like that of the KKM. This is an attempt to stop those trying to envision a just future for India," they said in a statement.
"We condemn the attempt to stifle the voices of cultural dissent, and stand in solidarity with the arrested KKM activists, and all others who have been incarcerated in the Bhima Koregaon case."
Last week, the National Investigation Agency arrested Marathi folk artistes Sagar Gorkhe, Ramesh Gaichor and Jyoti Jagtap for "propagating Naxal activities and Maoist ideology" along with other people in connection with an alleged Maoist plot to infiltrate an Ambedkarite event in 2017 and incite violence.
All three were stage performers for the KKM, a cultural group listed by the home ministry in 2011 as a Maoist front.