Police complaint filed against Vir Das for his US monologue
The monologue, titled 'I come from two Indias', in which he referred to the PM CARES Fund and the Lakhimpur Kheri carnage was delivered at the Kennedy Center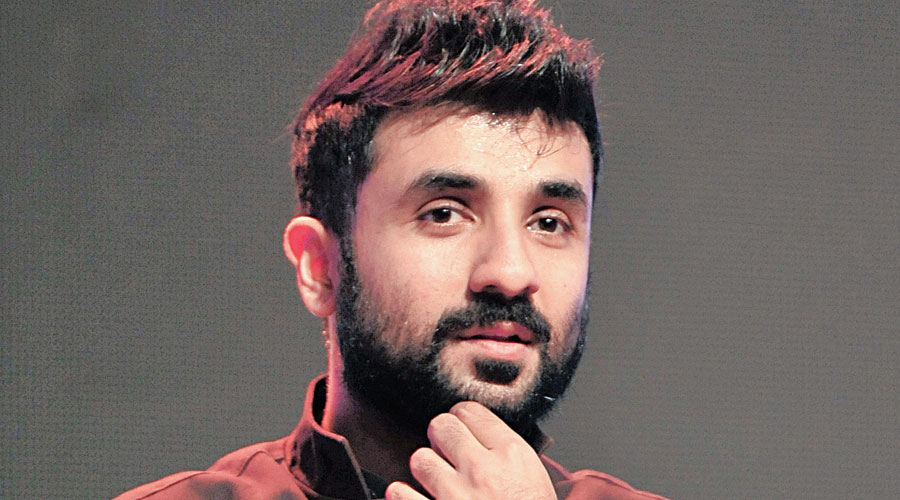 Vir Das
Telegraph Picture
---
New Delhi
|
Published 18.11.21, 02:48 AM
|
---
A BJP functionary and a lawyer have filed complaints with police against comedian Vir Das for his monologue in the US earlier this month in which he referred to the PM CARES Fund and the Lakhimpur Kheri carnage in which farmers were killed.
The monologue, titled I come from two Indias, was delivered at the prestigious Kennedy Center in Washington DC on November 12.
Das tweeted on Monday a six-minute clip of his performance peppered with several rounds of applause, which has been seen by over 1.6 million people on YouTube alone.
After a barrage of criticism and calls for his prosecution, Das tweeted on Tuesday: "The video is a satire about the duality of two very separate Indias that do different things. Like any nation has light and dark, good and evil within it. None of this is a secret. The video appeals for us to never forget that we are great. To never stop focusing on what makes us great…. It ends in a gigantic patriotic round of applause for a country we all love, believe in, and are proud of. That there is more to our country than the headlines, a deep beauty. That's the point of the video and the reason for the applause."
pic.twitter.com/1xwR4Qp5Fw

— Vir Das (@thevirdas) November 16, 2021
In the clip featuring his performance, Das is heard saying: "I come from an India where every time we get information, we are always available to care for the PM but we can't seem to get any information on PM CARES…. I come from an India where we take pride in being vegetarians and yet run over the farmers who grow our vegetables."
At another point, he says: "I come from an India where we bleed blue every time we play green, but every time we lose to green, we turn orange all of a sudden."
Delhi BJP spokesperson Aditya Jha and Mumbai lawyer Ashutosh J. Dubey, who describes himself as a legal adviser to the party's Palghar unit, filed a complaint each in both cities claiming that Das's monologue was derogatory to women and inflammatory.
During the performance, Das contrasts the way women are worshipped in India during the day and gang-raped at night.
Dubey's complaint suggests he is outraged by another element, too. In his complaint emailed to Mumbai police, he said: "It has been observed that aforesaid issues and wilfully spreading, inciting and a derogatory statement against the current Prime Minister of India is the biggest threat to Union of India that he did fraud regarding the PM Care Funds and he is not able to get information regarding the same." (sic)
Congress leaders Shashi Tharoor and Kapil Sibal tweeted in support of Das but their party colleague Abhishek Manu Singhvi said: "Generalising the evils of a few individuals and vilifying the nation as a whole in front of the world is just not done!"
A stand-up comedian who knows the real meaning of the term "stand up" is not physical but moral -- @thevirdas spoke for millions in this 6-minute take on the Two Indias he hails from & stands up for. https://t.co/94h4SnyZhX
"This is a joke, but it's just not funny." Brilliant.

— Shashi Tharoor (@ShashiTharoor) November 16, 2021
Generalising the evils of a few individuals and vilifying the nation as a whole in front of the world is just not done!

The people who painted India in front of the west as a nation of saperas and luteras during the colonial rule have not ceased to exist.#VirDas

— Abhishek Singhvi (@DrAMSinghvi) November 16, 2021
Filmmaker Hansal Mehta tweeted: "I come from an India where it needs courage for a Vir Das to say this, I come from an India where many of us admire this courage, yet choose to remain silent."
I was very moved by this @thevirdas. I come from an India where it needs courage for a Vir Das to say this, I come from an India where many of us admire this courage, yet choose to remain silent.

Vir Das | I COME FROM TWO INDIAS https://t.co/K4BU1OhP4i via @YouTube

— Hansal Mehta (@mehtahansal) November 17, 2021