Vile tricks Shaheen is facing
Man with gun and maligning MP target protest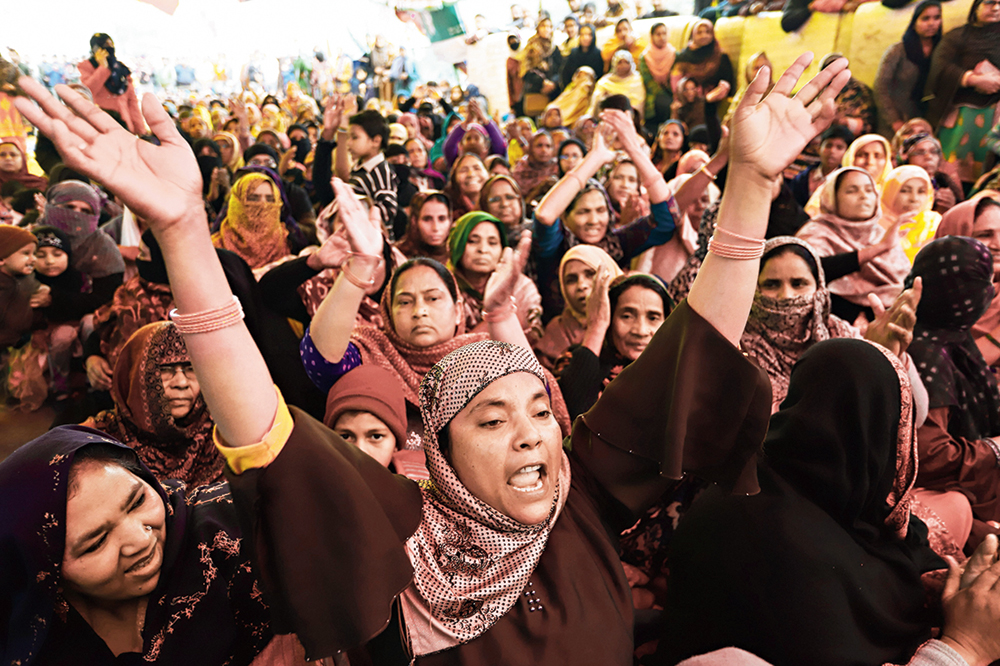 Protesters raise slogans at Shaheen Bagh on Tuesday
(PTI photo)
---
New Delhi
|
Published 28.01.20, 09:52 PM
|
---
A man with a pistol on Tuesday warned "traitors" of Shaheen Bagh, the largest continuous vigil led by women against the Citizenship (Amendment) Act, that he wouldn't allow them to protest.
PTI reported that police identified the man as Mohammad Luqmaan (50), a resident of Shaheen Bagh and a building contractor who had gone to the protest site with a group of people to talk to the demonstrators regarding the reopening of the road blocked by them.
The incident took place a day after two BJP MPs made provocative speeches and home minister Amit Shah made the protest the main target of his party's election campaign in the capital.
West Delhi BJP MP Parvesh Verma told PTI: "What happened in Kashmir with Kashmiri Pandits could happen in Delhi also. Lakhs of people gather at Shaheen Bagh, they could enter houses (and) rape and kill your sisters and daughters. The people need to decide now."
Verma, the son of former Delhi chief minister Sahib Singh Verma, had told an election rally on Monday that Shaheen Bagh would be cleared in an hour on February 11 if his party came to power. The Delhi Assembly election results are scheduled to be declared on February 11.
On Monday, deputy finance and corporate affairs minister Anurag Thakur led a crowd at a BJP rally in North Delhi in chanting: "Shoot the traitors!"
At Shaheen Bagh, an eyewitness who introduced himself as Haris, a doctor at a government hospital in the capital, said he was near the stage when the ruckus happened around 3.30pm.
The eyewitness said: "He was middle-aged. I think he jumped across the railing on the left of the stage. I heard him shout: 'Tum gaddaron ko yahaan protest nahi karne doonga! (I won't let you traitors protest here)'."
When people tried to push him, the pistol fell off him and people started screaming. "He was overpowered and his pistol taken away. The protesters took him towards the barricade to hand him and his pistol over to police," Haris said.
Haris was at the venue to make a speech in which he said: "The gunman came and went, but I salute you women who stay on…. We government servants are threatened and told not to speak out against the government. But if we don't speak out today, when will we, and what will we answer the one above?"
A senior police officer later said: "The man has been identified as a resident of Shaheen Bagh. He was part of a group that tried to open up one carriageway. An altercation took place between this group and demonstrators. He claims that he was invited by demonstrators inside the tent to come and talk. When he came in, someone noticed that he had a gun, and people started shouting that he is armed and snatched his weapon. The man claims that it is a licensed weapon, which was later given back to him. The station house officer of Shaheen Bagh police station has called him for questioning."
The officer added: "No political affiliation of the man (with the pistol) has been established as of now."
Besides Shaheen Bagh, there are now smaller protests by women at 14 other spots in the city. Most of them have stayed despite warnings from police, and occasional seizure of their tents. On Sunday, Delhi University student Harjit Singh was assaulted by people at a rally by Shah in North East Delhi after he shouted: "Withdraw CAA."
Harjit, who said he isn't a member of any political group, was heading to one such women's dharna in Seelampur when he saw Shah's rally and couldn't control his urge to speak out.
Earlier this month, two women were intimidated by alleged BJP supporters in South Delhi and later evicted from their flat when they waved banners opposing the CAA during a roadshow by Shah.
Farhana, one of the women leading the protest, told this newspaper on Tuesday: "We reject this propaganda of the BJP. We are Gandhians and we do not hate any party. We only want a government that cares about improving our lives, and educating our children, and we don't mind if growth is slow as long as the laws are equal for all. Whether we are shot at, or beaten up, we won't move until the CAA is repealed. Indians are smarter than before and will not be swayed by this Hindu-versus-Muslim propaganda."
A group of teachers from Jamia Millia Islamia university came to speak to the agitators on Tuesday in light of the recent statements by BJP leaders.
Spanish professor Sonya Gupta said that they had come to offer support and solidarity. She told the women: "We have come to discuss whether you have any strategy to counter the things politicians are saying, if you feel that these are having an impact on society."
The apprehension of more trouble to come has worried civil society groups that are conducting awareness campaigns and nudging protesters to cause minimum disturbance to traffic in the run-up to the Delhi polls.
Shaheen Kausar, one of the Shaheen Bagh organisers, said: "We have nothing to do with Sharjeel Imam (arrested on Tuesday on sedition and other charges). This is a public stage, and we cannot be responsible for what any speaker here says in some other place. This country is ours and we are here in national interest. We have no interest in saying anything about politicians and things they say. We say, repeal this unjust law that every educated person knows is discriminatory."