Video bar on UP print reporters
District magistrate of Mirzapur claimed that a reporter's job profile had clear demarcations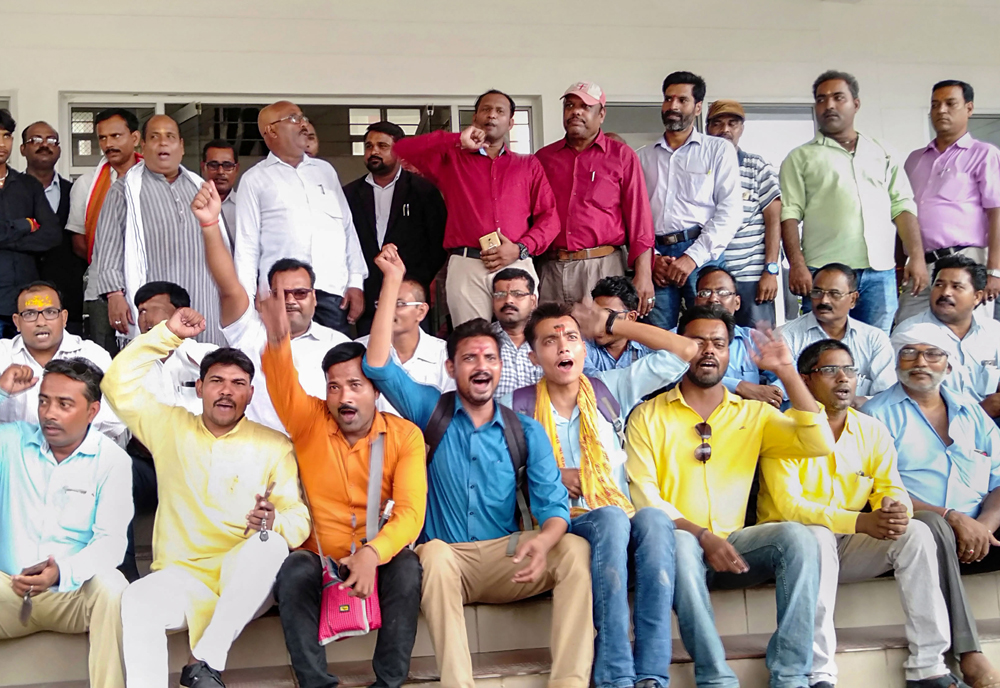 Journalists gather outside the commissioners office to protest over alleged harassment of journalists, in Mirzapur, Tuesday, September 3, 2019.
(PTI)
---
Lucknow
|
Published 03.09.19, 11:03 PM
|
---
The district magistrate of Mirzapur who ordered a journalist to be booked for breaking a story that salt and chapatti were served as midday meal in a primary school last month claimed on Tuesday that a reporter's job profile had clear demarcations.
They should either click photographs and write for the print media, or shoot for the electronic media.
But they cannot do both, Anurag Patel, the DM, said while speaking to reporters.
Pawan Kumar Jaiswal, the journalist in the line of fire, had done both; precisely why he had been booked, Patel said.
The journalist had visited Siyur Primary School in Mirzapur district on August 22, apparently after being called by a villager, Raj Kumar Pal, a resident of Siyur, and shot a video that shows the schoolchildren eating roti with salt.
Jaiswal had also recorded the statement of some students and school staff who had claimed that salt-chapatti or salt-rice was a routine menu at the school for the past year and a half.
The journalist later posted the clip on social media sites and also shared it with news channels.
On Monday, police booked Jaiswal, Pal and an unidentified villager following a complaint by Prem Shankar Ram, the block development officer (BDO) of Jamalpur where the primary school is located.
One of the charges against them is criminal conspiracy (Section 120B of the penal code), an offence punishable with death or life imprisonment.
DM Patel explained why the journalist had been charged with criminal conspiracy. "This is not the way to make a story. I have recording (phone) that a person (Pal) is inviting him (Jaiswal). He (Pal) is saying he is conspiring to post a video and make it viral and he is inviting (the journalist) to join him in doing so," the DM told reporters on Tuesday.
A source said the local administration had obtained an audio clip of the purported conversation between Pal and Jaiswal. In the purported clip, also available with the local media, Pal is apparently heard saying that the school kids were getting only salt and roti as midday meal and that it should be recorded and flashed on news channels and social media.
When pointed out that nowhere do the words "conspiracy" or "viral" occur in the clip, the DM said: "But he (Pal) is asking to make the video. If you are a journalist of the print media, then you should snap a picture. You could write a report if you saw an irregularity there. He didn't do this and so his involvement appeared suspicious. So we thought he is involved in 120B. This was the reason that the case was registered against him."
Reminded that he himself had accepted (on August 23) that salt and chapatti were served in the school, Patel replied. "Salt and rice is used in khichri. Dal is also used in it."
Asked if such salt-and-roti meals were being served for many days, the DM said: "No, it had happened on that particular day only. The inquiry has confirmed that whatever happened that day was a conspiracy."
Ram, the BDO of Jamalpur, has said in the FIR that Jaiswal and Pal "conspired to defame the Uttar Pradesh government" by cooking up a report on midday meal and "making it viral on social media".
He has said that Pal, a panchayat representative, was to bring vegetables for midday meals but didn't do so that day because he had conspired to defame the state government.
Jaiswal had on Monday evening released a video clip from an undisclosed location. The journalist had in the clip said the administration had made him a scapegoat because officials were guilty of serving the children salt and roti.