CBI DIG opens can of worms in Supreme Court
Manish Sinha claims he was shunted out to stall probe, names PMO, NSA, CVC, minister, cabinet secretary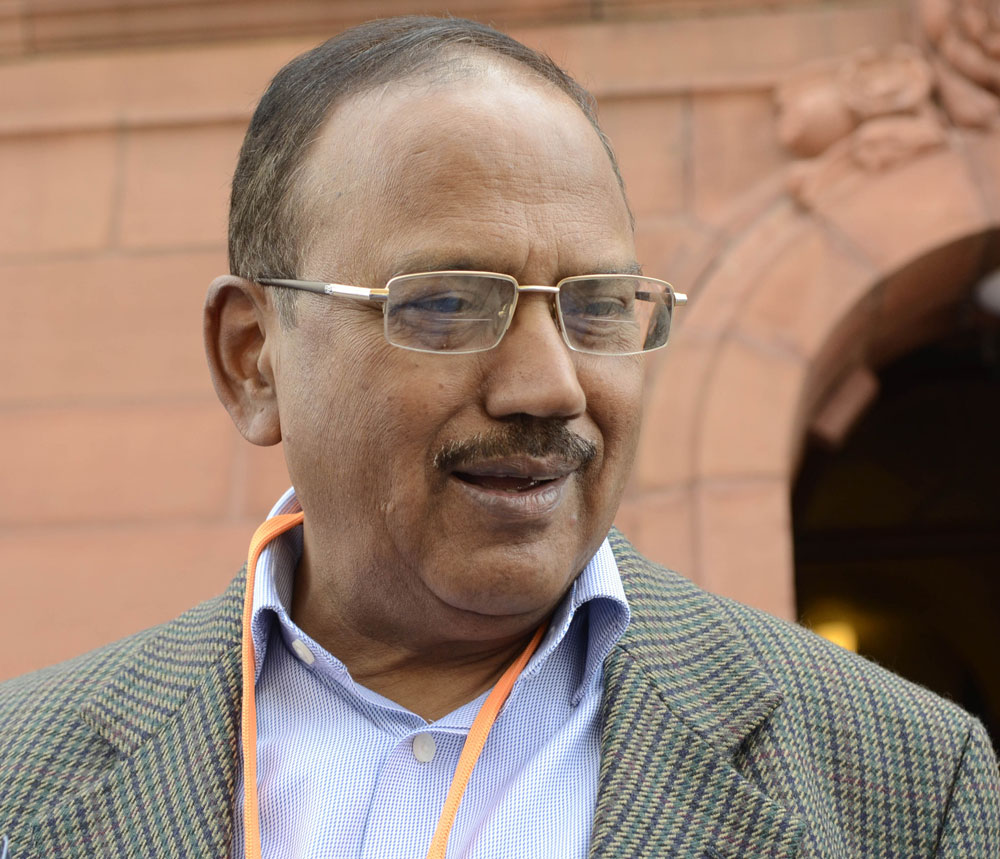 ---
---
The CBI scandal has exploded on some of the biggest names in the Narendra Modi establishment with a decorated officer of the agency filing a sensational petition in the Supreme Court.
The intervention application mentions the Prime Minister's Office, the national security adviser, the central vigilance commissioner, a Union minister, the cabinet secretary and the law secretary.
The document underscores that its contents are based mostly on statements by a businessman and that a probe alone can establish their truth.
The petition was filed by DIG Manish Kumar Sinha against his transfer in a post-midnight operation while he was supervising the probe into an allegation of bribery against Rakesh Asthana, the benched special director of the CBI who is considered close to the Prime Minister.
Sinha, a winner of the President's medal and a police medal for meritorious service, has been shifted to Nagpur from New Delhi.
In the petition, filed through advocate Sunil Fernandes, Sinha has said he has been transferred "solely with the purpose and intent to victimise" him "as the investigation revealed cogent evidence against certain powerful persons".
The top court has refused a urgent hearing but asked Fernandes to be present when it hears CBI director Alok Verma's plea, adds PTI.
The following are some of the references, reproduced verbatim, in Sinha's petition. Most of the charges are based on purported accounts by Satish Babu Sana, a businessman who has levelled the bribery charge against Asthana. Sana says money was paid to many people to "manage relief" after he was threatened and served multiple summonses in a case.
PMO
Prime Minister's Office: On 23.10.2018, during evening hours, the Deputy Director (Special Unit) provided certain information. Some of the information, which I (Sinha) am able to recall, is as follows:
Shri Somesh (brother of arrested middleman Manoj Prasad) told his father Shri Dineshwar Prasad (former RAW officer) that Shri Manoj got some work done during which there was exchange of money and possibly in that context Shri Manoj took name of Shri Asthana.
Shri Somesh told his father-in-law Shri Sunil Mittal that he (Shri Sathish Sana) told some work to Bhaiya (Manoj) who told him (Shri Somesh) to get it looked into —basically to get date extended as CBI was harassing — so he discussed with Samant Bhaiya (Samant Goel, serving RAW officer) etc.
On 23.10.2018, the Applicant (Sinha) herein was informed by DIG/DD (Special Unit) that someone spoke to Samant Goel (who was at Chandigarh at that time) and asked to help him to which Samant Goel replied that things have been managed with PMO and everything is fine. The same night the entire investigating team was shifted. (This was the night of the now-infamous midnight operation.)
Contacted by The Telegraph, PMO spokesperson Atul Tiwari said: "The matter is sub judice and we will respond to it as and when required. One should not make any insinuations for or against anyone at this time. We are trying to get details and will get back to respond or will take legal recourse."
NSA
Ajit Doval, national security adviser: As per Manoj Prasad (the alleged middleman whose arrest on Saptami night blew the lid off the CBI scandal), Shri Dineshwar Prasad, father of Manoj and Somesh, retired as Joint Secretary, R&AW and has close acquaintance with the present National Security Adviser Shri Ajit K. Doval….
This was one of the first things Manoj claimed on being brought to CBI HQ and expressed complete surprise and anger as to how CBI could pick him up, despite his close links with the NSA Shri Doval. Manoj taunted us that you people have no standing whatsoever and therefore should "stay in limits" and let him free.
He claimed that recently his brother Somesh and Samant Goel, helped the NSA Shri Ajit Doval on an important personal matter. He further claimed that India opted out of a contest from INTERPOL.
Regarding genuineness of this claim of Manoj, no attempt was made to verify the claim regarding the NSA Shri Doval. However, the INTERPOL part was discreetly verified. It is factually correct. It transpires that India was contesting for the post of delegate in INTERPOL with Joint Director, CBI Policy (Shri AK Sharma) as its nominee.
There were four other contending countries. The elections were to be held sometime in 3rd week of November this year. Sometime in September, Shri AK Sharma was to go to abroad for a meeting but at the last minute, his trip was abruptly cancelled. It was informed that India is tacitly withdrawing from the contest. All the material facts mentioned in this paragraph may be available on record with IPCC, CBI, Delhi….
'No permission'
When the investigating officer, Shri AK Bassi came to know that Shri Samant Goel (a RAW officer) / Shri Somesh (brother of Manoj) had stopped talking and were exchanging WhatsApp Messages, he insisted that we need the cell phone sets of the public servants as the evidence is likely to be stored on the device and that a search be conducted. The Director CBI did not give immediate permission and reverted that the NSA has not permitted the same. This oral request continued for 2/3 days. Ultimately, the proposal seeking permission to search was put on record by the IO on 22.10.2018.
However, the same was not allowed and a query was raised by the Director as to why the searches are to be done. Upon being queried, the Director… herein replied that he was not getting clearance from the NSA/Shri Doval. It was then resolved, as a face-saving measure, to take recourse to the Quashing Petition, filed by Shri Rakesh Asthana, pending before the Hon'ble Delhi High Court, which was coming up for hearing on 23.10.2018. That is why, during the hearing dated 23.10.2018, the CBI had insisted that the electronic devices such as the cell phone sets be preserved.
'Search stopped'
That in the afternoon of 20.10.2018, searches were also conducted at the residence and the office of Shri Devender Kumar, DySP, CBI, who was investigating the Moin Qureshi case.
The reason for the search was based on certain inputs provided by Special Unit, based on legal interception. While the search was on, a phone call was received from Director CBI instructing to stop the search.
At that time, the Applicant herein was sitting in the BS&FC (Bank Security and Fraud Cell) office and asked the Director, to which the Director replied that this instruction has come from NSA Shri Doval.
The Applicant herein was specifically told that there are some important messages in one of the mobile phones of Shri Devender Kumar, though not pertaining to this case, and that the mobile should not be seized.
The Telegraph tried to contact Doval but he was not available for comment.
Minister
Haribhai Parthibhai Chaudhary, minister of state for coal and mines and MP from Gujarat: Sometime in first fortnight of June 2018, a few crores of rupees was paid to Shri Haribhai Parthibhai Chaudhary, presently Minister of State for Coal and Mines in Government of India.
As per Shri Sana, Shri Haribhai had intervened with the Senior officers of CBI through the office of the Minister of Personnel, Public Grievances and Pension, to whom, apparently, the Director — CBI reports to. The money was paid through one Vipul of Ahmedabad. These facts were disclosed by Sana to me (DIG Sinha) on 20.10.2018 in the forenoon. I immediately reported the matter to the Director and the AD (AK Sharma)….
It is most respectfully submitted that the Applicant (Sinha) is aware of the information only to the extent that the bribe money was allegedly paid to the Minister Shri Haribhai Chaudhary only and Applicant is not privy to any information whether any part of that bribe money was paid to any other higher-up in the CBI. However the Applicant verily believes that if this lead is diligently pursued, the truth would eventually come to light….
The Applicant also asked Shri Sana for the reason why his complaint doesn't mention the name and role of the Minister Shri Hari Bhai. His answer was that he has given complaint to CVO of CBI on officials of CBI, so there was no point in including other aspects and that he acted as per guidance given by his lawyers.
Minister Chaudhary said in a statement on Monday evening: "Certain absolutely false and baseless allegations have been made against me. I neither know, nor have I met Mr Sathish Babu Sana, who is alleged to have paid me a bribe. I only came to know from various media reports today that an affidavit has been filed in the Hon'ble Supreme Court mentioning this matter. I condemn this malicious attempt to malign my reputation. I welcome any enquiry into this matter and the law should take its own course. If I am proven guilty, I am willing to leave politics."
CVC
K.V. Chowdary, the central vigilance commissioner: Shri Sathish Babu Sana also disclosed that he met the CVC Shri KV Chowdhary (the spelling used in the petition) along with one Gorantla Ramesh (close relative of CVC Shri K.V. Chowdhary and owner of Delhi Public School Hyderabad, as per Sana) somewhere in Delhi (exact date and location was not informed) and that they discussed Moin Qureshi's case (Quereshi is a meat trader accused of illegal transactions).
As per Sana, in the year 2011, Shri Gorantla Ramesh sold some land and gave around Rs 4 crores out of the said sale consideration to Shri Sana, in the same month, in which Shri Sana had given Rs 50 Lakhs to Moin Qureshi. Therefore, Shri Gorantla Ramesh was examined by CBI in the Moin Qureshi's case….
As per Shri Sana, subsequently, the CVC Shri KV Chowdhary called Shri Rakesh Asthana to his residence and made inquiries. Shri Rakesh Asthana informed to the CVC that there is not much in evidence against them. There is no illegality in this, but the same is put on record here for the sake of completeness. No verification was undertaken and the same is based on disclosure made by Sana.
When this newspaper called the chief vigilance commissioner's office, a woman who refused to be identified responded and wanted to know the reason behind the call. Told about the petition, she said: "Sir is busy with the CBI issue only." Chowdary did not reply to an email.
Big officials
Cabinet secretariat: In the morning of 17.10.2018, a call came from the DCP Special Cell of Delhi Police on the mobile of IO Shri AK Bassi, DSP, CBI AC-III who did not take call. Later another Inspector of Special Cell called up and sought to know if Manoj has been arrested. Enquiries revealed that the query had originated from Cabinet Secretariat….
Suresh Chandra, Union law secretary, and P.K. Sinha, cabinet secretary: The Applicant became aware that while the proceedings were going on in the CVC against the Petitioner herein — Shri Alok Verma, the Union Law Secretary Shri Suresh Chandra waded in to the issue.
On 8.11.2018, the office of Shri Sana was repeatedly approached by one Ms. Rekha Rani, IAS officer of Andhra Pradesh Cadre, claiming that the Union Law Secretary, who is in London, wants to speak to Shri Sana. The London number of the Union Law Secretary was communicated. Shri Sana spoke to him on Whatsapp on the evening of 08.11.2018.
The Union Law Secretary Shri Suresh Chandra said that he was in London for some work related to Nirav Modi case, that he was trying to contact him for last 4/5 days in order to convey message of Cabinet Secretary Shri PK Sinha that the Union Government will offer full protection to him, that there will be a drastic change on Tuesday (13th) and that he (Sana) should meet him (Suresh Chandra) on Wednesday (14th), that even IB is not able to track his (Sana) movement, that he also tried to communicate the message through one Chamundeshwarnath with whom he met in his London hotel.
The call was ended by Sana promising to call him again later in the night. Once again Suresh Chandra enquired with Ms Rekha Rani on 13th November and asked her on presence of Sana.
It appears that Shri Suresh Chandra was more forthcoming this time and requested Ms Rekha Rani to ensure that Sana be helpful, that all his future problems will be taken care of and that he should be brought to Delhi on Thursday or Friday i.e., 15/16.11.2018. This last (previous) sentence is as disclosed to Sana by Ms Rekha Rani.
The Applicant had questioned Shri Sana on why Ms Rekha Rani was given the task of contacting him. He responded that the office of one of his companies has its office at a premises which are rented by Ms. Rekha Rani and that this detail is also available with Ministry of Corporate Affairs.
He was worried but the Applicant told him that he is no longer supervising this case and that he should talk to present DIG and gave his official number.
Chandra told PTI: "In fact, if you see, I have not spoken or taken any dictation from the cabinet secretary. That is number one. Number two: I have not been to London. Three: I do not know either of these persons, not at all. And there is no question of my taking a message. This is all fake. If there is any other Suresh Chandra, I do not know."
The cabinet secretary was not available for comment. His private secretary, Prem Singh, said: "Mr Sinha has gone to the PMO to attend a meeting." The cabinet secretariat is under the direct charge of the Prime Minister and the administrative head of the secretariat is the cabinet secretary.