VHP activists barge into all-faith prayer hall run by a Lingayat man
The activists sang bhajans after accusing the man of being a pastor engaged in forced conversions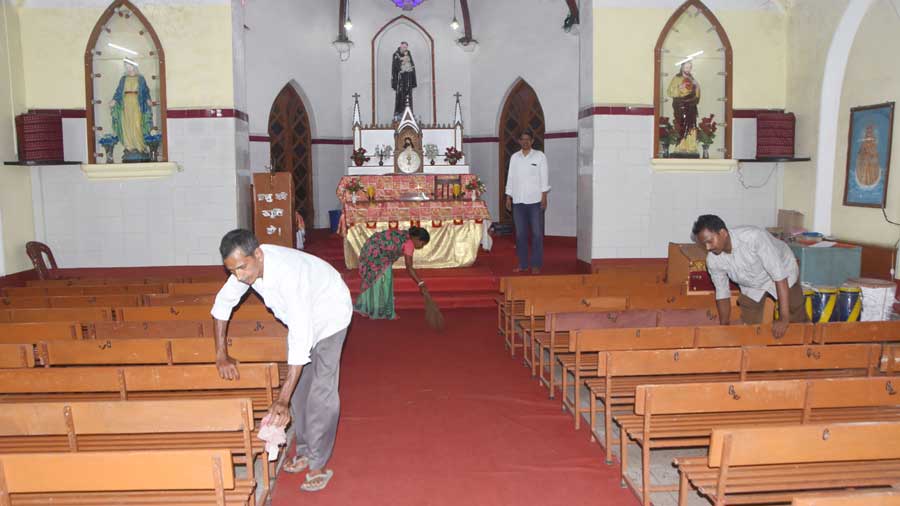 Representational image
File picture
---
Bangalore
|
Published 20.10.21, 01:56 AM
|
---
Activists of the Vishwa Hindu Parishad allegedly barged into an all-faith prayer hall run by a Lingayat man in central Karnataka who believes in Jesus Christ and sang bhajans after accusing him of being a pastor engaged in forced conversions.
Somu Avaradhi, who runs the Prayer House for All People's Church in Hubli, 400km from Bangalore, has been arrested after a local lodged a police complaint accusing him of trying to forcibly convert him. No action has, however, been taken against the VHP activists who forcibly entered the prayer hall on Sunday and were also accused of roughing up some people.
In a video clip that has been widely shared on social media, the VHP activists can be seen chanting "Shri Ram, Jai Ram, Jai Jai Ram".
Hubli deputy commissioner of police K. Ramarajan told The Telegraph on Tuesday that Avaradhi has been booked under the Scheduled Castes and Scheduled Tribes (Prevention of Atrocities) Act. "He is accused of speaking ill of Scheduled Caste people," the officer said.
Asked if the VHP members would be arrested for trespass and creating communal tension, Ramarajan said: "There is no complaint (against the activists), but we are investigating the matter."
In a video clip that emerged on Tuesday, Avaradhi is seen telling the VHP activists that he had neither embraced Christianity nor had he been instrumental in converting anyone.
"I did not change my name, caste or religion. Even today my certificate shows I am a Lingayat," he said, responding to the allegation that he was a pastor.
While government records describe the Lingayats as a community within the fold of Hinduism, it was formed as a separate religion by the 12th-century social reformer Basaveshwara. A sizeable chunk of the community still considers themselves as members of a separate religion.
"A pastor gave me a copy of the Bible when I was battling for my life in 2000. Since then I became a follower of Jesus Christ and have been praying at my home," Avaradhi is seen telling the VHP activists in the video. It is not clear what had happened to him two decades ago.
A local man who regularly prays at the hall said VHP activists rushed in chanting Jai Shri Ram and began singing bhajans. The man, who declined to be named, said Vishwanath, who has accused Avaradhi of trying to convert him, had never been seen at the prayer hall.
The man said the VHP activists assaulted some of those at the prayer hall. He alleged that the local police station did not accept his complaint on the ground that the inspector was not available.
Karnataka VHP convener Raghu Sakleshpura claimed before reporters that Avaradhi was a pastor and had tried to convert Vishwanath, a Dalit, to Christianity. "We went to protest after Vishwanath complained against the pastor for trying to convert him. We only sang bhajans and did not do anything wrong," Sakleshpura said.
Some Christians in Hubli met Congress leader P.C. Siddaramaiah late on Monday in the city to apprise him about the incident. They plan to hold a protest in case the police fail to act against the VHP activists.
BJP-ruled Karnataka has been witnessing a surge in communal incidents in the past few months. The Sangh parivar wields considerable influence in the southern state.
Last week, a Karnataka legislative committee dominated by the BJP ordered a survey on churches and the functioning of Christian missionaries, triggering fears that it would be used as an excuse to harass the minority community.
Bangalore South Lok Sabha member and BJP Yuva Morcha president Tejasvi Surya had on Monday sparked off a boycott call against apparel retailer Fabindia for its Deepavali-themed advertisement with a Urdu catchphrase.
"Deepavali is not Jash-e-Riwaaz," he had tweeted, misspelling Jashn-E-Riwaaz that had been used in the Fabindia ad.
"This deliberate attempt of abrahamisation of Hindu festivals, depicting models without traditional Hindu attires, must be called out," Surya had tweeted, instantly triggering a social media outrage against the company that eventually pulled down the ad.
In a video that has been circulating on social media, Sree Ram Sene chief Pramod Muthalik is seen exhorting his followers to start an Ayodhya-style agitation against the Juma Masjid in Gadag, north Karnataka, on Sunday.
"We had to fight for 72 years to get the Ram temple (in Ayodhya). After 72 years, the dream of a Ram temple has been fulfilled by demolishing the Babri Masjid. In the same way, the Juma Masjid in Gadag is Venkateshwara devasthana (temple), and I am saying with full confidence that it should be razed," Muthalik is seen telling a Sene meeting in Kannada.
He went on to assert that he had proof to substantiate his claim. "There is proof that the Babri Masjid was built over a temple. We have proof that the Venkateshwara temple was demolished during Tipu Sultan's rule and the Juma Masjid was built there," he said.