Veterans write to Reuters about ANI's report
On April 12, an ANI report had claimed that some veterans had denied having endorsed a letter to President Kovind that urged him to stop parties from milking the military for political benefit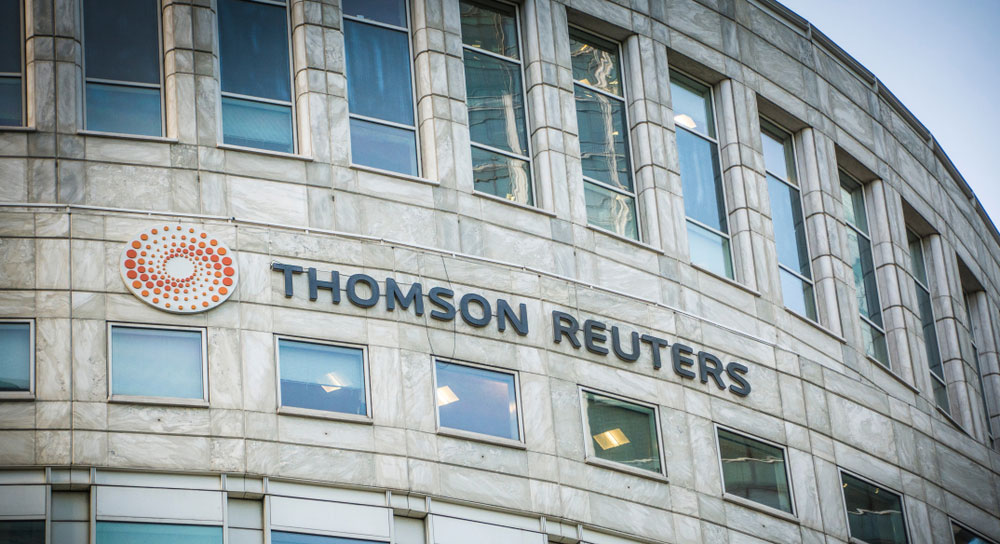 A Thomson Reuters office in London. Asian News International (ANI), a partner, has been accused of "defaming" the intentions of an appeal against the use of the armed forces for political purposes
Picture by Shutterstock
---
New Delhi
|
Published 25.04.19, 02:11 AM
|
---
Military veterans have complained to Thomson Reuters, the multinational that provides news and information-based tools, against its partner Asian News International (ANI) for "defaming" the intentions of an appeal against the use of the armed forces for political purposes.
"We believe that ANI has acted at the behest of India's ruling party to manipulate quotes and defame our honourable intentions," Priyadarshi Chowdhury, a retired major, said in a letter to Reuters.
On April 12, an ANI report had claimed that some veterans had denied having endorsed a letter to President Ram Nath Kovind that urged him to stop parties from milking the military for political benefits.
Prime Minister Narendra Modi and several other BJP veterans have sought votes in the name of the surgical strikes and the Balakot air strikes.
One of the veterans quoted by ANI was former army vice-chief, Lt Gen. M.L. Naidu. "No, my consent was not taken for any such letter and neither have I written any such letter," ANI had quoted Lt Gen. Naidu as saying.
Two days later, on April 14, Lt Gen. Naidu had alleged that ANI had misquoted him. Other veterans had also said Lt Gen. Naidu had on April 8 endorsed by email the letter to the President.
On April 12, ANI had also quoted two former armed forces chiefs — Gen. S.F. Rodrigues and Air Chief Marshal N.C. Suri — as having denied signing the letter.
However, Major Chowdhury, who had written the letter to the President on behalf of the veterans and who has now written to Reuters, too, had then released trail mail to show that the two officers had endorsed the contents.
On Wednesday night, the names endorsing the appeal to the President had risen to 422 from the original 156. On the updated list, the veterans have retained the name of Lt. Gen. Naidu. The names of Gen. Rodrigues and Air Chief Marshal Suri have been crossed out as the two have not contested the agency report that said they had denied signing it. But the names of the two veterans have not been dropped altogether because of the emails that suggest they had endorsed the appeal.
On Wednesday, contacted by The Telegraph, ANI editor Smita Prakash said: "I have nothing to say about it."
On April 14 when the misquoting controversy broke, ANI editor Prakash had tweeted about the veterans quoted by the news agency: "They are going to embarrass themselves if they play into hands of vested interests by saying they did not say what they did say on record. If they had a rethink on their stand, that's a different issue."
Major Chowdhury has also written to the Editors Guild and the Press Council of India asking if they believe that ANI's perceived motivated misreporting "meets the best practices for editorial propriety".
In the letter to Reuters, Major Chowdhury said: "I am writing on behalf of a group of retired officers of the Indian armed forces, to share our concern and anger over the recent conduct of Asian News International (ANI), with which Thomson Reuters has both an investor relationship and strategic partnership over editorial content.
"The context of this complaint is ANI's recent reporting on our petition, signed by over 150 military veterans, and addressed to the President of India, to protest the appropriation of the armed forces into political campaigning."
Major Chowdhury's letter stated that "serious questions" had arisen about ANI's "motives and practices in reporting the alleged denials by some senior officers that they had ever signed the letter".
"We believe that ANI has acted at the behest of India's ruling party to manipulate quotes and defame our honourable intentions. In our opinion, ANI's conduct tantamounts to being perfidious with a view to influence the ongoing elections, in India, in a biased manner," the letter said.
Major Chowdhury asked Reuters to furnish the following information so that the veterans can plan further action:
Whether Thomson Reuters evaluated or examined the practices, political affiliations, and reputation of ANI prior to expanding its strategic partnership in June 2018?
Regarding the above, if so, what was Thomson Reuters's finding about ANI? If not, on what basis does Reuters evaluate the quality and validity of editorial material received from its partners?
Whether Thomson Reuters believes that ANI's motivated misreporting of our genuine and Constitutional appeal meets its own standards for editorial propriety. It is up to Thomson Reuters to evaluate whether such conduct by an investee company meets your mission statement of "...we do business according to the highest standards of ethical and responsible conduct".
"Thomson Reuters commands respect and trust the world over, and in recognition of this, we hope for a reply addressing our concerns," the letter said.