Verdict in Ayodhya case, not justice: CPM
The entire disputed site has been handed over to the violators of law: Sitaram Yechury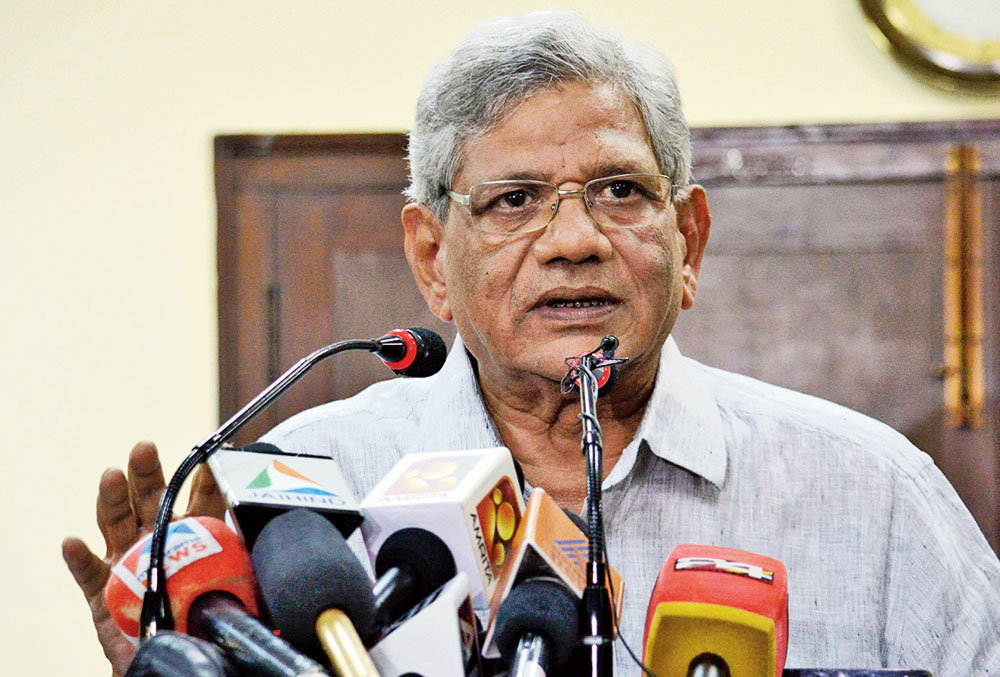 Sitaram Yechury
(The Telegraph file picture)
---
New Delhi
|
Published 18.11.19, 09:03 PM
|
---
The CPM politburo on Monday said verdict had been delivered but not justice in the Ayodhya dispute, maintaining that the detailed judgment raised serious questions, especially the manner in which it has given "precedence to faith and beliefs of one side".
Briefing journalists on the politburo meeting over the weekend, CPM general secretary Sitaram Yechury said the verdict unambiguously stated that the Babri Masjid demolition was a "serious violation of law", as was the placing of idols within the mosque in 1949, but "the entire disputed site has been handed over to the violators of law".
On the Sabarimala verdict, which directly impacts the party's government in Kerala, Yechury said the reference of the matter to a larger seven-judge bench had created an "ambiguous and uncertain situation".
A five-judge constitution bench has referred to a seven-judge bench an earlier order lifting the bar on women of childbearing age from entering the Sabarimala temple and also similar restrictive practices in other religions.
According to the politburo, by diverting the matter to other issues concerning women's rights of other religions, which are already being heard by other benches of the court, "the majority judgment has failed to uphold the 2018 verdict (lifting the bar) and by keeping the review petitions pending (the court) has created an ambiguous and uncertain situation".
The politburo has also leant its weight to the Congress demand for a joint parliamentary committee probe into the Rafale scam, pointing to the fact that the Supreme Court, while dismissing the review petition, has clarified that this in no way bars investigation by agencies like the CBI or others.
Besides calling for the release of all political leaders detained in Kashmir and the restoration of democratic rights to the people, the politburo has demanded that the government declare the losses suffered by apple traders as a "national calamity" and compensate the growers.
The politburo has also decided to extend support to the all-India strike called by trade unions on January 8 against privatisation and noted the continuing state of denial of the Narendra Modi government towards the economic slowdown that is now manifesting itself on various fronts. It also took note of the government deciding to junk the NSSO's consumption data that showed consumption at a four-decade low.
Referring to this, Yechury said the Modi government was specialising in data fudging, as a result of which India's data credibility was at its lowest worldwide.